FEATURED 08.28.12
ROCK AND ROLL HALL OF FAME ANNOUNCES ACQUISITION OF DIGITAL LOGS OF MOONALICE'S "IT'S 4:20 SOMEWHERE" FOR THE LIBRARY AND ARCHIVE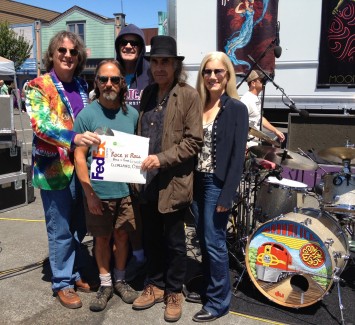 FOR IMMEDIATE RELEASE
ROCK AND ROLL HALL OF FAME ANNOUNCES ACQUISITION OF DIGITAL LOGS OF MOONALICE'S "IT'S 4:20 SOMEWHERE" FOR THE LIBRARY AND ARCHIVES
Library and Archives to begin acquiring music-related digital assets as part of its historically significant collection of rock and roll material
CLEVELAND (August 28, 2012) The Rock and Roll Hall of Fame announced that the digital logs for Moonalice's "It's 4:20 Somewhere" have been acquired for the Library and Archives. Libraries and archives collect, preserve and provide access to the materials that best capture important moments and movements in history, regardless of format, and the Moonalice logs help tell the story of music's digital revolution; specifically the rise of direct-from-artist (DFA) distribution. Moonalice is the first band without a label to achieve one million downloads of a song from its own servers, direct-from-artist. "It's 4:20 Somewhere" has been downloaded over two million times.
"We are grateful that Moonalice is donating these items to our permanent collection," said Terry Stewart, President and CEO of the Rock and Roll Hall of Fame and Museum. "As more and more content is being created digitally and the physical becomes more ephemeral, it is essential that libraries and archives treat digital assets like any other historical material." Over the next several months, the Library and Archives will complete its digital asset management system in order to handle all digital formats, from electronic documents to born-digital photographs, audio and video files. Upon completion, Moonalice's digital logs will be available for use at the Library and Archives through the online catalog.
"We are honored that the digital logs for 'It's 4:20 Somewhere' are to be included in the Library and Archives historical collections," said Roger McNamee, founding member of Moonalice. "Ever since the beginning of pop music, technology has enabled artists to change the world, whether it was the introduction of LP records, stereo sound or subwoofers," he said. "Today we have the iPhone, the iPad and social networks that allow artists to create and distribute a wide variety of music-related products on their own. At no other time in the history of music have the creative opportunities offered by technology afforded artists such a bounty of innovative ways to explore their craft and share their music."
Since its release in November 2010, Moonalice has recorded two million direct downloads of "It's 4:20 Somewhere," making it the first multiplatinum track to be downloaded directly from a band's own website. The band's revolutionary use of technology, including the new MoonTunes™ player enables their fans to watch concerts, listen to songs or shows, and see all 500 Moonalice posters is an example of how artists are revolutionizing the distribution of music. The band also invented such applications as Twittercast concerts, where it shares links to songs for an entire show, either live or after the fact on Twitter's Moonalice Radio or via live Moonbeam (video) concerts and the Couch Tour on moonalice.com.
Founded in 2007, Moonalice's roster of seasoned musicians includes John Molo: Drums, Vocals; Barry Sless: Lead Guitar, Pedal Steel Guitar, Bass; Ann McNamee: Keyboards, Vocals; Pete Sears: Bass, Keyboards, Guitar, Vocals; Roger McNamee: Rhythm Guitar, Vocals, Bass and Big Steve Parish: Road Scholar/Medicine Man/Storyteller.
On the web, Moonalice can be found at http://www.moonalice.com, as well as on Facebook (http://www.facebook.com/moonalice) and Twitter (https://twitter.com/moonalice).
About the Rock and Roll Hall of Fame and Museum
The Rock and Roll Hall of Fame and Museum, Inc. is the nonprofit organization that exists to educate visitors, fans and scholars from around the world about the history and continuing significance of rock and roll music. It carries out this mission through its operation of a world-class museum that collects, preserves, exhibits and interprets this art form and through its library and archives as well as its educational programs.
The Museum is open seven days a week from 10 a.m. to 5:30 p.m. On Wednesdays (and Saturdays through Labor Day), the Museum is open until 9 p.m. Museum admission is $22 for adults, $18 for adult residents of Greater Cleveland, $17 for seniors (65+), $13 for youth (9-12), children under 8 and Museum Members are always free, for information or to join the membership program call 216. 515.8425. For general inquiries please call 216.781.ROCK (7625) or visit www.rockhall.com. The Museum is generously funded by Cuyahoga County residents through Cuyahoga Arts and Culture.
Contact: Margaret Thresher, Rock and Roll Hall of Fame and Museum at (216) 515-1215 or mthresher@rockhall.org
Tracy Zamot, at (917) 579-6704 tracyzamot@gmail.com
###
2
|
Login or Register to post comments