Upcoming Concerts
Fur Peace Ranch - SOLD OUT

Pomeroy, OH
Sep 22
Fur Peace Ranch - SOLD OUT
-
Pomeroy, OH
Moonalice News
Hardly Strictly Bluegrass - A Privilege To Play

LOCKN' FREE 2017 Livestream Courtesy of Ben and Jerry's, Airstream, and YouTube, with Suggested Donations to the Heal Charlottesville Fund

Moonalice To Play At Slide Ranch Grand Opening Of New Farm-to-Table Teaching Center

Honoring The San Francisco Tradition of The Rock Poster!!!

Rock Out To The Music Of 1967 at The Surrealistic Summer Solstice Jam On 21 June!!!

Happy Birthday Moontunes TM!!!!

The Summer of Love Experience: Art, Fashion, and Rock And Roll

Moonalice 420 Gathering Of The Tribe Returns To Slim's In SF On 20 April 2017!!!

Roger McNamee - Free Super Bowl Tailgate Party Show At Sweetwater Music Hall - 5 Feb. 2017

Steve DeAngelo - Prop 64 is a compromise, but one that needs to be made
Hardly Strictly Bluegrass - A Privilege To Play
LOCKN' FREE 2017 Livestream Courtesy of Ben and Jerry's, Airstream, and YouTube, with Suggested Donations to the Heal Charlottesville Fund
Moonalice To Play At Slide Ranch Grand Opening Of New Farm-to-Table Teaching Center
Honoring The San Francisco Tradition of The Rock Poster!!!
Rock Out To The Music Of 1967 at The Surrealistic Summer Solstice Jam On 21 June!!!
Happy Birthday Moontunes TM!!!!
The Summer of Love Experience: Art, Fashion, and Rock And Roll
Moonalice 420 Gathering Of The Tribe Returns To Slim's In SF On 20 April 2017!!!
Roger McNamee - Free Super Bowl Tailgate Party Show At Sweetwater Music Hall - 5 Feb. 2017
Steve DeAngelo - Prop 64 is a compromise, but one that needs to be made
What To Watch (Archive)
Oct 6, 2013

/ HSB

(San Francisco, CA)

HSB: the largest free festival in America draws more than 1/2 a million people. Our adrenal glands were working overtime!!!

July 9, 2014

/ Union Square Live

(San Francisco, CA)

Free show in San Francisco's most famous square.

Jul 3, 2013

/ TRI Studios

(Weir Studio, CA)

If you don't know Moonalice and want a quick introduction to our music, this show is as good as you will find.

July 30, 2014

/ The Cutting Room

(NYC)

Amazing venue in Manhattan's garment district. Jason Crosby joins us.

July 8, 2014

/ Delancey Street

(San Francisco, CA)

Our annual concert at San Francisco's most successful halfway house is always a huge thrill.

Dec 29, 2013

/ Sweetwater Music

(Mill Valley, CA)

Our Psychedelic Sunday shows at Sweetwater occur at 2 in the afternoon - a fantastic time for serious psychedelic music

July 25, 2014

/ Midnight Ramble, Levon Helm's Barn

(Woodstock, NY)

With Larry Campbell and the Midnight Ramble Band. Spiritual.

July 2, 2014

/ Truckee Amphitheater

(Truckee, CA)

This beautiful venue near Lake Tahoe was packed ... huge fun!

Aug 5, 2013

/ AT&T Park

(San Francisco, CA)

We played two sets before the Giants game. Our band loves baseball, so this giant fun for us (pun intended)

July 26, 2014

/ Jerry Jam

(Bath, NH)

Really fun festival in northern NH
Music
Video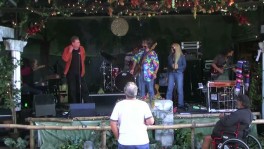 Live in Tampa
Legend
Media
Comments
Who Was There?
According to Moonalice legend, the name Tampa derives from the Calusa Indian word that means "sticks of fire". Apparently the Calusa invented matches, which made them strategic partners to the Moonalice tribe, who spent centuries trying to get them hemp lit before the invention of lighters.
According to Moonalice legend, when the Spanish explorers arrived in the 16th century they were looking for gold. De Sota came ashore and the first person he met was Wally Gator Moonalice, who was passed out on the beach after a massive smoke out the night before. De Soto woke up Wally and asked if he knew where De Soto could find some gold. Wally said he was fresh out of gold, but he had some serious hash. Being an explorer, De Soto had no sense of humor, but he really liked the hash. The rest, as they say, is legend.
According to Moonalice legend, tonight's poster depicts Everglades Moonalice, the first Moonalice to come to Tampa from our home planet. Everglades was a couple doobies short of a stash, which proved to be a problem when he splashed down in the swamp that still carries his name. Everglades took one look at the gators and the bugs, got back into his spaceship and went home.
According to Moonalice legend, today is the 155th anniversary of the Charge of the Light Brigade. As tragic exercises in futility go, the Charge one ranks right up there with the time Hialeah Moonalice accidently set fire to the entire hemp crop in Tampa in 1934.
According to Moonalice legend, today would have been the 75th birthday of the great child actor Eugene Gordon Lee, better known as Porky in Our Gang. Porky died forty years ago, but he lives on in a complete set of Our Gang DVDs in our bus.