Upcoming Concerts
The Cutting Room

New York, NY

Infinity Hall

Norfolk, CT

Baseball Hall of Fame 75th Anniversary

Cooperstown, NY

Union Square Live

San Francisco, CA

Moraga Summer Concert Series

Moraga, CA

Alamo Free Summer Concert Series

Alamo, CA

Twilight Concert Series

Palo Alto, CA

Jerry Garcia Tribute Night @ SF Giants

San Francisco, CA

Woodlands Tavern

Columbus, OH
Jul 30
The Cutting Room
-
New York, NY
Jul 31
Infinity Hall
-
Norfolk, CT
Aug 2
Baseball Hall of Fame 75th Anniversary
-
Cooperstown, NY
Aug 6
Union Square Live
-
San Francisco, CA
Aug 7
Moraga Summer Concert Series
-
Moraga, CA
Aug 8
Alamo Free Summer Concert Series
-
Alamo, CA
Aug 9
Twilight Concert Series
-
Palo Alto, CA
Aug 12
Jerry Garcia Tribute Night @ SF Giants
-
San Francisco, CA
Aug 14
Woodlands Tavern
-
Columbus, OH
Moonalice News
From Small Regional Band To National Touring Act – For Moonalice, Facebook Was The Key!!!

SF Weekly Blog: Candy and Pot: What to Do on the 4/20 Easter Weekend

18 Mind Blowing Posters In Moonalice 2014 4/20 Poster Set!!!

Moonalice Returns to BottleRock Napa Festival For Two Shows!!! #BRNV

Carolyn Ferris And Roger McNamee Debut Sunday Art And Music Series In Napa

Moonalice 4/20 Celebration with Special Guest David Nelson!!!

Concert In Celebration Of The National Baseball Hall Of Fame & Museum's 75th Anniversary

Plucking the strings of the guitar business - Gibson celebrates going back to the future!!!

Is Music the Key to Success?

Roger McNamee - 11 Albums That Stuck With Me
From Small Regional Band To National Touring Act – For Moonalice, Facebook Was The Key!!!
SF Weekly Blog: Candy and Pot: What to Do on the 4/20 Easter Weekend
18 Mind Blowing Posters In Moonalice 2014 4/20 Poster Set!!!
Moonalice Returns to BottleRock Napa Festival For Two Shows!!! #BRNV
Carolyn Ferris And Roger McNamee Debut Sunday Art And Music Series In Napa
Moonalice 4/20 Celebration with Special Guest David Nelson!!!
Concert In Celebration Of The National Baseball Hall Of Fame & Museum's 75th Anniversary
Plucking the strings of the guitar business - Gibson celebrates going back to the future!!!
Is Music the Key to Success?
Roger McNamee - 11 Albums That Stuck With Me
What To Watch (Archive)
May 7, 2013

/ Delancey Street

(SF, CA)

The clients at Delancey Street are all in recovery from one thing or another, and we are the only band that plays there

Jul 3, 2013

/ TRI Studios

(Weir Studio, CA)

If you don't know Moonalice and want a quick introduction to our music, this show is as good as you will find.

Aug 5, 2013

/ AT&T Park

(San Francisco, CA)

We played two sets before the Giants game. Our band loves baseball, so this giant fun for us (pun intended)

Dec 29, 2013

/ Sweetwater Music

(Mill Valley, CA)

Our Psychedelic Sunday shows at Sweetwater occur at 2 in the afternoon - a fantastic time for serious psychedelic music

Sep 27, 2013

/ The Linda

(Albany, NY)

Venue was once a bank - the band's green room was in the walk-in safe - and it was packed to the rafters.

Oct 9, 2013

/ Union Square

(San Francisco, CA)

Union Square is an SF landmark & we play free shows every summer month - this was our final 2013 appearance!

Oct 6, 2013

/ HSB

(San Francisco, CA)

HSB: the largest free festival in America draws more than 1/2 a million people. Our adrenal glands were working overtime!!!
Music
Video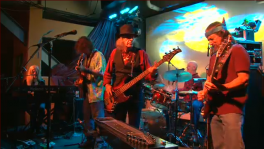 Live in Long Beach
Legend
Media
Comments
Who Was There?
According to Moonalice legend, tonight's poster by Darrin Brenner recalls a day when the Furthur bus came by. Surprisingly, Cowboy Neil was not at the wheel - some suggest that perhaps he had overindulged - so Alice took over. Being only ten, Alice did not know how to drive, so the old International Harvester drove itself while Alice leaned out the windshield throwing flowers and mushrooms to passers by. Meanwhile, the March Hare was playing moon golf with a guitar while he waited for the bus, which was – surprise, surprise – a bit on the late side. The Hare was desperate to get to a gig; tension was mounting. The Hare was out of pills to make him small, so going down the rabbit hole wasn't an option. His only option was a tie dyed school bus driven by a child. Let that be a lesson to us . . .
Big Steve Birthday Celebration!!!
POSTER BY: DARRIN BRENNER