Upcoming Concerts
Doobie Decibel System Trio @ The Acoustic

Bridgeport, CT

Doobie Decibel System @ Still Partners

Sea Cliff, NY

Doobie Decibel System Band @ Union Square

San Francisco, CA

Doobie Decibel System Band @ Moe's Alley

Santa Cruz, CA

Doobie Decibel System Band @ Oakland Museum

Oakland, CA

Doobie Decibel System Band @ Terrapin Crossroads

San Rafael , CA

Doobie Decibel System Band @ Crazy Horse

Nevada City, CA

Doobie Decibel System Band @ Lost on Main

Chico, CA

Doobie Decibel System Band @ Commons Beach

Tahoe City, CA

Union Square Live

San Francisco, CA
Jun 4
Doobie Decibel System Trio @ The Acoustic
-
Bridgeport, CT
Jun 6
Doobie Decibel System @ Still Partners
-
Sea Cliff, NY
Jun 8
Doobie Decibel System Band @ Union Square
-
San Francisco, CA
Jun 16
Doobie Decibel System Band @ Moe's Alley
-
Santa Cruz, CA
Jun 17
Doobie Decibel System Band @ Oakland Museum
-
Oakland, CA
Jun 23
Doobie Decibel System Band @ Terrapin Crossroads
-
San Rafael , CA
Jun 24
Doobie Decibel System Band @ Crazy Horse
-
Nevada City, CA
Jun 25
Doobie Decibel System Band @ Lost on Main
-
Chico, CA
Jun 26
Doobie Decibel System Band @ Commons Beach
-
Tahoe City, CA
Jun 29
Union Square Live
-
San Francisco, CA
Moonalice News
Moonalice 2016 Back in Time Couch Tour!!!

Moonalice will perform at BottleRock Napa 2016!!!

Moonalice Radio station on the internet!!!

Bread & Roses Gives an Award to Moonalice!

Moonalice in San Francisco Chronicle!

Bass Player Magazine promotes Moonalice and Jason Crosby & Friends!

Moonalice Rocks BottleRock!!!

Bands to Watch at BottleRock: Moonalice

Moonalice Rocks Twitter's Periscope!

Moonalice in Monterey Herald
Moonalice 2016 Back in Time Couch Tour!!!
Moonalice will perform at BottleRock Napa 2016!!!
Moonalice Radio station on the internet!!!
Bread & Roses Gives an Award to Moonalice!
Moonalice in San Francisco Chronicle!
Bass Player Magazine promotes Moonalice and Jason Crosby & Friends!
Moonalice Rocks BottleRock!!!
Bands to Watch at BottleRock: Moonalice
Moonalice Rocks Twitter's Periscope!
Moonalice in Monterey Herald
What To Watch (Archive)
July 30, 2014

/ The Cutting Room

(NYC)

Amazing venue in Manhattan's garment district. Jason Crosby joins us.

July 26, 2014

/ Jerry Jam

(Bath, NH)

Really fun festival in northern NH

July 9, 2014

/ Union Square Live

(San Francisco, CA)

Free show in San Francisco's most famous square.

July 25, 2014

/ Midnight Ramble, Levon Helm's Barn

(Woodstock, NY)

With Larry Campbell and the Midnight Ramble Band. Spiritual.

Dec 29, 2013

/ Sweetwater Music

(Mill Valley, CA)

Our Psychedelic Sunday shows at Sweetwater occur at 2 in the afternoon - a fantastic time for serious psychedelic music

July 8, 2014

/ Delancey Street

(San Francisco, CA)

Our annual concert at San Francisco's most successful halfway house is always a huge thrill.

Aug 5, 2013

/ AT&T Park

(San Francisco, CA)

We played two sets before the Giants game. Our band loves baseball, so this giant fun for us (pun intended)

Oct 6, 2013

/ HSB

(San Francisco, CA)

HSB: the largest free festival in America draws more than 1/2 a million people. Our adrenal glands were working overtime!!!

July 2, 2014

/ Truckee Amphitheater

(Truckee, CA)

This beautiful venue near Lake Tahoe was packed ... huge fun!

Jul 3, 2013

/ TRI Studios

(Weir Studio, CA)

If you don't know Moonalice and want a quick introduction to our music, this show is as good as you will find.
Music
Video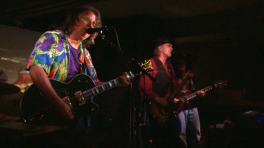 Live in Newmarket
Legend
Media
Comments (1)
Who Was There?
According to Moonalice legend, tonight's poster by George and Patricia Sargent depicts John's cousin Harvest Molo Moonalice and his sidekicks, Fast Freddie and Steady Eddie. As the Deep Buzz Trio, they played Moonalice Harvest Festivals way before New Hampshire had license plates. In 1846, they played a party for a family called Donner. After the gig, Harvest Molo got a serious case of the munchies. He ate leg each off Fast Freddy and Steady Eddie. When asked why he only nibbled, Harvest Molo said: with players like that, you don't want to eat 'em all at once!
POSTER BY: GEORGE + PATRICIA SARGENT