Upcoming Concerts
California Historical Society "Summer of Love" Anniversary - Moonalice Trio

San Francisco , CA

Summer Concert Series

Alamo, CA

Don Quixote's Music Hall

Felton, CA

Salty Gebhardt Amph @ Truckee River Regional Park

Truckee, CA

Grateful Dead Night @ AT&T Park - Triple's Alley Event

San Francisco , CA

Grateful Dead Night @ AT&T Park - Dugout Set

San Francisco , CA

Petaluma Music Festival

Petaluma, CA

The Peach Music Festival

Scranton, PA

Union Square Live

San Francisco, CA

Oakland Museum of California

Oakland, CA
Jul 27
California Historical Society "Summer of Love" Anniversary - Moonalice Trio
-
San Francisco , CA
Jul 28
Summer Concert Series
-
Alamo, CA
Jul 29
Don Quixote's Music Hall
-
Felton, CA
Aug 2
Salty Gebhardt Amph @ Truckee River Regional Park
-
Truckee, CA
Aug 3
Grateful Dead Night @ AT&T Park - Triple's Alley Event
-
San Francisco , CA
Aug 3
Grateful Dead Night @ AT&T Park - Dugout Set
-
San Francisco , CA
Aug 5
Petaluma Music Festival
-
Petaluma, CA
Aug 11
The Peach Music Festival
-
Scranton, PA
Aug 16
Union Square Live
-
San Francisco, CA
Aug 18
Oakland Museum of California
-
Oakland, CA
Moonalice News
Honoring The San Francisco Tradition of The Rock Poster!!!

Rock Out To The Music Of 1967 at The Surrealistic Summer Solstice Jam On 21 June!!!

Happy Birthday Moontunes TM!!!!

The Summer of Love Experience: Art, Fashion, and Rock And Roll

Moonalice 420 Gathering Of The Tribe Returns To Slim's In SF On 20 April 2017!!!

Roger McNamee - Free Super Bowl Tailgate Party Show At Sweetwater Music Hall - 5 Feb. 2017

Steve DeAngelo - Prop 64 is a compromise, but one that needs to be made

Roger McNamee, Pat Nevins and Jordan Feinstein join Paige Clem at the Bazaar Café on Nov. 15!!!

Moonalice - Prop 64 Awareness Concert on Nov. 3 2016

Doobie Decibel System Band and Midnight North Northeast Tour
Honoring The San Francisco Tradition of The Rock Poster!!!
Rock Out To The Music Of 1967 at The Surrealistic Summer Solstice Jam On 21 June!!!
Happy Birthday Moontunes TM!!!!
The Summer of Love Experience: Art, Fashion, and Rock And Roll
Moonalice 420 Gathering Of The Tribe Returns To Slim's In SF On 20 April 2017!!!
Roger McNamee - Free Super Bowl Tailgate Party Show At Sweetwater Music Hall - 5 Feb. 2017
Steve DeAngelo - Prop 64 is a compromise, but one that needs to be made
Roger McNamee, Pat Nevins and Jordan Feinstein join Paige Clem at the Bazaar Café on Nov. 15!!!
Moonalice - Prop 64 Awareness Concert on Nov. 3 2016
Doobie Decibel System Band and Midnight North Northeast Tour
What To Watch (Archive)
July 8, 2014

/ Delancey Street

(San Francisco, CA)

Our annual concert at San Francisco's most successful halfway house is always a huge thrill.

July 2, 2014

/ Truckee Amphitheater

(Truckee, CA)

This beautiful venue near Lake Tahoe was packed ... huge fun!

Dec 29, 2013

/ Sweetwater Music

(Mill Valley, CA)

Our Psychedelic Sunday shows at Sweetwater occur at 2 in the afternoon - a fantastic time for serious psychedelic music

Aug 5, 2013

/ AT&T Park

(San Francisco, CA)

We played two sets before the Giants game. Our band loves baseball, so this giant fun for us (pun intended)

July 25, 2014

/ Midnight Ramble, Levon Helm's Barn

(Woodstock, NY)

With Larry Campbell and the Midnight Ramble Band. Spiritual.

July 26, 2014

/ Jerry Jam

(Bath, NH)

Really fun festival in northern NH

Jul 3, 2013

/ TRI Studios

(Weir Studio, CA)

If you don't know Moonalice and want a quick introduction to our music, this show is as good as you will find.

July 30, 2014

/ The Cutting Room

(NYC)

Amazing venue in Manhattan's garment district. Jason Crosby joins us.

Oct 6, 2013

/ HSB

(San Francisco, CA)

HSB: the largest free festival in America draws more than 1/2 a million people. Our adrenal glands were working overtime!!!

July 9, 2014

/ Union Square Live

(San Francisco, CA)

Free show in San Francisco's most famous square.
Music
Video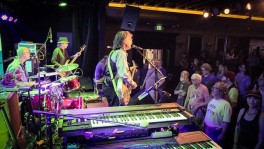 Live in Mill Valley
Legend
Media
Comments
Who Was There?
Tenth Anniversary Concert!
According to Moonalice legend, it's not every day a band has its tenth anniversary. For us, that is particularly true. We are celebrating our tenth anniversary today, but the actual anniversary is Cinquo de Mayo. In a coincidence that foretold so much about Moonalice, our first show was a medical marijuana event in Civic Center Plaza in San Francisco. Today's poster by Alexandra Fischer depicts Tenspot Moonalice, our first groupie. Ten'spot was named for the currency her father won in a pool to predict the time of her birth, but eventually she added an apostrophe to the first syllable as part of a branding campaign for her unique strains of cannabis. Try some!
To celebrate, we have gift for you: we're going to play a free show in Union Square on Wednesday! Our first Union Square show of the year will run from 6-8pm!! Please spread the word!
Notes:
We played this concert to honor the memory of our friend and poster artist, Dave Hunter, who died earlier in the day from brain cancer. We learned later that our fan John Bergan had died of a heart attack.
POSTER BY: ALEXANDRA FISCHER