FEATURED 10.18.12
Do not miss The Art of Moonalice at Brooklyn Bowl on Sunday 28 October, 2012!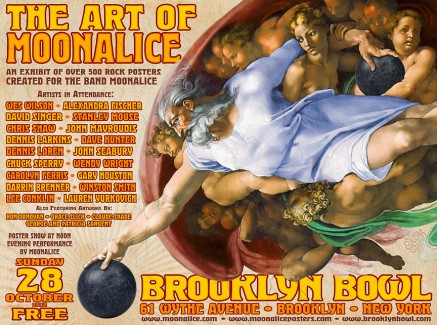 The Art of Moonalice is an exhibit of 550 posters created for the band Moonalice. All 550 posters in the Moonalice series will be on display. Eighteen artists are planning to be there: Chris Shaw, Stanley Mouse, Wes Wilson, Carolyn Ferris, David Singer, Dennis Larkins, Lee Conklin, Dennis Loren, Alexandra Fischer, Wendy Wright, Lauren Yurkovich, Chuck Sperry, Gary Houston, John Mavroudis, Winston Smith, John Seabury, Darrin Brenner, Dave Hunter and George & Patricia Sargent
Also featuring artwork by: Ron Donovan, Grace Slick, Claude Shade.
Doors at Brooklyn Bowl, Brooklyn, New York will be at 12:00pm Eastern and the art show will be followed by a concert by Moonalice at 7:00pm Eastern.
Entrance to both The Art of Moonalice and the concert is FREE!
0
|
Login or Register to post comments