Upcoming Concerts
Roger McNamee solo @ Sweetwater

Mill Valley, CA

Humboldt Brews

Arcata, CA

Weed Palace Theater

Weed, CA

Chico Women's Club

Chico, CA

BottleRock Music Festival

Napa Valley, CA

Roger McNamee solo @ Sweetwater

Mill Valley, CA

Club Fox

Redwood City, CA

Freight & Salvage

Berkeley, CA

Italian Street Painting Marin

San Rafael, CA

Italian Street Painting Marin

San Rafael, CA
May 13
Roger McNamee solo @ Sweetwater
-
Mill Valley, CA
May 18
Humboldt Brews
-
Arcata, CA
May 19
Weed Palace Theater
-
Weed, CA
May 20
Chico Women's Club
-
Chico, CA
May 25
BottleRock Music Festival
-
Napa Valley, CA
Jun 10
Roger McNamee solo @ Sweetwater
-
Mill Valley, CA
Jun 14
Club Fox
-
Redwood City, CA
Jun 15
Freight & Salvage
-
Berkeley, CA
Jun 23
Italian Street Painting Marin
-
San Rafael, CA
Jun 24
Italian Street Painting Marin
-
San Rafael, CA
Moonalice News
Hardly Strictly Bluegrass - A Privilege To Play

LOCKN' FREE 2017 Livestream Courtesy of Ben and Jerry's, Airstream, and YouTube, with Suggested Donations to the Heal Charlottesville Fund

Moonalice To Play At Slide Ranch Grand Opening Of New Farm-to-Table Teaching Center

Honoring The San Francisco Tradition of The Rock Poster!!!

Rock Out To The Music Of 1967 at The Surrealistic Summer Solstice Jam On 21 June!!!

Happy Birthday Moontunes TM!!!!

The Summer of Love Experience: Art, Fashion, and Rock And Roll

Moonalice 420 Gathering Of The Tribe Returns To Slim's In SF On 20 April 2017!!!

Roger McNamee - Free Super Bowl Tailgate Party Show At Sweetwater Music Hall - 5 Feb. 2017

Steve DeAngelo - Prop 64 is a compromise, but one that needs to be made
Hardly Strictly Bluegrass - A Privilege To Play
LOCKN' FREE 2017 Livestream Courtesy of Ben and Jerry's, Airstream, and YouTube, with Suggested Donations to the Heal Charlottesville Fund
Moonalice To Play At Slide Ranch Grand Opening Of New Farm-to-Table Teaching Center
Honoring The San Francisco Tradition of The Rock Poster!!!
Rock Out To The Music Of 1967 at The Surrealistic Summer Solstice Jam On 21 June!!!
Happy Birthday Moontunes TM!!!!
The Summer of Love Experience: Art, Fashion, and Rock And Roll
Moonalice 420 Gathering Of The Tribe Returns To Slim's In SF On 20 April 2017!!!
Roger McNamee - Free Super Bowl Tailgate Party Show At Sweetwater Music Hall - 5 Feb. 2017
Steve DeAngelo - Prop 64 is a compromise, but one that needs to be made
What To Watch (Archive)
Dec 29, 2013

/ Sweetwater Music

(Mill Valley, CA)

Our Psychedelic Sunday shows at Sweetwater occur at 2 in the afternoon - a fantastic time for serious psychedelic music

Jul 3, 2013

/ TRI Studios

(Weir Studio, CA)

If you don't know Moonalice and want a quick introduction to our music, this show is as good as you will find.

Oct 6, 2013

/ HSB

(San Francisco, CA)

HSB: the largest free festival in America draws more than 1/2 a million people. Our adrenal glands were working overtime!!!

July 25, 2014

/ Midnight Ramble, Levon Helm's Barn

(Woodstock, NY)

With Larry Campbell and the Midnight Ramble Band. Spiritual.

July 8, 2014

/ Delancey Street

(San Francisco, CA)

Our annual concert at San Francisco's most successful halfway house is always a huge thrill.

Aug 5, 2013

/ AT&T Park

(San Francisco, CA)

We played two sets before the Giants game. Our band loves baseball, so this giant fun for us (pun intended)

July 9, 2014

/ Union Square Live

(San Francisco, CA)

Free show in San Francisco's most famous square.

July 30, 2014

/ The Cutting Room

(NYC)

Amazing venue in Manhattan's garment district. Jason Crosby joins us.

July 26, 2014

/ Jerry Jam

(Bath, NH)

Really fun festival in northern NH

July 2, 2014

/ Truckee Amphitheater

(Truckee, CA)

This beautiful venue near Lake Tahoe was packed ... huge fun!
FEATURED 11.05.16
Steve DeAngelo - Prop 64 is a compromise, but one that needs to be made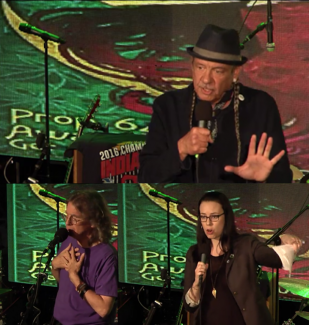 On 3 November Sweetwater Music Hall rocked to a "Get OutThe Vote Concert" to raise awareness on Prop 64, the Adult Use of Marijuana Act(AUMA), with a show headlined by Moonalice and also featuring Lorin Rowan and the 420 Waldos. The show was opened with a talk by Steve DeAngelo, one of the founders of the Harborside Health Center in Oakland, CA, followed by Lindsay Robinson, director of development of the Marijuana Policy Project, answering questions about Prop 64 and AUMA.
Roger McNamee, cannabis advocate and Moonalice founder, whose "first and driving motivation on Prop 64 is about civil rights," started the evening by explaining why he is so strongly supportive of Prop 64, saying, "This is California and this year on November 8th there is at least one really good thing that can happen. That is that we can pass Proposition 64, the Adult Use of Marijuana Act. This is something that is long overdue and absolutely I think essential to the welfare of our state."
Steve DeAngelo began by saying that to him Prop 64 was also a compromise, but one that needed to be made, "Let's think about what is this thing 64 in the first place. It's a law. It's a law that's going to be passed by the people as opposed to the legislature, but it's a law. Like most laws, it's a compromise. There were many, many different groups who got around the table to help draft Prop 64. Some of them had interest A or interest B. There were a lot of different opposing interests that needed to come together around that table to put together a team that could get this initiative on the ballot, and compromises were made in the process of drafting."
Steve continued, "The result, from my point of view, is there is stuff in there that I love. One of things is that people like me who have felony cannabis convictions will be able to be licensed in the legal cannabis industry under Prop 64. There's things in there that I really, really, really don't like, like the power of local governments anywhere to overrule the will of the voters of California and say that, "Just in our little city, in our little town, in our county, we're not going to allow a legal cannabis industry. Even though the voters of California approved this law." Is there stuff I like? Yeah. There's stuff I like. Is there stuff I really find distasteful? Yes, absolutely."
0
|
Login or Register to post comments