Moonalice News
Let's Rock The World One Tree At A Time!

Commemorating the 1969 Harlem Cultural Festival!!!

Moonalice Minute: Lester & Dylan Chambers (Episode 1)

Poster Artist Feature: Dennis Larkins Interview

Acoustic Guitar reviews Full Moonalice, Volume 2!!

Moonalice plays a set on Jam In The Van

Glide Magazine interviews Pete Sears!

Acoustic Guitar Magazine: Barry, Roger and T's play Nick and Woo Woo

PopMatters: Bottlerock Napa review … featuring Moonalice

Moonalice Will Not Play Indoors Until Further Notice
Let's Rock The World One Tree At A Time!
Commemorating the 1969 Harlem Cultural Festival!!!
Moonalice Minute: Lester & Dylan Chambers (Episode 1)
Poster Artist Feature: Dennis Larkins Interview
Acoustic Guitar reviews Full Moonalice, Volume 2!!
Moonalice plays a set on Jam In The Van
Glide Magazine interviews Pete Sears!
Acoustic Guitar Magazine: Barry, Roger and T's play Nick and Woo Woo
PopMatters: Bottlerock Napa review … featuring Moonalice
Moonalice Will Not Play Indoors Until Further Notice
What To Watch (Archive)
Aug 27, 2023

/ Terrapin Crossroads Presents: Sunday Daydream Vol. 2 @ Stafford Lake Park

(Novato)

According to Moonalice legend, we have gathered here at Stafford Lake for Sunshine Daydream 2. It is a b...

Aug 31, 2023

/ Rebroadcast of Hardly Strictly Bluegrass 22 with new Audio & Video

(San Francisco)

This rebroadcast of the 2022 Hardly Strictly Bluegrass show with new and im...

Sep 2, 2023

/ Felton Music Hall

(Felton)

According to Moonalice legend, we are really happy we are not at Burning Man. Apparently, a huge storm de...

Nov 30, 2023

/ The Guild Theatre

(Menlo Park)

According to Moonalice legend, the Peninsula between San Francisco and San Jose has many beautiful places...

Aug 26, 2023

/ Saturday Stream

(Howling Moon Studio)

Sep 1, 2023

/ The Chapel

(San Francisco)

According to Moonalice legend, we are totally psyched to be back at the Chapel. People showed us the secu...

Dec 1, 2023

/ Odd Fellows Lodge

(Auburn)

According to Moonalice Legend, dinosaurs once roamed the foothills of the Sierras. Recent fossil discover...

Aug 18, 2023

/ Oakland A's Jerry Garcia Night @ Oakland Coliseum

(Oakland)

Oakland rap According to Moonalice legend, tonight is Jerry Garcia night at Oakland Coliseum. Jer...

Aug 19, 2023

/ Saturday Stream

(Howling Moon Studio)

Dec 2, 2023

/ HopMonk Tavern

(Sebastopol)

According to Moonalice legend, every member of the tribe has a spirit animal. Some are Siamese cats, oth...
Music
Video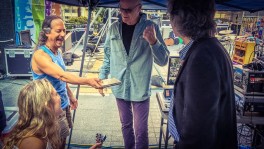 Live in San Francisco
Legend
Media
Comments
Who Was There?
According to Moonalice legend, the Attorney General, Jefferson Beauregard Sessions III, a son of the Confederacy, announced the termination of the Deferred Action for Childhood Arrivals or DACA program. (Parenthetically, we question the immigration status of supporters of the Confederacy.) Today's poster by Winston Smith depicts the DACA member of the Moonalice tribe. Mr. Peanut's parents brought him from Georgia as a seed. Other than a recent spate of horrible commercials, he has been a productive member of society. Little wombat came from Australia as a joey. The lawn jockey came over as iron bar stock and was completely self-made. The victims of this Administration now include most of the population: all women except for the wives of televangelists, all people of color, immigrants, union members, poor people, pot smokers, baseball fans, anyone who cares about the rule of law. We need to work together. We need to focus on the things we agree on. We don't have to fool around. There is time to get high, but then we have to get back to work.
Notes: We gave out two political posters today, "No -isms ... ever!" by Jason Wilson and "The Bust" by John Seabury.
POSTER BY: ARTIST: WINSTON SMITH