Upcoming Concerts
Felton Music Hall

Felton, CA

Ardmore Music Hall

Ardmore, PA

Brooklyn Bowl

Brooklyn, NY

Sweetwater Music Hall

Mill Valley, CA

Mystic Theatre

Petaluma, CA

The Odd Fellows Hall

Auburn, CA

Good Old Days Celebration

Pacific Grove, CA

Skull & Roses

Ventura, CA

Bottlerock Music Festival (May 22-24)

Napa, CA
Jan 26
Felton Music Hall
-
Felton, CA
Feb 20
Ardmore Music Hall
-
Ardmore, PA
Feb 21
Warehouse
-
Fairfield, CT
Feb 22
Brooklyn Bowl
-
Brooklyn, NY
Mar 19
Sweetwater Music Hall
-
Mill Valley, CA
Mar 20
Mystic Theatre
-
Petaluma, CA
Mar 21
The Odd Fellows Hall
-
Auburn, CA
Apr 4
Good Old Days Celebration
-
Pacific Grove, CA
Apr 5
Skull & Roses
-
Ventura, CA
May 24
Bottlerock Music Festival (May 22-24)
-
Napa, CA
Moonalice News
Introducing ... Full Moonalice!

Thank you for an amazing year!

Sisters & Brothers is the new Moonalice!

Check out the first full show by the Moonalice Sisters & Brothers band!

Moonalice Sisters & Brothers rock DROM in NYC!

Live for Live Music writes about Moonalice Sisters & Brothers Tour!

420 Gathering of the Tribe -- Video Archive!!!

Jerry Day in San Francisco: check out the video archive!

Check this epic show from the Hopmonk in Sebastopol
Introducing ... Full Moonalice!
Thank you for an amazing year!
Sisters & Brothers is the new Moonalice!
Check out the first full show by the Moonalice Sisters & Brothers band!
Moonalice Sisters & Brothers rock DROM in NYC!
Live for Live Music writes about Moonalice Sisters & Brothers Tour!
420 Gathering of the Tribe -- Video Archive!!!
Jerry Day in San Francisco: check out the video archive!
Check this epic show from the Hopmonk in Sebastopol
What To Watch (Archive)
Dec 20, 2019

/ BRYAC

(Bridgeport)

Dec 21, 2019

/ Private Event

(Mount Kisco)

Dec 14, 2019

/ Gypsy Sally's

(Washington)

Notes: Jason played Iko-Iko and Roger sang New New Minglewood Blues with Stella Blues Band. Anniversary...

Dec 17, 2019

/ Still Partners

(Sea Cliff)

Jan 24, 2020

/ Point San Pablo Harbor

(Richmond)

Jan 26, 2020

/ Felton Music Hall

(Felton)

Dec 19, 2019

/ The Rising Sun Barn

(Telford)

Note there has been a venue change to The Rising Sun Barn.

Jan 4, 2020

/ Terrapin Crossroads Grate Room

(San Rafael)

Debut of Full Moonalice Time Has Come (THC) Revue. SOLD OUT! Notes: Hallelujah dedicated to Liz Du...

Dec 15, 2019

/ 118 North

(Wayne)

Jan 25, 2020

/ Terrapin Crossroads

(San Rafael)
Music
Video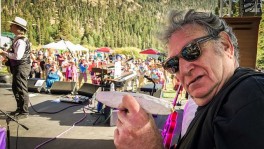 Live in June Lake
Legend
Media
Comments
Who Was There?
Today's legend is more serious than usual. We have a second, special poster today by John Mavroudis. The Trump Museum of Stolen Children is more than fine art. It expresses our outrage that any American would forcibly separate refugee children from their parents, with no plans for reuniting them. That the president would do it is sickening.
According to Moonalice legend, these are the dangerous times. The man in the White House has shown us who he really is. There can no longer be any doubt about his plan to force America back to the way things were in the 50s. The 1850s. The only question is whether we, the American people, have what it will take to put our country back on a positive track. As depicted in Chris Shaw's poster, the whole world is watching, wondering if we Americans will get our act together. Let's show them that democracy is still alive and well in the USA. November 6 is Election Day. This year Election Day matters more than ever. Register. Vote. Get everyone you know to vote. We're going to be living with the consequences for a very long time. Please make sure your voice is heard.
POSTER BY: CHRIS SHAW