Upcoming Concerts
Saturday Stream

Howling Moon Studio, CA
Sep 25
Saturday Stream
-
Howling Moon Studio, CA
Moonalice News
Full Moonalice @ TxR Sep 4 w/ Stu Allen & Friends!

Twins Celebrate Their Birthday at Cloverdale Show!

GratefulWeb story about Days Between Festival! (With Photos!)

Full Moonalice's Jason Crosby is out on tour with Jackson Browne!

T Sisters to release single from their new album!

Blues Blast Magazine features Lester Chambers in cover story

Full Moonalice Tour Returns!

Fan Creates Awesome Line Dance to Full Moonalice song, "Woo Woo"

Photos from Full Moonalice livestream for Relix on Twitch!

Shelter-in-Place Tour: Statistics from the First 365 Days of Shows
Full Moonalice @ TxR Sep 4 w/ Stu Allen & Friends!
Twins Celebrate Their Birthday at Cloverdale Show!
GratefulWeb story about Days Between Festival! (With Photos!)
Full Moonalice's Jason Crosby is out on tour with Jackson Browne!
T Sisters to release single from their new album!
Blues Blast Magazine features Lester Chambers in cover story
Full Moonalice Tour Returns!
Fan Creates Awesome Line Dance to Full Moonalice song, "Woo Woo"
Photos from Full Moonalice livestream for Relix on Twitch!
Shelter-in-Place Tour: Statistics from the First 365 Days of Shows
What To Watch (Archive)
Aug 28, 2021

/ Saturday Stream

(Howling Moon Studio)

First time played: Someday, Paradise, Reunion, Sunshine, Bucky, Flat Earth Boogie Second time played: Ca...

Sep 11, 2021

/ Saturday Stream

(Howling Moon Studio)

Following 420 daily "Shelter-In-Place" streams, live shows are finally starting to open up and we will co...

Aug 21, 2021

/ Saturday Stream

(Howling Moon Studio)

Following 420 daily "Shelter-In-Place" streams, live shows are finally starting to open up and we will co...

Aug 7, 2021

/ Petaluma Music Festival - Acoustic Stage

(Petaluma)

Angle of Repose through Fifteen Cadillacs pre-recorded at Howling Moon Studio. Handle With Care through ...

Sep 18, 2021

/ Ain't Necessarily Dead Fest

(Auburn)

According to Full Moonalice legend, the band has experienced 20% growth in 2021! Erika and Chloe have bea...

Sep 3, 2021

/ Saturday Stream on Friday

(Howling Moon Studio)

Following 420 daily "Shelter-In-Place" streams, live shows are finally starting to open up and we will co...

Aug 7, 2021

/ Petaluma Music Festival - Festival Stage

(Petaluma)

According to Full Moonalice legend, the sun shines brightly here in Petaluma. The corn in the fields is h...

Aug 20, 2021

/ Friday Night Live Concert Series

(Cloverdale)

According to Moonalice legend, wildfire season has filled the air in too much of northern California with...

Aug 14, 2021

/ Saturday Stream

(Howling Moon Studio)

Following 420 daily "Shelter-In-Place" streams, live shows are finally starting to open up and we will co...

Sep 5, 2021

/ Bottlerock Music Festival

(Napa Valley)

According to Moonalice legend, we are living in a time warp. Outside this festival, it is Labor Day Week...
10.15.12
DeliRadio Blog Interview: Moonalice talks promoting tours with social media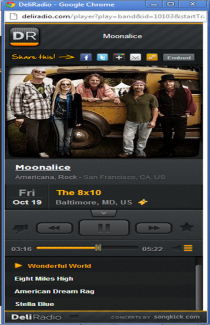 Moonalice founder, singer, song writer and guitarist, Roger McNamee, talks to DeliRadio about why the band has chosen to chart such new directions, and where it's going next.
DR: Why is art and concert posters such an important facet to your group and how do you select your artists?
RM: Art has been with Moonalice from the very beginning. These posters are as much Moonalice as the music. From our very first show in 2007 we have distributed a unique poster to fans at every gig. We do this because poster art is beautiful and our artist friends need the work.
We have a stable of about 20 artists and create a unique poster for each show. Moonalice artists include the best rock poster artists from the Bay area and beyond. So far more than 500 posters have been created and these have been exhibited at three "Art of Moonalice" shows, one in New York as well as two in the Bay area.
The next "Art of Moonalice" show will be at the Brooklyn Bowl in NYC (listen to Brooklyn Bowl concert calendar here) on Sunday October 28 at 3:00 p.m. The event will feature the full series of the band's iconic rock posters designed by noted artists including Wes Wilson, Stan­ley Mouse, Chris Shaw, David Singer, Chuck Sperry, Ron Donovan, Wendy Wright, Dave Hunter, Alexan­dra Fis­cher, Den­nis Loren, Lee Conklin, Lauren Yurkovich, John Mavroudis, John Seabury, Carolyn Ferris, Dennis Larkins and Darrin Brenner. Many of the artists will be in attendance and will be available to sign posters. Entrance is free and the art show will be followed by a concert at about 7:00pm. It's a great family fun way to spend a Sunday afternoon and evening!
DR: Moonalice has also put a heavy emphasis on embracing social media (Twittercasting shows, for instance). What made you want to step into that role and what would you say it's done for the group's appeal and career?
RM: Moonalice is a social experiment that blends music, art, photography and fun in a manner that was common forty years ago, but not so much now. We are pioneering a new model of fan engagement which depends on social media like Facebook, Twitter and Google+, and even Linkedin. We have more than 130,000 fans and followers on these networks. Real life can nowadays be a pretty grim affair. In that environment, Moonalice on social media offers an emotional oasis of the best poster art on earth combined with beautiful photography and other fun, weird, wacky and wonderful stuff. As for the legends, well, they are legendary!
Our social media experiments have been really fun: Twittercasts, Twitter Radio and the Moonalice Forum. One of our favorite innovations in 2010 was MoonaliceTV which enabled us to broadcast most of our shows live and to share nearly all the others.
MoonaliceTV has now evolved into MoonTunes®, our own HTML 5 player for iPhone / iPad / Android that allows our fans to access live video streaming of shows which we upload via our own satellite system, a 160+ show video archive, a 450+ show audio archive, and 500+ posters, all for free! We have just upgraded to a new high capacity satellite with a 10 MB uplink, which doubles quality to full HD video!
Our signature single, "It's 4:20 Somewhere" is heading for two and a half million downloads! Last month the Rock and Roll Hall of Fame announced that the digital logs for "It's 4:20 Somewhere" had been acquired for the Library and Archives. Our logs will help tell the story of music's digital revolution; specifically the rise of direct-from-artist (DFA) distribution. We are the first band without a label to achieve one million downloads of a song from its own servers, direct-from-artist. Over the next several months, the Rock and Roll Hall of Fame Library and Archives will complete its digital asset management system in order to handle all digital formats, from electronic documents to born-digital photographs, audio and video files. Upon completion, Moonalice's digital logs will be available for use at the Library and Archives through the online catalog.
Ever since the beginning of pop music, technology has enabled artists to change the world, whether it was the introduction of LP records, stereo sound or subwoofers. Today we have the iPhone, the iPad, Android smartphones and social networks that allow artists to create and distribute a wide variety of music-related products on their own. At no other time in the history of music have the creative opportunities offered by technology afforded artists such a bounty of innovative ways to explore their craft and share their music.
DR: On the other hand, why should someone come to one of your shows if they can just stay home and watch it online instead?
RM: We have a global fan base and it is not always physically possible for our fans to attend our shows. Thanks to MoonTunes® they can either watch or join other fans in the chat room on what we call the Couch Tour in real time, or if time zones make this difficult, they can watch the show in the archive within 15 minutes after the end of each live performance. We have been told many times that nothing beats being at a show in person and some of our best shows are the ones where we perform for free in parks around the Bay Area. According to Moonalice legend, there's something about the feel of grass while dancing with bear feet…
DR: What made you want to join DeliRadio and what can you say about your experience with it so far?
RM: "We joined DeliRadio as a part of our preparation for our upcoming art show and concert at Brooklyn Bowl on Sunday 28th October. Folks who are interested in coming out to the show will be able to listen to and download a selection of our music before the event, including "It's 4:20 Somewhere!"
DR: Why move away from the traditional album format?
RM: The members of Moonalice are hippies of a certain age, no longer beholden to record labels, lawyers or producers. At this point in our lives all we care about is playing music and having fun. We play a lot of shows (approximately 100 a year), write a lot of songs, record a lot of songs and try new stuff all the time. We feel that live music should be a communal experience where the listener and musicians feed and derive inspiration from each other. Our songs try to speak to everyone, mixing a variety of genres with extended musical improvisations that evoke a sense of adventure and exploration.
DR: What's on the horizon for Moonalice?
RM: The idea behind Moonalice was simple: create a band the way I would a tech start-up, leveraging technology wherever possible. We will continue to push the envelope on both tech hardware and software (our state of the art satellite system and our website, www.moonalice.com, with integrated social networking and HTML 5 audio and video players) as well as heartware (unparalleled fan engagement) so that fans can experience what it is to be a member of our Tribe on any device, anywhere and at any time.
0
|
Login or Register to post comments