Upcoming Concerts
Point San Pablo Harbor

Richmond, CA

Terrapin Crossroads

San Rafael, CA

Felton Music Hall

Felton, CA

Ardmore Music Hall

Ardmore, PA

Brooklyn Bowl

Brooklyn, NY

Sweetwater Music Hall

Mill Valley, CA

Mystic Theatre

Petaluma, CA

The Odd Fellows Hall

Auburn, CA

Skull & Roses

Ventura, CA
Jan 24
Point San Pablo Harbor
-
Richmond, CA
Jan 25
Terrapin Crossroads
-
San Rafael, CA
Jan 26
Felton Music Hall
-
Felton, CA
Feb 20
Ardmore Music Hall
-
Ardmore, PA
Feb 21
Warehouse
-
Fairfield, CT
Feb 22
Brooklyn Bowl
-
Brooklyn, NY
Mar 19
Sweetwater Music Hall
-
Mill Valley, CA
Mar 20
Mystic Theatre
-
Petaluma, CA
Mar 21
The Odd Fellows Hall
-
Auburn, CA
Apr 5
Skull & Roses
-
Ventura, CA
Moonalice News
Introducing ... Full Moonalice!

Thank you for an amazing year!

Sisters & Brothers is the new Moonalice!

Check out the first full show by the Moonalice Sisters & Brothers band!

Moonalice Sisters & Brothers rock DROM in NYC!

Live for Live Music writes about Moonalice Sisters & Brothers Tour!

420 Gathering of the Tribe -- Video Archive!!!

Jerry Day in San Francisco: check out the video archive!

Check this epic show from the Hopmonk in Sebastopol
Introducing ... Full Moonalice!
Thank you for an amazing year!
Sisters & Brothers is the new Moonalice!
Check out the first full show by the Moonalice Sisters & Brothers band!
Moonalice Sisters & Brothers rock DROM in NYC!
Live for Live Music writes about Moonalice Sisters & Brothers Tour!
420 Gathering of the Tribe -- Video Archive!!!
Jerry Day in San Francisco: check out the video archive!
Check this epic show from the Hopmonk in Sebastopol
What To Watch (Archive)
Dec 13, 2019

/ Hill Country

(New York)

Notes: Jason played with Dave Diamond Band Roger sang Goin' Down the Road Feelin' Bad

Dec 11, 2019

/ Wonder Bar

(Asbury Park)

Notes: Jason played with Solar Circus

Dec 10, 2019

/ Garcia's at the Cap

(Port Chester)

Notes: Erica Jeski's first show with Doobie Decibel System Elliott Peck sang Sugaree

Jan 4, 2020

/ Terrapin Crossroads Grate Room

(San Rafael)

Debut of Full Moonalice Time Has Come (THC) Revue. SOLD OUT! Notes: Hallelujah dedicated to Liz Du...

Dec 21, 2019

/ Private Event

(Mount Kisco)

Dec 14, 2019

/ Gypsy Sally's

(Washington)

Notes: Jason played Iko-Iko and Roger sang New New Minglewood Blues with Stella Blues Band. Anniversary...

Dec 20, 2019

/ BRYAC

(Bridgeport)

Dec 17, 2019

/ Still Partners

(Sea Cliff)

Dec 19, 2019

/ The Rising Sun Barn

(Telford)

Note there has been a venue change to The Rising Sun Barn.

Dec 15, 2019

/ 118 North

(Wayne)
03.30.12
Free Exhibition of Complete Rock Poster Art Collection and Meet & Greet with Artists - Followed by Free Moonalice Performance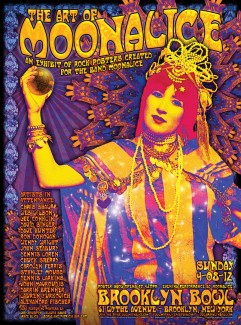 NEW YORK, NY - March 30, 2012 Moonalice is a band of seasoned musicians who feel that live music should be a communal experience where the listener and musicians feed and derive inspiration from each other. Their songs try to speak to everyone, mixing a variety of genres with extended musical improvisations that evoke a sense of adventure and exploration.
Since the band's formation in in 2007 they have had a special relationship with the art of the rock poster. They have commissioned an original rock poster for every gig and given them to their fans for free. Moonalice has produced a unique series of over 450 original gig posters from over 20 of the most well known poster artists of the past and the present.
On April 8th at 4pm at the Brooklyn Bowl they will host a free exhibition of the complete artwork of Moonalice. All 450 posters commissioned from many of the legendary poster artists of the psychedelic 60's as well as today's top rock poster artists working in the tradition will be on display. Artists in attendance at the exhibition will include such top names as David Singer, Stanley Mouse, Wes Wilson, Chris Shaw, Alexandra Fischer, Lee Conklin, Dave Hunter, Carolyn Ferris, Dennis Larkins, Wendy Wright, Chuck Sperry, Ron Donovan, Dennis Loren, John Seabury, John Mavroudis, Lauren Yurkovich and Darrin Brenner. The show will also feature posters by Gary Houston, Claude Shade, Grace Slick and Patricia Sargent.
From the beginning Moonalice made up its mind to let poster artists do what they do best –make art. Unencumbered by standard constraints, Moonalice posters are as diverse as the artists who create them.
In his blog, Gammalyte, poster artist David Hunter said, "Given virtually 100% artistic freedom, the Moonalice poster series has been a pleasure to work on, allowing me to explore new design realms, diving deep into the cerebral vortex and adding to the ever growing legend of Moonalice."
Roger McNamee (Bass, Guitar and Vocals), aka Chubby Wombat Moonalice has helped the band pioneer the use of social media in music. In the spirit of trading freely their music for the time and attention of their fans, the band invented such applications as Twittercast concerts, Moonalice radio on Twitter, live Moonbeam (video) concerts and the Couch Tour. The band's website enables fans to listen to any song or show and to watch every concert on a smartphone without an app. Moonalice's single, "It's 4:20 Somewhere" has been downloaded more than 1,335,000 times.
Moonalice is:
John Molo: Drums, Vocals, (Bruce Hornsby & the Range, John Fogarty, Phil Lesh & Friends, The Other Ones, David Nelson Band)
Barry Sless: Lead Guitar, Pedal Steel Guitar, Bass (Phil Lesh & Friends, David Nelson Band, Kingfish, Cowboy Jazz)
Roger McNamee: Rhythm Guitar, Vocals, Bass (Gulf, The Engineers, Random Axes, Flying Other Brothers)
Ann McNamee: Keyboards, Vocals (Flying Other Brothers, Ann Atomic)
Pete Sears: Bass,Keyboards, Guitar, Vocals (Sam Gopal Dream, Rod Stewart, Jefferson Starship, Jerry Garcia, Hot Tuna, John Lee Hooker, David Nelson Band, Phil Lesh & Friends)
Big Steve Parish: Road Scholar/Medicine Man/Storyteller.(Grateful Dead crew for 26 years, co-founder of Jerry Garcia Band)
CONCERT AND POSTER ART INFORMATION:
The Art of Moonalice Poster Show and Concert
Sunday, April 8 - Brooklyn Bowl
Poster show: 4pm - 8pm Free
Concert: 8pm, Tix: *FREE*
For event listing, please visit:
http://www.brooklynbowl.com/event/110457/
0
|
Login or Register to post comments