Upcoming Concerts
Nov 10
Golden Gate Park Bandshell
-
San Francisco, CA
Nov 30
The Guild Theatre
-
Menlo Park, CA
Dec 1
Odd Fellows Lodge
-
Auburn, CA
Dec 2
HopMonk Tavern
-
Sebastopol, CA
Moonalice News
Let's Rock The World One Tree At A Time!

Commemorating the 1969 Harlem Cultural Festival!!!

Moonalice Minute: Lester & Dylan Chambers (Episode 1)

Acoustic Guitar reviews Full Moonalice, Volume 2!!

Moonalice plays a set on Jam In The Van

Glide Magazine interviews Pete Sears!

Acoustic Guitar Magazine: Barry, Roger and T's play Nick and Woo Woo

PopMatters: Bottlerock Napa review … featuring Moonalice

Moonalice Will Not Play Indoors Until Further Notice

Bottlerock Napa 2022: Photos by Bob Minkin
Let's Rock The World One Tree At A Time!
Commemorating the 1969 Harlem Cultural Festival!!!
Moonalice Minute: Lester & Dylan Chambers (Episode 1)
Acoustic Guitar reviews Full Moonalice, Volume 2!!
Moonalice plays a set on Jam In The Van
Glide Magazine interviews Pete Sears!
Acoustic Guitar Magazine: Barry, Roger and T's play Nick and Woo Woo
PopMatters: Bottlerock Napa review … featuring Moonalice
Moonalice Will Not Play Indoors Until Further Notice
Bottlerock Napa 2022: Photos by Bob Minkin
What To Watch (Archive)
Aug 27, 2023

/ Terrapin Crossroads Presents: Sunday Daydream Vol. 2 @ Stafford Lake Park

(Novato)

According to Moonalice legend, we have gathered here at Stafford Lake for Sunshine Daydream 2. It is a b...

Sep 2, 2023

/ Felton Music Hall

(Felton)

According to Moonalice legend, we are really happy we are not at Burning Man. Apparently, a huge storm de...

Aug 19, 2023

/ Saturday Stream

(Howling Moon Studio)

Jul 21, 2023

/ Summer Concerts on the Green

(Novato)

Free Admission | 6:00-8:00pm Held at the Novato Civic Green, 901 Sherman Avenue Guests are encour...

Jul 22, 2023

/ Saturday Stream

(Howling Moon Studio)

Aug 26, 2023

/ Saturday Stream

(Howling Moon Studio)

Sep 1, 2023

/ The Chapel

(San Francisco)

According to Moonalice legend, we are totally psyched to be back at the Chapel. People showed us the secu...

Aug 18, 2023

/ Oakland A's Jerry Garcia Night @ Oakland Coliseum

(Oakland)

Oakland rap According to Moonalice legend, tonight is Jerry Garcia night at Oakland Coliseum. Jer...

Jul 8, 2023

/ Saturday Stream

(Howling Moon Studio)

Aug 31, 2023

/ Rebroadcast of Hardly Strictly Bluegrass 22 with new Audio & Video

(San Francisco)

This rebroadcast of the 2022 Hardly Strictly Bluegrass show with new and im...
10.05.17
Hardly Strictly Bluegrass - A Privilege To Play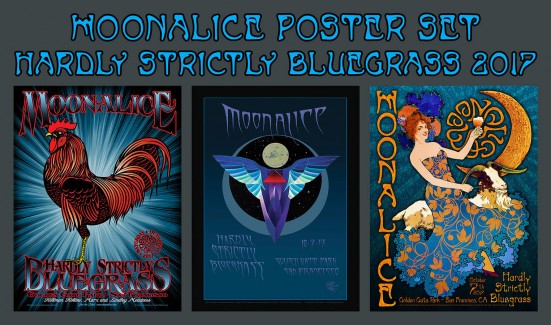 "Getting to play at all is a privilege…getting to play a big gig like HSB is just really something else," said Roger McNamee of Moonalice whose set will be on Saturday at 12:20pm on the Towers of Gold Stage. "There's a guy named Warren Hellman, an investor who was just really successful. His philanthropy has been all about making San Francisco a better place to live…so we can go see the arts, have an education, enjoy the parks and things like that. When he died, in his will he left a trust to support the Bluegrass Festival, which he has been paying for since it started fifteen years ago. He pays 100% of the costs so it's free to everybody."
"I think he initially did it so he could give the biggest payday of the year to his heroes in the bluegrass world. So it was Doc Watson, Earl Scruggs and people like that," Roger continued, "He would have them out, give them a huge pay day and have them play in front of their biggest crowds of the year. Then the thing morphed into something that was bigger than just bluegrass…and became "Hardly" Strictly Bluegrass. When that happened we - Moonalice - started getting invited, and it is pretty special. There's a ton of great festivals out there, and if you're in a band getting to play at a festival is really an awesome thing. It's just a great vibe, being at a festival."
Every who attends the Moonalice set will receive a set of three posters from leading Bay Area poster artists. Left to right by Stanley Mouse, Chris Shaw and Alexandra Fischer.
If you can't attend in person, you can watch the Moonalice set as well as performances from 5 stages at HSB right here on www.moonalice.com!!!
0
|
Login or Register to post comments