Upcoming Concerts
Nov 30
The Guild Theatre
-
Menlo Park, CA
Dec 1
Odd Fellows Lodge
-
Auburn, CA
Dec 2
HopMonk Tavern
-
Sebastopol, CA
Moonalice News
Let's Rock The World One Tree At A Time!

Commemorating the 1969 Harlem Cultural Festival!!!

Moonalice Minute: Lester & Dylan Chambers (Episode 1)

Poster Artist Feature: Dennis Larkins Interview

Acoustic Guitar reviews Full Moonalice, Volume 2!!

Moonalice plays a set on Jam In The Van

Glide Magazine interviews Pete Sears!

Acoustic Guitar Magazine: Barry, Roger and T's play Nick and Woo Woo

PopMatters: Bottlerock Napa review … featuring Moonalice

Moonalice Will Not Play Indoors Until Further Notice
Let's Rock The World One Tree At A Time!
Commemorating the 1969 Harlem Cultural Festival!!!
Moonalice Minute: Lester & Dylan Chambers (Episode 1)
Poster Artist Feature: Dennis Larkins Interview
Acoustic Guitar reviews Full Moonalice, Volume 2!!
Moonalice plays a set on Jam In The Van
Glide Magazine interviews Pete Sears!
Acoustic Guitar Magazine: Barry, Roger and T's play Nick and Woo Woo
PopMatters: Bottlerock Napa review … featuring Moonalice
Moonalice Will Not Play Indoors Until Further Notice
What To Watch (Archive)
Aug 18, 2023

/ Oakland A's Jerry Garcia Night @ Oakland Coliseum

(Oakland)

Oakland rap According to Moonalice legend, tonight is Jerry Garcia night at Oakland Coliseum. Jer...

Aug 27, 2023

/ Terrapin Crossroads Presents: Sunday Daydream Vol. 2 @ Stafford Lake Park

(Novato)

According to Moonalice legend, we have gathered here at Stafford Lake for Sunshine Daydream 2. It is a b...

Jul 22, 2023

/ Saturday Stream

(Howling Moon Studio)

Jul 21, 2023

/ Summer Concerts on the Green

(Novato)

Free Admission | 6:00-8:00pm Held at the Novato Civic Green, 901 Sherman Avenue Guests are encour...

Jul 8, 2023

/ Saturday Stream

(Howling Moon Studio)

Sep 2, 2023

/ Felton Music Hall

(Felton)

According to Moonalice legend, we are really happy we are not at Burning Man. Apparently, a huge storm de...

Aug 31, 2023

/ Rebroadcast of Hardly Strictly Bluegrass 22 with new Audio & Video

(San Francisco)

This rebroadcast of the 2022 Hardly Strictly Bluegrass show with new and im...

Aug 19, 2023

/ Saturday Stream

(Howling Moon Studio)

Sep 1, 2023

/ The Chapel

(San Francisco)

According to Moonalice legend, we are totally psyched to be back at the Chapel. People showed us the secu...

Aug 26, 2023

/ Saturday Stream

(Howling Moon Studio)
02.03.17
Moonalice 420 Gathering Of The Tribe Returns To Slim's In SF On 20 April 2017!!!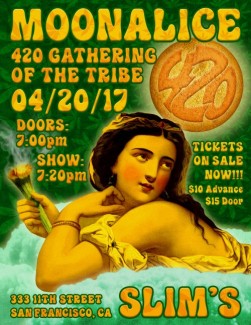 In a year that marks the 50th anniversary of the Summer Of Love, the psychedelic scene lives on in the band Moonalice. Formed in 2007, Moonalice reverberates the essence of rock music and is composed of Barry Sless on lead guitar and pedal steel (Phil Lesh & Friends, David Nelson Band); Pete Sears on keys, guitar and bass (Rod Stewart, Jefferson Starship, Hot Tuna); John Molo on drums (Bruce Hornsby, Other Ones, Phil Lesh & Friends) and Roger McNamee on rhythm guitar and bass (Doobie Decibel System, Flying Other Brothers, Guff, The Engineers).
"We are a psychedelic roots-rock band of seasoned musicians mixing a variety of genres with unexpected musical improvisations," said Roger McNamee describing how Moonalice began when T Bone Burnett approached him and others to form a new band not a heritage act. "What initially was simply a project to make an album of songs, then turned into a force of music all its own," said McNamee.
Moonalice streams all its shows live in HD via satellite on its website and also on its Facebook page to its more than 420,000 fans. "With the new technology said McNamee, people can take a peak at the music - our previous performances and decide whether or not they want to come see a show. That way they will know what they are paying for." He emphasized that what they will get is a complete experience. "The live music, the lights, the art work, and the stepping into new horizons of music-expression. It's kind of like a stew," he said, "It is experimental, it is meant to be fun, and with the audience being there, it all ties together."
The 2017 annual Moonalice Gathering Of The Tribe will take place at Slim's in San Francisco on Thursday 20th April. Doors are at 7:00pm with the show starting at 7:20pm. Tickets are $10 advance, $15 at the door, and $34.95 for dinner.
0
|
Login or Register to post comments