Upcoming Concerts
Nov 10
Golden Gate Park Bandshell
-
San Francisco, CA
Nov 30
The Guild Theatre
-
Menlo Park, CA
Dec 1
Odd Fellows Lodge
-
Auburn, CA
Dec 2
HopMonk Tavern
-
Sebastopol, CA
Moonalice News
Let's Rock The World One Tree At A Time!

Commemorating the 1969 Harlem Cultural Festival!!!

Moonalice Minute: Lester & Dylan Chambers (Episode 1)

Acoustic Guitar reviews Full Moonalice, Volume 2!!

Moonalice plays a set on Jam In The Van

Glide Magazine interviews Pete Sears!

Acoustic Guitar Magazine: Barry, Roger and T's play Nick and Woo Woo

PopMatters: Bottlerock Napa review … featuring Moonalice

Moonalice Will Not Play Indoors Until Further Notice

Bottlerock Napa 2022: Photos by Bob Minkin
Let's Rock The World One Tree At A Time!
Commemorating the 1969 Harlem Cultural Festival!!!
Moonalice Minute: Lester & Dylan Chambers (Episode 1)
Acoustic Guitar reviews Full Moonalice, Volume 2!!
Moonalice plays a set on Jam In The Van
Glide Magazine interviews Pete Sears!
Acoustic Guitar Magazine: Barry, Roger and T's play Nick and Woo Woo
PopMatters: Bottlerock Napa review … featuring Moonalice
Moonalice Will Not Play Indoors Until Further Notice
Bottlerock Napa 2022: Photos by Bob Minkin
What To Watch (Archive)
Jul 21, 2023

/ Summer Concerts on the Green

(Novato)

Free Admission | 6:00-8:00pm Held at the Novato Civic Green, 901 Sherman Avenue Guests are encour...

Aug 27, 2023

/ Terrapin Crossroads Presents: Sunday Daydream Vol. 2 @ Stafford Lake Park

(Novato)

According to Moonalice legend, we have gathered here at Stafford Lake for Sunshine Daydream 2. It is a b...

Aug 31, 2023

/ Rebroadcast of Hardly Strictly Bluegrass 22 with new Audio & Video

(San Francisco)

This rebroadcast of the 2022 Hardly Strictly Bluegrass show with new and im...

Jul 22, 2023

/ Saturday Stream

(Howling Moon Studio)

Jul 8, 2023

/ Saturday Stream

(Howling Moon Studio)

Sep 2, 2023

/ Felton Music Hall

(Felton)

According to Moonalice legend, we are really happy we are not at Burning Man. Apparently, a huge storm de...

Aug 18, 2023

/ Oakland A's Jerry Garcia Night @ Oakland Coliseum

(Oakland)

Oakland rap According to Moonalice legend, tonight is Jerry Garcia night at Oakland Coliseum. Jer...

Aug 19, 2023

/ Saturday Stream

(Howling Moon Studio)

Sep 1, 2023

/ The Chapel

(San Francisco)

According to Moonalice legend, we are totally psyched to be back at the Chapel. People showed us the secu...

Aug 26, 2023

/ Saturday Stream

(Howling Moon Studio)
Music
Video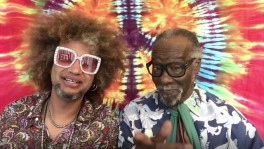 Live in Bay Area
Apr 20, 2020
Full Moonalice @ 4/20 Gathering of the Tribe Shelter-In-Place #36 Edition IN BAY AREA, CA
Legend
Media
Comments (1)
Who Was There?
According to Full Moonalice legend, today is April 20, the highest holy day in the tribal calendar. Happy 4/20! This year is special because the entire month of April is 4/20. In that spirit, we planned to celebrate the holy day with concert on the Beach at Terrapin Crossroads, in a co-bill with our friend Stu Allen, with all the usual posters, bells and whistles. Thanks to covid-19, we had to postpone the Terrapin gig. We hope to meet all of you for a Gathering of the Tribe gig when the danger ends. Fortunately, it's always 4:20 somewhere, so whenever the gig happens, it will be 4/20.
Until then, today is the big one: at 4:20pm on 4/20 of 2020, we will have our first virtual Gathering of the Tribe. Technology permitting, the whole band will take part in an online concert that will also include special guests and a surprise or two. We hope you will join us on Facebook, Twitter, or Moonalice.com.
We commissioned a full set of posters for the Terrapin show, images of which can be found below. The poster below by Lauren Yurkevich depicts Covid-420 Moonalice, the tribe's patron saint of nursing. In this time of quarantine, C-420 has everything you need, from CBD to hardcore PPE (Professional Pot Entertainment) products. If you ask nicely, she will deliver!
The show concluded with the debut of the official video for Time Has Come Today, created by Dylan Chambers.