Upcoming Concerts
HopMonk Tavern

Sebastopol, CA
Dec 2
HopMonk Tavern
-
Sebastopol, CA
Moonalice News
Let's Rock The World One Tree At A Time!

Commemorating the 1969 Harlem Cultural Festival!!!

Moonalice Minute: Lester & Dylan Chambers (Episode 1)

Poster Artist Feature: Dennis Larkins Interview

Acoustic Guitar reviews Full Moonalice, Volume 2!!

Moonalice plays a set on Jam In The Van

Glide Magazine interviews Pete Sears!

Acoustic Guitar Magazine: Barry, Roger and T's play Nick and Woo Woo

PopMatters: Bottlerock Napa review … featuring Moonalice

Moonalice Will Not Play Indoors Until Further Notice
Let's Rock The World One Tree At A Time!
Commemorating the 1969 Harlem Cultural Festival!!!
Moonalice Minute: Lester & Dylan Chambers (Episode 1)
Poster Artist Feature: Dennis Larkins Interview
Acoustic Guitar reviews Full Moonalice, Volume 2!!
Moonalice plays a set on Jam In The Van
Glide Magazine interviews Pete Sears!
Acoustic Guitar Magazine: Barry, Roger and T's play Nick and Woo Woo
PopMatters: Bottlerock Napa review … featuring Moonalice
Moonalice Will Not Play Indoors Until Further Notice
What To Watch (Archive)
Aug 26, 2023

/ Saturday Stream

(Howling Moon Studio)

Jul 22, 2023

/ Saturday Stream

(Howling Moon Studio)

Aug 31, 2023

/ Rebroadcast of Hardly Strictly Bluegrass 22 with new Audio & Video

(San Francisco)

This rebroadcast of the 2022 Hardly Strictly Bluegrass show with new and im...

Aug 18, 2023

/ Oakland A's Jerry Garcia Night @ Oakland Coliseum

(Oakland)

Oakland rap According to Moonalice legend, tonight is Jerry Garcia night at Oakland Coliseum. Jer...

Aug 19, 2023

/ Saturday Stream

(Howling Moon Studio)

Sep 1, 2023

/ The Chapel

(San Francisco)

According to Moonalice legend, we are totally psyched to be back at the Chapel. People showed us the secu...

Sep 2, 2023

/ Felton Music Hall

(Felton)

According to Moonalice legend, we are really happy we are not at Burning Man. Apparently, a huge storm de...

Dec 1, 2023

/ Odd Fellows Lodge

(Auburn)

Aug 27, 2023

/ Terrapin Crossroads Presents: Sunday Daydream Vol. 2 @ Stafford Lake Park

(Novato)

According to Moonalice legend, we have gathered here at Stafford Lake for Sunshine Daydream 2. It is a b...

Nov 30, 2023

/ The Guild Theatre

(Menlo Park)
Music
Video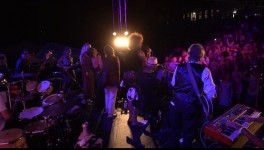 Live in Auburn
Legend
Media
Comments
Who Was There?
According to Full Moonalice legend, the band has experienced 20% growth in 2021! Erika and Chloe have beautiful babies …
Today's poster by Alexandra Fischer depicts Desi Full Moonalice and Asa Full Moonalice, two lovely cubs who plan to dance up a storm … as soon as they learn to stand up! Desi and Asa give us great hope for the future — that is exactly what babies are supposed to do! — and we want each of you to have one of these wonderful posters so that you join us in that joyful, optimistic outlook.
A few months ago it appeared we would have a full touring schedule through year end and beyond. Delta had other plans, so we are going back into the studio to record. In one way, that is amazing because we never got an opportunity to release the two albums we recorded right before quarantine. But the good news is that a label — Nettwerk Music in Vancouver — likes what we are doing. So we are going to try our hand at streaming. It will all start in a few weeks.
Streaming is different. You release songs one at a time, with the album coming at the end. We are going to try a lot of things and hope you will like it.
Who knows when we will be back on the road. We hope it will be soon!
Notes: Mookie Siegel played keys. Wally Ingram played drums. David Nelson played and sang on Peggy-O, FOTD>Dead Flowers
POSTER BY: ALEXANDRA FISCHER