Music
Set 2
Set 3
Set 4
Set 5
Encore 1
Video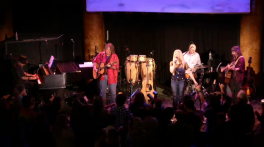 Live in San Francisco
Legend
Media (58)
Comments (1)
Who Was There?
According to Moonalice legend, there once was a beautiful blue moon named Blue Moonalice. She was one of a kind, and so much more. She reflected light and joy wherever she went. On this night, she gathered her bands, her family, and the Moonalice tribe to celebrate a new adventure. Onward she will go into the world of musical theater. This show includes music by Ann Atomic (the band Ann took on the Lilith Fair tour in 2011), the Flying Other Brothers, Moonalice and the cast of "Love Bytes," the first of Ann's two musical theater projects.
Musical director: Julie Wolf. Performers included Eric McFadden, Jon Evans, Curt Bisquera, Roger Love, Stacy Parrish, Giles McNamee, Tony Bove, Bert Keely, Bill Bennett, Corinne Monnard Marcus, Larry Marcus, Elise Dewsbury, James Abbott, Tara Hunnewell, Minta Mullin, Joanne Berwald, Stella Xanthakos . . . and Moonalice.
OFFICIAL PHOTO GALLERIES
FAN PHOTOS
Login
or
Register
to add your photos.
POSTER BY: DAVE HUNTER