Upcoming Concerts
Bottlerock Music Festival

Napa, CA

Doobie Decibel System Duo @ Bottlerock Music Festival (VIP Lounge)

Napa, CA

The Mill Valley Memorial Day Parade

Mill Valley, CA

Doobie Decibel System Trio @ The Acoustic

Bridgeport, CT

Doobie Decibel System @ Still Partners

Sea Cliff, NY

Doobie Decibel System Band @ Union Square

San Francisco, CA

Doobie Decibel System Band @ Moe's Alley

Santa Cruz, CA

Doobie Decibel System Band @ Oakland Museum

Oakland, CA

Doobie Decibel System Band @ Terrapin Crossroads

San Rafael , CA

Doobie Decibel System Band @ Crazy Horse

Nevada City, CA
May 28
Bottlerock Music Festival
-
Napa, CA
May 29
Doobie Decibel System Duo @ Bottlerock Music Festival (VIP Lounge)
-
Napa, CA
May 30
The Mill Valley Memorial Day Parade
-
Mill Valley, CA
Jun 4
Doobie Decibel System Trio @ The Acoustic
-
Bridgeport, CT
Jun 6
Doobie Decibel System @ Still Partners
-
Sea Cliff, NY
Jun 8
Doobie Decibel System Band @ Union Square
-
San Francisco, CA
Jun 16
Doobie Decibel System Band @ Moe's Alley
-
Santa Cruz, CA
Jun 17
Doobie Decibel System Band @ Oakland Museum
-
Oakland, CA
Jun 23
Doobie Decibel System Band @ Terrapin Crossroads
-
San Rafael , CA
Jun 24
Doobie Decibel System Band @ Crazy Horse
-
Nevada City, CA
Moonalice News
Moonalice 2016 Back in Time Couch Tour!!!

Moonalice will perform at BottleRock Napa 2016!!!

Moonalice Radio station on the internet!!!

Bread & Roses Gives an Award to Moonalice!

Moonalice in San Francisco Chronicle!

Bass Player Magazine promotes Moonalice and Jason Crosby & Friends!

Moonalice Rocks BottleRock!!!

Bands to Watch at BottleRock: Moonalice

Moonalice Rocks Twitter's Periscope!

Moonalice in Monterey Herald
Moonalice 2016 Back in Time Couch Tour!!!
Moonalice will perform at BottleRock Napa 2016!!!
Moonalice Radio station on the internet!!!
Bread & Roses Gives an Award to Moonalice!
Moonalice in San Francisco Chronicle!
Bass Player Magazine promotes Moonalice and Jason Crosby & Friends!
Moonalice Rocks BottleRock!!!
Bands to Watch at BottleRock: Moonalice
Moonalice Rocks Twitter's Periscope!
Moonalice in Monterey Herald
What To Watch (Archive)
July 8, 2014

/ Delancey Street

(San Francisco, CA)

Our annual concert at San Francisco's most successful halfway house is always a huge thrill.

July 25, 2014

/ Midnight Ramble, Levon Helm's Barn

(Woodstock, NY)

With Larry Campbell and the Midnight Ramble Band. Spiritual.

Oct 6, 2013

/ HSB

(San Francisco, CA)

HSB: the largest free festival in America draws more than 1/2 a million people. Our adrenal glands were working overtime!!!

July 30, 2014

/ The Cutting Room

(NYC)

Amazing venue in Manhattan's garment district. Jason Crosby joins us.

Aug 5, 2013

/ AT&T Park

(San Francisco, CA)

We played two sets before the Giants game. Our band loves baseball, so this giant fun for us (pun intended)

Jul 3, 2013

/ TRI Studios

(Weir Studio, CA)

If you don't know Moonalice and want a quick introduction to our music, this show is as good as you will find.

July 9, 2014

/ Union Square Live

(San Francisco, CA)

Free show in San Francisco's most famous square.

July 2, 2014

/ Truckee Amphitheater

(Truckee, CA)

This beautiful venue near Lake Tahoe was packed ... huge fun!

July 26, 2014

/ Jerry Jam

(Bath, NH)

Really fun festival in northern NH

Dec 29, 2013

/ Sweetwater Music

(Mill Valley, CA)

Our Psychedelic Sunday shows at Sweetwater occur at 2 in the afternoon - a fantastic time for serious psychedelic music
Music
Set 2
Set 3
Set 4
Set 5
Encore 1
Video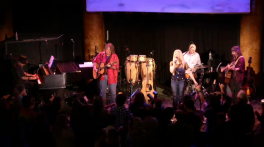 Live in San Francisco
Legend
Media (58)
Comments (1)
Who Was There?
According to Moonalice legend, there once was a beautiful blue moon named Blue Moonalice. She was one of a kind, and so much more. She reflected light and joy wherever she went. On this night, she gathered her bands, her family, and the Moonalice tribe to celebrate a new adventure. Onward she will go into the world of musical theater. This show includes music by Ann Atomic (the band Ann took on the Lilith Fair tour in 2011), the Flying Other Brothers, Moonalice and the cast of "Love Bytes," the first of Ann's two musical theater projects.
Musical director: Julie Wolf. Performers included Eric McFadden, Jon Evans, Curt Bisquera, Roger Love, Stacy Parrish, Giles McNamee, Tony Bove, Bert Keely, Bill Bennett, Corinne Monnard Marcus, Larry Marcus, Elise Dewsbury, James Abbott, Tara Hunnewell, Minta Mullin, Joanne Berwald, Stella Xanthakos . . . and Moonalice.
OFFICIAL PHOTO GALLERIES
FAN PHOTOS
Login
or
Register
to add your photos.
POSTER BY: CAROLYN FERRIS