Music
Video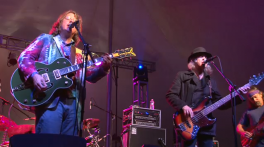 Live in Ozark
Legend
Media
Comments (2)
Who Was There?
According to Moonalice legend, today's poster by Dennis Larkins depicts Rosie Jetson Moonalice, the housekeeper on our home plutoid. Rosie keeps the moon spotless, even when company comes. We know this because the last time we visited she cleaned our weed, rolled it up, and then smoked it for us.
Mickey Hart played percussion on Joker's Lie.
First gig of Moonalice, the quartet.
POSTER BY: DENNIS LARKINS