Upcoming Concerts
Sierra View Music Festival

Oakdale, CA

West End Celebration

Sand City, CA

Union Square Live

San Francisco, CA

HopMonk Tavern

Novato, CA

Sweetwater Music Hall

Mill Valley, CA

Fenix Live

San Rafael, CA

KZFR presents @ Lost on Main

Chico, CA

Orpheum Theater

Flagstaff, AZ
Aug 22
Uptown Theatre
-
Napa, CA
Aug 23
Sierra View Music Festival
-
Oakdale, CA
Aug 24
West End Celebration
-
Sand City, CA
Sep 10
Union Square Live
-
San Francisco, CA
Sep 13
HopMonk Tavern
-
Novato, CA
Sep 14
Sweetwater Music Hall
-
Mill Valley, CA
Sep 18
Fenix Live
-
San Rafael, CA
Sep 19
KZFR presents @ Lost on Main
-
Chico, CA
Sep 26
Orpheum Theater
-
Flagstaff, AZ
Moonalice News
From Small Regional Band To National Touring Act – For Moonalice, Facebook Was The Key!!!

SF Weekly Blog: Candy and Pot: What to Do on the 4/20 Easter Weekend

18 Mind Blowing Posters In Moonalice 2014 4/20 Poster Set!!!

Moonalice Returns to BottleRock Napa Festival For Two Shows!!! #BRNV

Carolyn Ferris And Roger McNamee Debut Sunday Art And Music Series In Napa

Moonalice 4/20 Celebration with Special Guest David Nelson!!!

Concert In Celebration Of The National Baseball Hall Of Fame & Museum's 75th Anniversary

Plucking the strings of the guitar business - Gibson celebrates going back to the future!!!

Is Music the Key to Success?

Roger McNamee - 11 Albums That Stuck With Me
From Small Regional Band To National Touring Act – For Moonalice, Facebook Was The Key!!!
SF Weekly Blog: Candy and Pot: What to Do on the 4/20 Easter Weekend
18 Mind Blowing Posters In Moonalice 2014 4/20 Poster Set!!!
Moonalice Returns to BottleRock Napa Festival For Two Shows!!! #BRNV
Carolyn Ferris And Roger McNamee Debut Sunday Art And Music Series In Napa
Moonalice 4/20 Celebration with Special Guest David Nelson!!!
Concert In Celebration Of The National Baseball Hall Of Fame & Museum's 75th Anniversary
Plucking the strings of the guitar business - Gibson celebrates going back to the future!!!
Is Music the Key to Success?
Roger McNamee - 11 Albums That Stuck With Me
What To Watch (Archive)
July 9, 2014

/ Union Square Live

(San Francisco, CA)

Free show in San Francisco's most famous square.

July 8, 2014

/ Delancey Street

(San Francisco, CA)

Our annual concert at San Francisco's most successful halfway house is always a huge thrill.

Dec 29, 2013

/ Sweetwater Music

(Mill Valley, CA)

Our Psychedelic Sunday shows at Sweetwater occur at 2 in the afternoon - a fantastic time for serious psychedelic music

July 25, 2014

/ Midnight Ramble, Levon Helm's Barn

(Woodstock, NY)

With Larry Campbell and the Midnight Ramble Band. Spiritual.

July 26, 2014

/ Jerry Jam

(Bath, NH)

Really fun festival in northern NH

Oct 6, 2013

/ HSB

(San Francisco, CA)

HSB: the largest free festival in America draws more than 1/2 a million people. Our adrenal glands were working overtime!!!

July 2, 2014

/ Truckee Amphitheater

(Truckee, CA)

This beautiful venue near Lake Tahoe was packed ... huge fun!

Jul 3, 2013

/ TRI Studios

(Weir Studio, CA)

If you don't know Moonalice and want a quick introduction to our music, this show is as good as you will find.

Aug 5, 2013

/ AT&T Park

(San Francisco, CA)

We played two sets before the Giants game. Our band loves baseball, so this giant fun for us (pun intended)

July 30, 2014

/ The Cutting Room

(NYC)

Amazing venue in Manhattan's garment district. Jason Crosby joins us.
Music
Video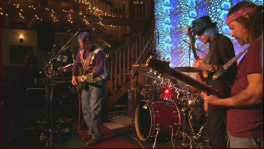 Live in Applegate
Legend
Media
Comments (1)
Who Was There?
According to Moonalice legend, the Mayans knew calendars. Back before the BC-AD changeover, they created a long term calendar that has been confusing the heck out of gringos ever since. If the gringos are to be believed, the world will end in three weeks, in which case this will be the final Moonalice show ever. Where some have been quick to dismiss this end-of-times talk, we are taking no chances. Chris Shaw's poster depicts our strategy. Those of us who have a space ship will watch the apocalypse from there. If you know an angel, you are invited to join the dance. Those who have a T. Rex should let it run loose. Everyone else will try to finish off their stash. Be prepared.
POSTER BY: CHRIS SHAW