Upcoming Concerts
Point San Pablo Harbor

Richmond, CA

Terrapin Crossroads

San Rafael, CA

Felton Music Hall

Felton, CA

Ardmore Music Hall

Ardmore, PA

Brooklyn Bowl

Brooklyn, NY

Sweetwater Music Hall

Mill Valley, CA

Mystic Theatre

Petaluma, CA

The Odd Fellows Hall

Auburn, CA

Good Old Days Celebration

Pacific Grove, CA
Jan 24
Point San Pablo Harbor
-
Richmond, CA
Jan 25
Terrapin Crossroads
-
San Rafael, CA
Jan 26
Felton Music Hall
-
Felton, CA
Feb 20
Ardmore Music Hall
-
Ardmore, PA
Feb 21
Warehouse
-
Fairfield, CT
Feb 22
Brooklyn Bowl
-
Brooklyn, NY
Mar 19
Sweetwater Music Hall
-
Mill Valley, CA
Mar 20
Mystic Theatre
-
Petaluma, CA
Mar 21
The Odd Fellows Hall
-
Auburn, CA
Apr 4
Good Old Days Celebration
-
Pacific Grove, CA
Moonalice News
Introducing ... Full Moonalice!

Thank you for an amazing year!

Sisters & Brothers is the new Moonalice!

Check out the first full show by the Moonalice Sisters & Brothers band!

Moonalice Sisters & Brothers rock DROM in NYC!

Live for Live Music writes about Moonalice Sisters & Brothers Tour!

420 Gathering of the Tribe -- Video Archive!!!

Jerry Day in San Francisco: check out the video archive!

Check this epic show from the Hopmonk in Sebastopol
Introducing ... Full Moonalice!
Thank you for an amazing year!
Sisters & Brothers is the new Moonalice!
Check out the first full show by the Moonalice Sisters & Brothers band!
Moonalice Sisters & Brothers rock DROM in NYC!
Live for Live Music writes about Moonalice Sisters & Brothers Tour!
420 Gathering of the Tribe -- Video Archive!!!
Jerry Day in San Francisco: check out the video archive!
Check this epic show from the Hopmonk in Sebastopol
What To Watch (Archive)
Dec 17, 2019

/ Still Partners

(Sea Cliff)

Dec 15, 2019

/ 118 North

(Wayne)

Dec 21, 2019

/ Private Event

(Mount Kisco)

Dec 20, 2019

/ BRYAC

(Bridgeport)

Jan 4, 2020

/ Terrapin Crossroads Grate Room

(San Rafael)

Debut of Full Moonalice Time Has Come (THC) Revue. SOLD OUT! Notes: Hallelujah dedicated to Liz Du...

Dec 10, 2019

/ Garcia's at the Cap

(Port Chester)

Notes: Erica Jeski's first show with Doobie Decibel System Elliott Peck sang Sugaree

Dec 11, 2019

/ Wonder Bar

(Asbury Park)

Notes: Jason played with Solar Circus

Dec 13, 2019

/ Hill Country

(New York)

Notes: Jason played with Dave Diamond Band Roger sang Goin' Down the Road Feelin' Bad

Dec 19, 2019

/ The Rising Sun Barn

(Telford)

Note there has been a venue change to The Rising Sun Barn.

Dec 14, 2019

/ Gypsy Sally's

(Washington)

Notes: Jason played Iko-Iko and Roger sang New New Minglewood Blues with Stella Blues Band. Anniversary...
03.21.12
Moonalice® 4/20 Tribe Reunion Promotion: Help Share the Love and Enter to Win Some Schwag!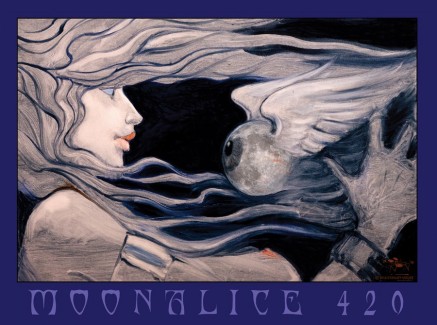 Enter your name in a random drawing to win one of 20 bags of Moonalice schwag! And don't forget after you enter to tell us what makes the tribe so special for you, to share the contest with your friends, to try out our new Facebook Connect feature on www.MOONALICE.COM to mark the Reunion, and to share your show and couch tour attendance with friends - it's a great way to help grow the tribe!
To enter, you need to become a member of the Tribe on Moonalice.com. Once you are a member, log in to Moonalice.com, read the contest rules, click on the "Add New Comment" tab at the bottom of this page and ask to be entered into the random draw.
Schwag bags will include a selection of fun stuff like t-shirts, DVDs, and/or books and will be sent to the lucky winners by mail.
Make sure your Tribe contac information is up to date so that we can contact you if you win!
The contest will run from 21 March to 18 April, 2012.
---OOO---
The fine print or "Official Rules":
NO PURCHASE OR PAYMENT NECESSARY TO ENTER OR WIN, NOR WILL A PURCHASE IMPROVE YOUR CHANCES OF WINNING. VOID WHERE PROHIBITED.
Sponsor: Moonalice LLC, a Delaware limited liability company located at 2800 Sand Hill Road, Suite 160 Menlo Park, California 94025 ("Sponsor") is the official sponsor of the Moonalice 4/20 Tribe Reunion Promotion ("Contest").
Dates: This Contest is valid from March 21, 2012 at 12:01 am PDT, through April 18, 2012 at 11:59 pm PDT ("Contest Period").
Eligibility: This Contest is open to Moonalice Tribe members who are legal residents of the fifty (50) United States and D.C. and who are 21 years of age and older at the time of entry. Employees, directors and their immediate families (spouse, parents, children, siblings, and each of their spouses regardless where they live) or members of households of Sponsor, and each of its respective parent companies, subsidiaries, advertising, design, print production and publicity agencies and anyone connected with the production and distribution of this Contest are not eligible to enter.
To Enter: Enter the Contest by visiting moonalice.com and logging into your account, reading and agreeing to the Contest rules, clicking on the "Add New Comment" tab at the bottom of the News page, and asking to be entered into the random draw within the Contest Period ("Entry" or "Entries"). One Entry per Tribe member. Entry in the Contest represents your acknowledgement that you have read the Official Rules, your agreement to be bound by the Official Rules and your agreement that the decisions of Sponsor about the Contest are in its sole discretion and binding in all respects. Each eligible Entry received shall be included in the drawing for the winners.
Neither Sponsor nor its agents are responsible for illegible, lost, stolen, late, damaged, incomplete, mutilated or misdirected entries or for any problems or technical malfunctions related to the electronic submission of entries, including any electronic transmission errors resulting in omission, interruption, deletion, defect, delay in operations or transmission, theft or destruction nor unauthorized access to or alterations of entry materials, or for technical, network, telephone equipment, electronic, computer hardware or software malfunctions or limitations of any kind, typographical errors in Entries or inaccurate transmissions of or failure to receive entry materials by Sponsor on account of technical problems or traffic congestion on the Internet or at any website or any combination thereof. Any person attempting to damage any website, defraud or in any way tamper with the Contest will be deemed ineligible and may be prosecuted to the full extent of the law.
All Entries will become the property of Sponsor and cannot be acknowledged or returned. Sponsor may refuse submission of any Entry that does not comply with these Official Rules.
Prizes: Twenty (20) Entries will be selected at random as winners of schwag packages containing assorted Moonalice® merchandise with an approximate retail value of between $10 and $ 50 ("Prize Packages ").
The right to receive a prize is non-assignable and non-transferable and no prize substitution, exchange or cash equivalent will be allowed except by Sponsor who reserves the right to substitute a prize (or portion of prize) of equal or greater value in Sponsor's sole discretion.
Odds: Odds of winning will depend upon the total number of eligible Entries received.
Winner Selection: A random drawing will be held on or about April 20 , 2012 ("Drawing"), from among all eligible Entries received, selecting twenty (20) Entries as winners of the Prize Packages ("Prize Winners").
Prize Winners will be notified by email within one (1) week of the Drawing at the email address provided in the Prize Winner's Tribe membership account information. Return of any prize/prize notification as undeliverable will result in disqualification and an alternate Entry will be selected from among the remaining eligible Entries.
Prize Packages will be sent to Prize Winners by mail at the address provided in the Prize Winner's Tribe membership account information at Sponsor's cost and expense. Prize Winners may be required to confirm acceptance of prizes by signing and returning to Sponsor an Affidavit of Eligibility and Publicity/Liability Release.
Sponsor reserves the right to cancel/terminate, modify or suspend the Contest if in Sponsor's sole determination it believes that the integrity of the Contest has been, or could be, compromised or that the Contest is not capable of running as planned or fairly, including, but not limited to, fraud or force majeure or any other causes beyond Sponsor's control.
Void Where Prohibited: Contest is void where prohibited or restricted. If any provision of this Contest shall be deemed to violate any federal, state or local law, it shall be amended to conform to such law and all other provisions shall remain in full force and effect. All federal, state and local laws and regulations apply.
RELEASE: By entering this Contest, entrants agree to these Official Rules and agree the decisions of the Sponsor are binding on behalf of entrant and each of his or her respective heirs, executors, administrators, legal representatives, successors and assigns ("Releasing Parties"). The Releasing Parties explicitly release, discharge and hold harmless Sponsor, Sponsor's successors, estates and assigns and all their respective shareholders, directors, officers and employees, one and all, from any and all liability, actions, causes of action, indirect or direct damages, actual damages, incidental or consequential damages, punitive or exemplary damages, lost profits, and any and all claims and demands whatsoever in law or equity, including all "costs", whether known or unknown, foreseen or unforeseen, which any of the Releasing Parties has or may have, now or hereafter, that in any way arise from or relate to entrant's participation in the Contest, including but not limited to any personal injury, death, loss of or damage to property or person, and/or the acceptance and use or misuse of a prize or inability to use any prize or any portion thereof.
The Releasing Parties hereby expressly waive all rights afforded by any statute or doctrine, including but not limited to Section 1542 of the Civil Code of California that limits the effect of a release, such as the one provided for with respect to unknown claims. In this regard, Section 1542 of the Civil Code of the State of California provides as follows:
A GENERAL RELEASE DOES NOT EXTEND TO CLAIMS WHICH THE CREDITOR DOES NOT KNOW OR SUSPECT TO EXIST IN HIS OR HER FAVOR AT THE TIME OF EXECUTING THE RELEASE, WHICH IF KNOWN BY HIM OR HER MUST HAVE MATERIALLY AFFECTED HIS OR SETTLEMENT WITH THE DEBTOR.
Grant of Rights/Waiver: Entry into this Contest and acceptance of any prize constitutes permission to use Prize Winners' names, towns and states on moonalice.com without further consent or compensation, unless prohibited by law. Nothing contained herein shall be deemed to obligate Sponsor to make use of any of the rights granted herein and Prize Winners waive any right to inspect or approve any such use of any and every nature and kind.
Choice of Law: Entrants agree that any and all disputes, claims, and causes of action arising out of or connected with this Contest or any prizes awarded and all issues and questions concerning the validity, interpretation and enforceability of these Official Rules shall be resolved individually, without resort to any form of class action, and exclusively in a court of competent jurisdiction sitting in San Mateo County, California. BY ENTERING THE CONTEST, YOU WAIVE ANY AND ALL OBJECTIONS TO JURISDICTION AND VENUE IN THE COURTS COVERING SAN MATEO, CALIFORNIA AND SUBMIT TO THE JURISDICTION OF THE COURTS COVERING SAN MATEO, CALIFORNIA. Further, you acknowledge and agree that you may only assert claims on your own behalf and not on behalf of any other person or entity arising from or in connection with this Contest or these Official Rules. Any and all claims, judgments and awards shall be limited to actual out-of-pocket costs incurred, including costs associated with entering this Contest and never shall include consequential, incidental or punitive damages, and in no event attorneys' fees. Some jurisdictions do not allow the limitation or exclusion of liability for incidental or consequential damages, so the above may not apply to you.
80
|
Login or Register to post comments