Upcoming Concerts
Saturday Stream

Howling Moon Studio, CA
Sep 25
Saturday Stream
-
Howling Moon Studio, CA
Moonalice News
Full Moonalice @ TxR Sep 4 w/ Stu Allen & Friends!

Twins Celebrate Their Birthday at Cloverdale Show!

GratefulWeb story about Days Between Festival! (With Photos!)

Full Moonalice's Jason Crosby is out on tour with Jackson Browne!

T Sisters to release single from their new album!

Blues Blast Magazine features Lester Chambers in cover story

Full Moonalice Tour Returns!

Fan Creates Awesome Line Dance to Full Moonalice song, "Woo Woo"

Photos from Full Moonalice livestream for Relix on Twitch!

Shelter-in-Place Tour: Statistics from the First 365 Days of Shows
Full Moonalice @ TxR Sep 4 w/ Stu Allen & Friends!
Twins Celebrate Their Birthday at Cloverdale Show!
GratefulWeb story about Days Between Festival! (With Photos!)
Full Moonalice's Jason Crosby is out on tour with Jackson Browne!
T Sisters to release single from their new album!
Blues Blast Magazine features Lester Chambers in cover story
Full Moonalice Tour Returns!
Fan Creates Awesome Line Dance to Full Moonalice song, "Woo Woo"
Photos from Full Moonalice livestream for Relix on Twitch!
Shelter-in-Place Tour: Statistics from the First 365 Days of Shows
What To Watch (Archive)
Aug 7, 2021

/ Petaluma Music Festival - Acoustic Stage

(Petaluma)

Angle of Repose through Fifteen Cadillacs pre-recorded at Howling Moon Studio. Handle With Care through ...

Aug 20, 2021

/ Friday Night Live Concert Series

(Cloverdale)

According to Moonalice legend, wildfire season has filled the air in too much of northern California with...

Aug 14, 2021

/ Saturday Stream

(Howling Moon Studio)

Following 420 daily "Shelter-In-Place" streams, live shows are finally starting to open up and we will co...

Sep 18, 2021

/ Ain't Necessarily Dead Fest

(Auburn)

According to Full Moonalice legend, the band has experienced 20% growth in 2021! Erika and Chloe have bea...

Sep 3, 2021

/ Saturday Stream on Friday

(Howling Moon Studio)

Following 420 daily "Shelter-In-Place" streams, live shows are finally starting to open up and we will co...

Sep 5, 2021

/ Bottlerock Music Festival

(Napa Valley)

According to Moonalice legend, we are living in a time warp. Outside this festival, it is Labor Day Week...

Aug 7, 2021

/ Petaluma Music Festival - Festival Stage

(Petaluma)

According to Full Moonalice legend, the sun shines brightly here in Petaluma. The corn in the fields is h...

Aug 28, 2021

/ Saturday Stream

(Howling Moon Studio)

First time played: Someday, Paradise, Reunion, Sunshine, Bucky, Flat Earth Boogie Second time played: Ca...

Aug 21, 2021

/ Saturday Stream

(Howling Moon Studio)

Following 420 daily "Shelter-In-Place" streams, live shows are finally starting to open up and we will co...

Sep 11, 2021

/ Saturday Stream

(Howling Moon Studio)

Following 420 daily "Shelter-In-Place" streams, live shows are finally starting to open up and we will co...
10.22.12
Moonalice: Art, Apps and George Takei Aspirations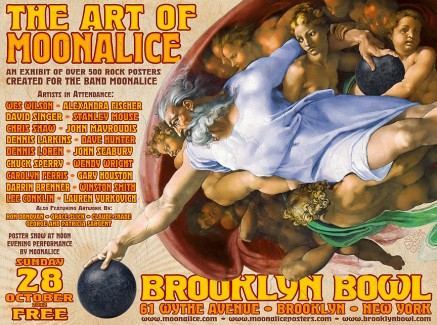 This Sunday, October 28, Bay Area based Moonalice will conclude their East Coast tour with an "Art of Moonalice" show at Brooklyn Bowl. The free event will begin at 3:00 PM with over 500 Moonalice concert posters on display and many of the artists on hand as well. Then at 7:00 PM the group will take the stage for a performance. Chubby Wombat Moonalice aka Roger McNamee took some time to discuss the happening with Relix, and offer some insight into the group's MoonTunes HTML 5 player which offers free live video streaming of all performance, along with free access to a 160+ show video archive, a 450+ show audio archive, and 500+ posters.
On Sunday Brooklyn Bowl will host your latest Art of Moonalice show. How many posters will be on display? How many of the artists? What can folks expect who make the trek to the Bowl?
All 550 posters in the Moonalice series will be on display. Eighteen artists are planning to be there: Chris Shaw, Stanley Mouse, Wes Wilson, Carolyn Ferris, David Singer, Dennis Larkins, Lee Conklin, Dennis Loren, Alexandra Fischer, Wendy Wright, Lauren Yurkovich, Chuck Sperry, Gary Houston, John Mavroudis, Winston Smith, John Seabury, Darrin Brenner, Dave Hunter.
Poster art has always been entwined with the Moonalice experience; can you talk about the origins of that? Was it Bill Graham inspired?
Relative to Moonalice, poster art is an extension of the band. Our art director, Chris Shaw, and Alexandra Fischer were at the first rehearsals and helped us pick the name.
I have been a fan of San Francisco rock poster art for as long as I can remember. When I first moved to San Francisco in 1976, one of my first stops was the Postermat on Columbus in North Beach. I didn't have any money, but it was possible to get a beautiful later printing of the classics for $15. Ben was patient with me and taught me a lot about poster art.
This may surprise you, but I'm not a collector of classic rock posters. My focus is on commissioning as many new posters from as many artists as possible. In five and a half years, we have commissioned 550 posters from 21 artists for Moonalice and dozens of posters for other events. Every one is a work of art and I would argue that each artist has done his or her best work for Moonalice.
We operate as a cooperative. The Art of Moonalice show is one important activity of the co-op: an opportunity to work together to promote poster art, meet fans, and sell posters.
What are the challenges of coordinating and producing them and lugging them around on the road? Any poster-related mishaps you can share?
Our art director, Chris Shaw, has produced at least 100 posters per year for us since Moonalice began. Chris and Alex get the posters to every show, no matter what. Over the years, they and the artists have streamlined the production process. We now print posters a dozen at a time, pack them into the truck a week before tour and off they go.
We give posters away for free to everyone at the show and sell them after that. The proceeds go to the artists.
Is the band itself ever involved in the process of suggesting themes for the posters?
Only indirectly. Chris and I talk two or three times a week. We have been working together for a decade and Chris and his wife Alex are family. We think about things in the same way. There is only one rule: no Moonalice poster may depict a woman in any way that is inconsistent with the Moonalice legend. According to Moonalice legend, our tribe is a matriarchy. Binder-free.
Can you talk a bit about poster trees? What are they, where are they and what do they have to do with Moonalice?
Poster trees are a way of displaying 500 posters outdoors in any weather where the wind is light. A friend of the band invented them so we could have poster exhibits when we play in San Francisco's Union Square and other parks around California. A couple of the posters have face-shaped holes so that everyone can take photo of their very own poster.
Let's move on and discuss MoonTunes. How long did it take you to develop?
We have been giving away our music from the first show in May 2007. We invented our way from Twittercasts to live HD video on smartphones over five years. It started when our first drum tech, Glenn Evans, brought a video camera to a show, put it at the soundboard and sold DVDs for $5. Over the course of a couple years, he got up to four cameras, at which point post production took a month for every show. That's when we switched to live production and transmission. The first livestream was a four camera low def shoot in LA. We got a free Livestream account for the show, but half an hour in, we had more than 50 viewers, so we had to give Livestream a credit card. The fans made it clear that live video was cool idea, but it took a ton of experiments – with wifi, cellular and satellite – to get to where we are now.
MoonTunes® is what we call the mobile video product. It's available to anyone, including PCs and Macs, but MoonTunes is optimized for iPad, iPhone, android. You will find it at Moonalice.com. MoonTunes is organized by show. It starts with live video casts and includes every show we have played. 550 posters. 450 shows of audio, 220 shows of video.
We have done 220 live broadcasts and the video gets better all the time. We're using the latest web technology – HTML5 – to enable an unbuffered 720p HD stream that works over 3G mobile networks.
It seems rather remarkable that so much media can be offered. What limitations if any would users experience who may not have the latest device?
No one gets left behind!! MoonTunes® is available to anyone for free. All you need is an up-to-date browser on PC or Mac, it just doesn't look as fancy as the mobile version. You will find everything at Moonalice.com.
If you have an iPad or iPhone and some Androids, the experience is optimized for the small screen. When you go to Moonalice.com, follow the link to the MoonTunes player. When it loads, touch the "arrow-in-a-box" button, then Add to Homescreen. It will now behave like an app.
You're offering all of these free to fans, can you talk about that decision? What business model (if any) is driving this or is this all about sharing the love?
I view Moonalice the way a philanthropist might view the Symphony or the Opera. I invest because I believe Moonalice can improve people's lives. We have made ourselves a hub for creative people, and I support that creativity, whether it comes in the form of music, light show, posters, live video, live paintings, pottery, plush animals, pies, or our Facebook community.
Our tribe isn't huge, but it's really engaged. For example, we believe our Facebook page is one of only two Facebook fan pages with more than 100% engagement (you can be >100% because the number includes Likes/Shares/Comments from friends of our fans). The king of engagement is our hero, George Takei, who has 2.5 million fans and currently runs a percent or two ahead of us.
Why aren't other groups using such technology yet (or are they)?
You will have to ask them. Everything we do with technology – including live video – costs about what we used to spend on our manager, label, and publicist. Now that we really know what we're doing we can do more things. We look for ways to make it available to others. For example we contributed live video of one stage for the entirety of the Hardly Strictly Bluegrass festival.
From the band's vantage point, what is required on the technology side at a given show to make it work?
Nothing. It just enlarges the audience by a few hundred people.
Is it proprietary technology? Will be you licensing it or otherwise sharing it with the world?
We invented several aspects of what we are doing. Our goal is to keep our innovations out of the hands of the Dark Side.
I read that you've recently acquired you own liquid light show? Are you using it at every evening gig? Can you talk about what that had added to the experience?
Our light show is at every indoor show, including Brooklyn Bowl.
The English Lights deliver the best of both liquid lights and digital light shows. Our production manager, Dan English, is a lighting wizard. This year, digital light show technology finally reached a point where it made both artistic and economic sense for Moonalice to upgrade. The system is all digital, but one of the core functions is the liquid show of Brotherhood of Lights, who did our 4/20 show this year.
Moonalice certainly has place a particular focus on the live experience. What if anything in the works in terms of studio record?
We go into the studio regularly with the amazing Dave Way. Our way is live, but Dave's Way is live in studio. We have put out six Dave's Way EPs so far, with two more ready to go. We charge $5 each for the EPs, which have five songs.
Final question. You played at AT&T as part of Jerry Garcia's birthday. Do the Giants have want to takes to win it all (and who's the biggest Moonalice fan on the team)?
The Giants are good enough, but I fear that both St Louis and Detroit are better. I love baseball because being better only helps over 162 games, not 4 of 7.
0
|
Login or Register to post comments