Upcoming Concerts
Saturday Stream

Howling Moon Studio, CA
Sep 25
Saturday Stream
-
Howling Moon Studio, CA
Moonalice News
Full Moonalice @ TxR Sep 4 w/ Stu Allen & Friends!

Twins Celebrate Their Birthday at Cloverdale Show!

GratefulWeb story about Days Between Festival! (With Photos!)

Full Moonalice's Jason Crosby is out on tour with Jackson Browne!

T Sisters to release single from their new album!

Blues Blast Magazine features Lester Chambers in cover story

Full Moonalice Tour Returns!

Fan Creates Awesome Line Dance to Full Moonalice song, "Woo Woo"

Photos from Full Moonalice livestream for Relix on Twitch!

Shelter-in-Place Tour: Statistics from the First 365 Days of Shows
Full Moonalice @ TxR Sep 4 w/ Stu Allen & Friends!
Twins Celebrate Their Birthday at Cloverdale Show!
GratefulWeb story about Days Between Festival! (With Photos!)
Full Moonalice's Jason Crosby is out on tour with Jackson Browne!
T Sisters to release single from their new album!
Blues Blast Magazine features Lester Chambers in cover story
Full Moonalice Tour Returns!
Fan Creates Awesome Line Dance to Full Moonalice song, "Woo Woo"
Photos from Full Moonalice livestream for Relix on Twitch!
Shelter-in-Place Tour: Statistics from the First 365 Days of Shows
What To Watch (Archive)
Aug 20, 2021

/ Friday Night Live Concert Series

(Cloverdale)

According to Moonalice legend, wildfire season has filled the air in too much of northern California with...

Aug 21, 2021

/ Saturday Stream

(Howling Moon Studio)

Following 420 daily "Shelter-In-Place" streams, live shows are finally starting to open up and we will co...

Aug 28, 2021

/ Saturday Stream

(Howling Moon Studio)

First time played: Someday, Paradise, Reunion, Sunshine, Bucky, Flat Earth Boogie Second time played: Ca...

Sep 3, 2021

/ Saturday Stream on Friday

(Howling Moon Studio)

Following 420 daily "Shelter-In-Place" streams, live shows are finally starting to open up and we will co...

Aug 7, 2021

/ Petaluma Music Festival - Festival Stage

(Petaluma)

According to Full Moonalice legend, the sun shines brightly here in Petaluma. The corn in the fields is h...

Sep 5, 2021

/ Bottlerock Music Festival

(Napa Valley)

According to Moonalice legend, we are living in a time warp. Outside this festival, it is Labor Day Week...

Aug 7, 2021

/ Petaluma Music Festival - Acoustic Stage

(Petaluma)

Angle of Repose through Fifteen Cadillacs pre-recorded at Howling Moon Studio. Handle With Care through ...

Sep 18, 2021

/ Ain't Necessarily Dead Fest

(Auburn)

According to Full Moonalice legend, the band has experienced 20% growth in 2021! Erika and Chloe have bea...

Aug 14, 2021

/ Saturday Stream

(Howling Moon Studio)

Following 420 daily "Shelter-In-Place" streams, live shows are finally starting to open up and we will co...

Sep 11, 2021

/ Saturday Stream

(Howling Moon Studio)

Following 420 daily "Shelter-In-Place" streams, live shows are finally starting to open up and we will co...
10.25.12
Soapbox: Moonalice Innovates In Online Community Building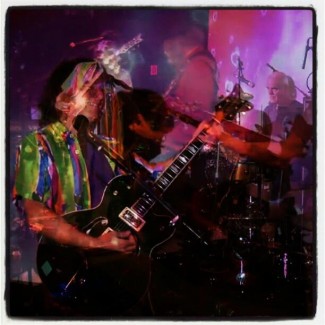 Kevin Smith is communications director at DeliRadio, "a free, location-based music platform connecting listeners with local concerts." Here he shares his thoughts on Moonalice who are currently on an east coast tour.
The days of rockstar mystique— when an artist could retain a mysterious distance from fans — are over. Today, fans expect access to their music idols at all times via Twitter, Facebook, and Instagram, and artists new and old must develop an engaging online presence to meet that demand. Working at DeliRadio, I get to see firsthand the bands that are taking the lead in online promotion. (For the uninitiated, DeliRadio – "radio for concert lovers" – plays music by bands with upcoming shows nearby. It can also play venue and festival lineups, or your hometown acts.) So far, one of the most impressive examples I have seen of an act on DeliRadio that has cultivated a vibrant online presence has been independent folk rock act Moonalice. I had seen Moonalice's artwork before (we'll get to that later), but it wasn't until they joined DeliRadio that I visited their website and dug a little deeper and was amazed at what I found. The band has unceremoniously dispensed with much of the preconceived wisdom of self-promotion of the traditional record industry, and been blazing its own trail online. I contacted Moonalice to talk about some of the ways it's accomplished that, and where it's going next.
The Moonalice Legend
Moonalice formed in 2007 and creates the kind of swaying, soulful, tie-dyed folk rock that has roots and spirit in the culture of the 1960s. Within the group's nostalgic sound and hippy visual aesthetic, there are lots of counter culture references, be it about getting high ("It's 420 Somewhere") or just not letting hard times get you down ("American Dream Rag"). Moonalice is made up of Bay Area rock scene veterans: Barry Sless (lead guitar, pedal steel, bass), Pete Sears (keyboards, bass, guitar, vocals), John Molo (drums, vocals). And if you're familiar with the technology or venture capital worlds, you may have heard of Roger McNamee. Among other things, McNamee is a co-founder of Elevation Partners, a successful technology investment group which has backed everything from Facebook to Yelp, and major video game developers like BioWare. McNamee is also a co-founder, rhythm guitarist, bassist, and singer for Moonalice. Given McNamee's intimate familiarity with cutting edge technology, you'd expect Moonalice to have a pretty savvy web presence, but that's almost like saying Jerry Garcia knew how to play guitar.
Live concert broadcasts
Moonalice has made a go of it for five years now – playing over 450 gigs, and releasing 1 album and 3 EPs – all without the help of a record label, a manager, or a publicist. The money saved on traditional infrastructure was invested (among other things) in online video. Around 2010, Moonalice linked up with MobileRider, who are "expert in the delivery of live and on-demand content over the Internet and across multiple platforms." Using MobileRider, Moonalice was able to develop a system, dubbed MoonTunes, which allows one to watch most of the band's concerts live and online in real time HD at moonalice.com and on various mobile devices. The result for Moonalice is a powerful promotional tool — the ability for fans to watch any show performed live through the Internet, free of charge, in HD.
Building, engaging, and rewarding a fanbase
Here's another kicker: the concerts that Moonalice streams free of charge aren't just available for one night only. If you miss out on a live Moonalice performance, it's most likely archived and available on-demand through the band's website, which hosts hundreds of shows dating back to the group's inception. This means Moonalice is accumulating a literal live career archive on its website. Instead of charging a subscription or one-time viewing fees, this content is all 100% free for anyone, anywhere to stream on Moonalice.com. By not charging for access, McNamee says that live video has "enabled us to build a committed fan base at a reasonable cost." Moonalice makes its concerts unique events not just by live streaming, but also by commemorating each show with a unique gig poster (many can be found here). McNamee says Moonalice has amassed a group of around 20 different visual artists to create posters for each of its shows, which are free for fans in attendance, and then later for sale online. The poster collection now totals over 450 – one for every gig- and range in styles from trippy to more pop-art. If you're in the New York area this weekend, you can see the poster collection Sunday, Oct. 28, at Brooklyn Bowl.
By constantly creating multi-media content for new and existing fans – Moonalice is seeing a big pay off in the overall engagement of its fans in social media. For instance, Moonalice's Facebook page now shows that while over 68,000 people have "Liked" the band, there are 70,600 talking about it (measured by actions on Facebook like posting about Moonalice, answering a question posted to its wall, liking or sharing posts, etc.) For contrast, Dave Matthews Band has 2.8 million likes on Facebook, but on a recent visit had reported only around 20,000 people "talking about the band."
Looking Forward
Imagine Moonalice's advantage right now: a fan discovers that the group is playing her favorite local music venue down the street in the next month. That fan then goes onto the Moonalice website and is introduced to a whole world of archived video and audio content. She then watches some of Moonalice's shows from its current tour online , leading up to the stop in her area. When Moonalice finally arrives in her town, she buys a ticket to the show and joins the live experience, and goes home with a free poster from the band. Moonalice is laying out one template for what a music act can do in the current online media landscape that's completely outside the scope of the traditional marketing formula.
Of course, not all bands have the kinds of technological support at their disposal that Moonalice does. So what can those with less access do for themselves in the meantime? "Video is much less expensive than people realize, but good live video is still too complicated," McNamee says. "The short term answer is to work with Livestream, Ustream, or one of the other services. Fortunately, the problem will go away over the next year as we, and others, simplify the hardware and software." McNamee says Moonalice is working on different ways to share and spread the technology they've been utilizing, and it's already started.
Whether you're interested in following in Moonalice's path or blazing your own, it's important to recognize there are a lot of unconventional ways to get your music heard today that don't always involve stepping into a recording booth first.
0
|
Login or Register to post comments