Upcoming Concerts
HopMonk Tavern

Sebastopol, CA
Dec 2
HopMonk Tavern
-
Sebastopol, CA
Moonalice News
Let's Rock The World One Tree At A Time!

Commemorating the 1969 Harlem Cultural Festival!!!

Moonalice Minute: Lester & Dylan Chambers (Episode 1)

Poster Artist Feature: Dennis Larkins Interview

Acoustic Guitar reviews Full Moonalice, Volume 2!!

Moonalice plays a set on Jam In The Van

Glide Magazine interviews Pete Sears!

Acoustic Guitar Magazine: Barry, Roger and T's play Nick and Woo Woo

PopMatters: Bottlerock Napa review … featuring Moonalice

Moonalice Will Not Play Indoors Until Further Notice
Let's Rock The World One Tree At A Time!
Commemorating the 1969 Harlem Cultural Festival!!!
Moonalice Minute: Lester & Dylan Chambers (Episode 1)
Poster Artist Feature: Dennis Larkins Interview
Acoustic Guitar reviews Full Moonalice, Volume 2!!
Moonalice plays a set on Jam In The Van
Glide Magazine interviews Pete Sears!
Acoustic Guitar Magazine: Barry, Roger and T's play Nick and Woo Woo
PopMatters: Bottlerock Napa review … featuring Moonalice
Moonalice Will Not Play Indoors Until Further Notice
What To Watch (Archive)
Sep 1, 2023

/ The Chapel

(San Francisco)

According to Moonalice legend, we are totally psyched to be back at the Chapel. People showed us the secu...

Nov 30, 2023

/ The Guild Theatre

(Menlo Park)

Aug 31, 2023

/ Rebroadcast of Hardly Strictly Bluegrass 22 with new Audio & Video

(San Francisco)

This rebroadcast of the 2022 Hardly Strictly Bluegrass show with new and im...

Jul 22, 2023

/ Saturday Stream

(Howling Moon Studio)

Aug 19, 2023

/ Saturday Stream

(Howling Moon Studio)

Aug 27, 2023

/ Terrapin Crossroads Presents: Sunday Daydream Vol. 2 @ Stafford Lake Park

(Novato)

According to Moonalice legend, we have gathered here at Stafford Lake for Sunshine Daydream 2. It is a b...

Dec 1, 2023

/ Odd Fellows Lodge

(Auburn)

Aug 18, 2023

/ Oakland A's Jerry Garcia Night @ Oakland Coliseum

(Oakland)

Oakland rap According to Moonalice legend, tonight is Jerry Garcia night at Oakland Coliseum. Jer...

Aug 26, 2023

/ Saturday Stream

(Howling Moon Studio)

Sep 2, 2023

/ Felton Music Hall

(Felton)

According to Moonalice legend, we are really happy we are not at Burning Man. Apparently, a huge storm de...
10.22.16
Moonalice - Prop 64 Awareness Concert on Nov. 3 2016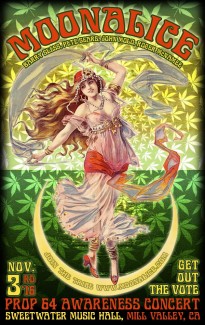 Roger McNamee described the upcoming show of Moonalice in support of Prop 64, "On November 3rd at the Sweetwater Music Hall in Mill Valley, California, Moonalice is going to be playing a show. We've invited Steve DeAngelo, the founder of the Harborside Health Center, the largest, the first dispensary in the state of California, to come and answer your questions. Come and meet Steve. Come and meet the other people from Harborside. It's going to be a fun show, but we're going to learn a lot, and we're going to bring the tribe together to do something for civil rights that we can all be incredibly proud of."
He concluded by saying, "I will tell you, I don't pretend that Prop 64 solves the whole problem. In politics it never works that way. In politics you make small steps and you make lots of them, and you keep at it and you're determined and you fight for the right thing. If you're really lucky, you live to see the finish line. I look at all my friends in the LGBTQ community and the incredible job they did on marriage equality, and I admire them for just hanging in there and fighting the good fight. Look what's happened. They've been really successful. If we elect the right person President this year, we're going to keep all of those gains. You know what? Now is the time to do the same thing for cannabis. Join me. Vote yes on Proposition 64 on November 8th."
Read more > http://buff.ly/2e232Q9
0
|
Login or Register to post comments