Upcoming Concerts
Jan 25
Terrapin Crossroads
-
San Rafael, CA
Jan 26
Felton Music Hall
-
Felton, CA
Apr 5
Skull & Roses
-
Ventura, CA
May 24
Bottlerock Music Festival (May 22-24)
-
Napa, CA
Moonalice News
Introducing ... Full Moonalice!

Thank you for an amazing year!

Sisters & Brothers is the new Moonalice!

Check out the first full show by the Moonalice Sisters & Brothers band!

Moonalice Sisters & Brothers rock DROM in NYC!

Live for Live Music writes about Moonalice Sisters & Brothers Tour!

420 Gathering of the Tribe -- Video Archive!!!

Jerry Day in San Francisco: check out the video archive!

Check this epic show from the Hopmonk in Sebastopol
Introducing ... Full Moonalice!
Thank you for an amazing year!
Sisters & Brothers is the new Moonalice!
Check out the first full show by the Moonalice Sisters & Brothers band!
Moonalice Sisters & Brothers rock DROM in NYC!
Live for Live Music writes about Moonalice Sisters & Brothers Tour!
420 Gathering of the Tribe -- Video Archive!!!
Jerry Day in San Francisco: check out the video archive!
Check this epic show from the Hopmonk in Sebastopol
What To Watch (Archive)
Dec 20, 2019

/ BRYAC

(Bridgeport)

Dec 17, 2019

/ Still Partners

(Sea Cliff)

Dec 11, 2019

/ Wonder Bar

(Asbury Park)

Notes: Jason played with Solar Circus

Dec 21, 2019

/ Private Event

(Mount Kisco)

Dec 14, 2019

/ Gypsy Sally's

(Washington)

Notes: Jason played Iko-Iko and Roger sang New New Minglewood Blues with Stella Blues Band. Anniversary...

Dec 15, 2019

/ 118 North

(Wayne)

Dec 13, 2019

/ Hill Country

(New York)

Notes: Jason played with Dave Diamond Band Roger sang Goin' Down the Road Feelin' Bad

Dec 19, 2019

/ The Rising Sun Barn

(Telford)

Note there has been a venue change to The Rising Sun Barn.

Dec 10, 2019

/ Garcia's at the Cap

(Port Chester)

Notes: Erica Jeski's first show with Doobie Decibel System Elliott Peck sang Sugaree

Jan 4, 2020

/ Terrapin Crossroads Grate Room

(San Rafael)

Debut of Full Moonalice Time Has Come (THC) Revue. SOLD OUT! Notes: Hallelujah dedicated to Liz Du...
Music
Video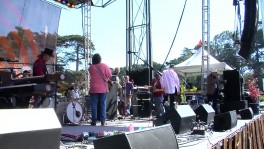 Live in San Francisco
Legend
Media (53)
Comments
Who Was There?
According to Moonalice Legend, three Wise Artists heard about the coming of a great festival. They came from all over, bearing gifts for the festival: posters made of the finest colors. One poster featured a wild thing with four faces. Another depicted a basset hound with a kazoo. Still another, a woman whose face was made of flowers and seashells. The Wise Artists shared their gifts with the festival, which reciprocated with offerings of music and hemp of the highest quality. Everyone saw that this was good and lived happily ever after.
According to Moonalice legend, Four Winds Moonalice was a Wild Thing! With four mouths and only one set of lungs, Four Winds was always the first in the tribe to pass out after a smoke.
According to Moonalice legend, Pokey Moonalice was a ventriloquist. He was also a kazoo-playing basset hound whose puppet companion played bass banjo on the Arrow Stage. Pokey favored blue grass, but didn't know it, due to color blindness.
According to Moonalice legend, some people are really well put together. Others only appear to be well put together. Such was the case with Collage Moonalice. Her face consisted of flower petals, sea shells, and pearls, and required Elmer's Glue to keep the pieces from flying off the page!
OFFICIAL PHOTO GALLERIES
FAN PHOTOS
Login
or
Register
to add your photos.
POSTER BY: DENNIS LARKINS