Upcoming Concerts
Nov 30
The Guild Theatre
-
Menlo Park, CA
Dec 1
Odd Fellows Lodge
-
Auburn, CA
Dec 2
HopMonk Tavern
-
Sebastopol, CA
Moonalice News
Let's Rock The World One Tree At A Time!

Commemorating the 1969 Harlem Cultural Festival!!!

Moonalice Minute: Lester & Dylan Chambers (Episode 1)

Poster Artist Feature: Dennis Larkins Interview

Acoustic Guitar reviews Full Moonalice, Volume 2!!

Moonalice plays a set on Jam In The Van

Glide Magazine interviews Pete Sears!

Acoustic Guitar Magazine: Barry, Roger and T's play Nick and Woo Woo

PopMatters: Bottlerock Napa review … featuring Moonalice

Moonalice Will Not Play Indoors Until Further Notice
Let's Rock The World One Tree At A Time!
Commemorating the 1969 Harlem Cultural Festival!!!
Moonalice Minute: Lester & Dylan Chambers (Episode 1)
Poster Artist Feature: Dennis Larkins Interview
Acoustic Guitar reviews Full Moonalice, Volume 2!!
Moonalice plays a set on Jam In The Van
Glide Magazine interviews Pete Sears!
Acoustic Guitar Magazine: Barry, Roger and T's play Nick and Woo Woo
PopMatters: Bottlerock Napa review … featuring Moonalice
Moonalice Will Not Play Indoors Until Further Notice
What To Watch (Archive)
Aug 27, 2023

/ Terrapin Crossroads Presents: Sunday Daydream Vol. 2 @ Stafford Lake Park

(Novato)

According to Moonalice legend, we have gathered here at Stafford Lake for Sunshine Daydream 2. It is a b...

Aug 19, 2023

/ Saturday Stream

(Howling Moon Studio)

Nov 30, 2023

/ The Guild Theatre

(Menlo Park)

Sep 2, 2023

/ Felton Music Hall

(Felton)

According to Moonalice legend, we are really happy we are not at Burning Man. Apparently, a huge storm de...

Jul 21, 2023

/ Summer Concerts on the Green

(Novato)

Free Admission | 6:00-8:00pm Held at the Novato Civic Green, 901 Sherman Avenue Guests are encour...

Aug 31, 2023

/ Rebroadcast of Hardly Strictly Bluegrass 22 with new Audio & Video

(San Francisco)

This rebroadcast of the 2022 Hardly Strictly Bluegrass show with new and im...

Aug 18, 2023

/ Oakland A's Jerry Garcia Night @ Oakland Coliseum

(Oakland)

Oakland rap According to Moonalice legend, tonight is Jerry Garcia night at Oakland Coliseum. Jer...

Sep 1, 2023

/ The Chapel

(San Francisco)

According to Moonalice legend, we are totally psyched to be back at the Chapel. People showed us the secu...

Jul 22, 2023

/ Saturday Stream

(Howling Moon Studio)

Aug 26, 2023

/ Saturday Stream

(Howling Moon Studio)
Music
Video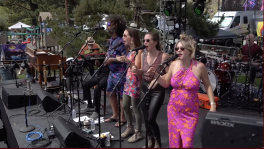 Live in June Lake
Legend
Media
Comments
Who Was There?
According to Moonalice legend, hurricanes seldom occur in the Pacific Ocean and almost never reach California. We learned this years ago from our dear friend Craig Marshall of Moonalice. A hurricane did not reach California again this week, but it came close. Hurricane Kay turned into a tropical storm, finally turning down the thermostat which has been pegged to the setting for London Broil. In the Bay Area, where most of us live, temperatures set records, and the cannabis crop spontaneously combusted.
Today's poster by Alexandra Fischer depicts the twins May and June Lake Moonalice, patron saints of sunscreen, air conditioning, and rain delays. They are so excited that we have gathered again at their summer home that decided to have us stay an extra day. It turns out that May is still grumpy they named this body of water after her sister and the tropical storm after the Tommy Lee Jones character in Men In Black, while only naming a fly after her. We gave her a bag of weed and told her to get over it.
Notes:
This gig was originally scheduled for Saturday night, but was postponed to Sunday afternoon due to rain. This was the first gig in which the whole band was able to play since the Hogfarm Hideaway in June.
Mookie Siegel played keys.
First time played: Old & Proud, Arms Reach Out
No Tribe members have listed their attendance for this show yet.
Click the "I was there!" link above to mark your attendance for this show. If video archive is available, click "Launch Video" on the left the watch and add the show to your Couch Tour!
POSTER BY: ALEXANDRA FISCHER