Upcoming Concerts
Nov 30
The Guild Theatre
-
Menlo Park, CA
Dec 1
Odd Fellows Lodge
-
Auburn, CA
Dec 2
HopMonk Tavern
-
Sebastopol, CA
Moonalice News
Let's Rock The World One Tree At A Time!

Commemorating the 1969 Harlem Cultural Festival!!!

Moonalice Minute: Lester & Dylan Chambers (Episode 1)

Poster Artist Feature: Dennis Larkins Interview

Acoustic Guitar reviews Full Moonalice, Volume 2!!

Moonalice plays a set on Jam In The Van

Glide Magazine interviews Pete Sears!

Acoustic Guitar Magazine: Barry, Roger and T's play Nick and Woo Woo

PopMatters: Bottlerock Napa review … featuring Moonalice

Moonalice Will Not Play Indoors Until Further Notice
Let's Rock The World One Tree At A Time!
Commemorating the 1969 Harlem Cultural Festival!!!
Moonalice Minute: Lester & Dylan Chambers (Episode 1)
Poster Artist Feature: Dennis Larkins Interview
Acoustic Guitar reviews Full Moonalice, Volume 2!!
Moonalice plays a set on Jam In The Van
Glide Magazine interviews Pete Sears!
Acoustic Guitar Magazine: Barry, Roger and T's play Nick and Woo Woo
PopMatters: Bottlerock Napa review … featuring Moonalice
Moonalice Will Not Play Indoors Until Further Notice
What To Watch (Archive)
Aug 27, 2023

/ Terrapin Crossroads Presents: Sunday Daydream Vol. 2 @ Stafford Lake Park

(Novato)

According to Moonalice legend, we have gathered here at Stafford Lake for Sunshine Daydream 2. It is a b...

Jul 21, 2023

/ Summer Concerts on the Green

(Novato)

Free Admission | 6:00-8:00pm Held at the Novato Civic Green, 901 Sherman Avenue Guests are encour...

Aug 26, 2023

/ Saturday Stream

(Howling Moon Studio)

Sep 2, 2023

/ Felton Music Hall

(Felton)

According to Moonalice legend, we are really happy we are not at Burning Man. Apparently, a huge storm de...

Jul 22, 2023

/ Saturday Stream

(Howling Moon Studio)

Aug 31, 2023

/ Rebroadcast of Hardly Strictly Bluegrass 22 with new Audio & Video

(San Francisco)

This rebroadcast of the 2022 Hardly Strictly Bluegrass show with new and im...

Aug 18, 2023

/ Oakland A's Jerry Garcia Night @ Oakland Coliseum

(Oakland)

Oakland rap According to Moonalice legend, tonight is Jerry Garcia night at Oakland Coliseum. Jer...

Sep 1, 2023

/ The Chapel

(San Francisco)

According to Moonalice legend, we are totally psyched to be back at the Chapel. People showed us the secu...

Aug 19, 2023

/ Saturday Stream

(Howling Moon Studio)

Nov 30, 2023

/ The Guild Theatre

(Menlo Park)
Music
Video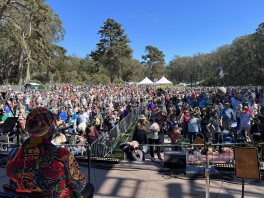 Live in San Francisco
Legend
Media (5)
Comments
Who Was There?
This version of Love, Peace & Happiness was featured exclusively on the Grammys "Positive Vibes Only" (WATCH HERE) and as of 2023, the full show can finally be seen here!
The audio is also released to streaming services everywhere at https://moonalice.ffm.to/liveathsb
According to Moonalice legend, things are looking up. Hardly Strictly Bluegrass is back in the park again after a two year quarantine. And it is as awesome as ever!
Today we have three posters for you, one each by Alexandra Fischer, Christopher Peterson, and Dennis Larkins. Dennis' poster depicts the banjo plucking patron of our tribe, Saint Warren Moonalice and his sidekick Pokey. Saint Warren is smiling down on us today, spreading love, peace, and happiness. Pokey is going to smoke a fat one and enjoy the music.
Tuesday we will be playing an HSB Out of the Park show at the Chapel on Valencia Street in the Mission. It will be a double bill with Summer of Soul, the Oscar winning documentary featuring our own Lester Chambers!
Thank you to the Hellman Family, Sheri Sternberg, Chris Porter and the entire HSB family for including us.
Notes:
Jason Crosby played keyboards
POSTER BY: CHRISTOPHER PETERSON