Upcoming Concerts
Nov 30
The Guild Theatre
-
Menlo Park, CA
Dec 1
Odd Fellows Lodge
-
Auburn, CA
Dec 2
HopMonk Tavern
-
Sebastopol, CA
Moonalice News
Let's Rock The World One Tree At A Time!

Commemorating the 1969 Harlem Cultural Festival!!!

Moonalice Minute: Lester & Dylan Chambers (Episode 1)

Poster Artist Feature: Dennis Larkins Interview

Acoustic Guitar reviews Full Moonalice, Volume 2!!

Moonalice plays a set on Jam In The Van

Glide Magazine interviews Pete Sears!

Acoustic Guitar Magazine: Barry, Roger and T's play Nick and Woo Woo

PopMatters: Bottlerock Napa review … featuring Moonalice

Moonalice Will Not Play Indoors Until Further Notice
Let's Rock The World One Tree At A Time!
Commemorating the 1969 Harlem Cultural Festival!!!
Moonalice Minute: Lester & Dylan Chambers (Episode 1)
Poster Artist Feature: Dennis Larkins Interview
Acoustic Guitar reviews Full Moonalice, Volume 2!!
Moonalice plays a set on Jam In The Van
Glide Magazine interviews Pete Sears!
Acoustic Guitar Magazine: Barry, Roger and T's play Nick and Woo Woo
PopMatters: Bottlerock Napa review … featuring Moonalice
Moonalice Will Not Play Indoors Until Further Notice
What To Watch (Archive)
Aug 27, 2023

/ Terrapin Crossroads Presents: Sunday Daydream Vol. 2 @ Stafford Lake Park

(Novato)

According to Moonalice legend, we have gathered here at Stafford Lake for Sunshine Daydream 2. It is a b...

Jul 22, 2023

/ Saturday Stream

(Howling Moon Studio)

Aug 31, 2023

/ Rebroadcast of Hardly Strictly Bluegrass 22 with new Audio & Video

(San Francisco)

This rebroadcast of the 2022 Hardly Strictly Bluegrass show with new and im...

Sep 1, 2023

/ The Chapel

(San Francisco)

According to Moonalice legend, we are totally psyched to be back at the Chapel. People showed us the secu...

Jul 21, 2023

/ Summer Concerts on the Green

(Novato)

Free Admission | 6:00-8:00pm Held at the Novato Civic Green, 901 Sherman Avenue Guests are encour...

Aug 26, 2023

/ Saturday Stream

(Howling Moon Studio)

Sep 2, 2023

/ Felton Music Hall

(Felton)

According to Moonalice legend, we are really happy we are not at Burning Man. Apparently, a huge storm de...

Aug 18, 2023

/ Oakland A's Jerry Garcia Night @ Oakland Coliseum

(Oakland)

Oakland rap According to Moonalice legend, tonight is Jerry Garcia night at Oakland Coliseum. Jer...

Aug 19, 2023

/ Saturday Stream

(Howling Moon Studio)

Jul 8, 2023

/ Saturday Stream

(Howling Moon Studio)
04.26.13
The Return Of The Dragon - How Pete Sears Got His Bass Back After 35 Years!!!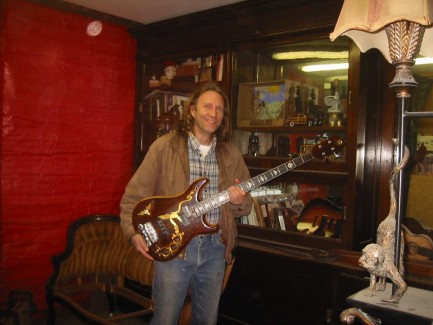 Cut from the same tree as Jerry Garcia's "Tiger," 35 years after it was stolen, Moonalice's Pete Sears has his bass back! Below is the story in Pete's own words:
"Amazing!!! Beyond belief!!! My stolen bass is back after 35 years!!! My Doug Irwin custom bass guitar that was stolen from me in Germany at the Lorelei Festival riot in June of 1978 is back in my possession. Barely a week has gone by that I haven't lamented on the loss of this beautiful instrument, built from the same piece of wood as Jerry Garcia's "Tiger." The instrument was crafted by LuthierTom Lieber who worked with Doug and co-designed Jerry Garcia's custom guitars...some of the inlay design Tom used on my bass was later used on "Tiger." Tom was as upset about its loss as I was. Lorelei was an outdoor festival overlooking the Rhine River in Germany. I was bassist and keyboardist for Jefferson Starship (David Freiberg and I would switch back n forth between instruments) and we were headlining the festival bill, but we were unable to perform due to Grace Slick falling ill (which I won't go into).
Our road Manager Bill Laudner and David Freiberg who was the only band member present at the time had told the promoter to translate that the audience could have their money back and we'd come back and play for free...but a German friend of mine said he left out the refund bit. The audience went wild, throwing rocks, bricks, bottles, then they began chopping up the drums with an ax, throwing gear over the cliffs into the Rhine. Somebody found some gasoline and set fire to the stage, causing the compressed air tanks holding up the lighting trusses to explode. There were quite a few American GI's from a nearby Army base in the audience...They were right in there smashing things up along with everyone else. The fire trucks soon left after getting things thrown at them, and the police didn't arrive until it was all over. It had been an afternoon festival with other bands playing in a light drizzle. Jeannette decided to sit this show out and stay at the hotel with our young one year old son, Dylan. Just as well. I was planning to go over in the second car with Grace, Paul, Marty and our manager Bill Thompson, but I ended up with everyone else out side Grace's room in Wiesbaden trying to talk Paul into going on without Grace. I knew it would be bad, and the promoters assistant was in hysterics. Marty said he'd do it without Grace, but not without Paul and Grace. No dice.
We all visited the site the following day...it looked like a war zone. I have a photo of my dear friend Howard Danchik holding up a lump of melted metal that used to be a transformer from an amplifier...he has a shell shocked look in his eyes. Howard, who mixed our live shows, apparently proved to be cool under fire and was calmly walking around in the middle of it all buying back his own equipment or making it look like he was stealing his personal gear...which was fortunately all insured. No such luck for the poor uninsured English sound company who had to resort to fist fighting people to try and get back their expensive sound equipment which was either being carted off, or thrown over the cliffs. There were quite a few injuries that day, but fortunately nothing major.
Anyway, my beloved 63 Fender Jazz bass was stolen, and my brand new Doug Irwin/Tom Lieber custom bass, with a silver inlaid dragon...definitely a one of a kind instrument gone. Tom and I haven't heard a thing about the bass since 1978. Four years ago Tom put up a Doug Irwin Tribute site that included a photo of my bass along with a story about how it was stolen. We also included a $2,500 reward for its return. I paid $2,000 for the bass back in 1978 which was a lot of money for the instrument back then. Then, right out of the blue a couple of weeks ago Tom was contacted by Klaus in Germany saying he had the bass, and even though he felt it belonged to him (he'd bought it from another musician back in 1991) he could never feel right playing it knowing it was a stolen instrument. However, he wanted 2,500 Euro's, not dollars and wouldn't budge...I wanted that bass back so I didn't haggle. You couldn't build it today for $12,000.
I worked out an international escrow situation and had the bass sent to Tom in upstate New York. He has looked the instrument over, and told me today that one of the previous owners (not Klaus) screwed up the electronics pretty bad attempting to add active pickups...there is also some discoloration in the wood finish due to aging, and a slight crack in the machine head. This he can fix with no problem, although he will leave the fading finish so as not to effect the antique value. However, the frets are shot...so he will be refretting the neck. I can't wait to get it in my hands again...and try it out onstage jamming with Barry, Roger and John in "Moonalice. I never thought I'd see it again."
The photograph shows the builder, Tom Lieber, who has restored the Dragon back to its original splendor!
0
|
Login or Register to post comments