Upcoming Concerts
Nov 10
Golden Gate Park Bandshell
-
San Francisco, CA
Nov 30
The Guild Theatre
-
Menlo Park, CA
Dec 1
Odd Fellows Lodge
-
Auburn, CA
Dec 2
HopMonk Tavern
-
Sebastopol, CA
Moonalice News
Let's Rock The World One Tree At A Time!

Commemorating the 1969 Harlem Cultural Festival!!!

Moonalice Minute: Lester & Dylan Chambers (Episode 1)

Acoustic Guitar reviews Full Moonalice, Volume 2!!

Moonalice plays a set on Jam In The Van

Glide Magazine interviews Pete Sears!

Acoustic Guitar Magazine: Barry, Roger and T's play Nick and Woo Woo

PopMatters: Bottlerock Napa review … featuring Moonalice

Moonalice Will Not Play Indoors Until Further Notice

Bottlerock Napa 2022: Photos by Bob Minkin
Let's Rock The World One Tree At A Time!
Commemorating the 1969 Harlem Cultural Festival!!!
Moonalice Minute: Lester & Dylan Chambers (Episode 1)
Acoustic Guitar reviews Full Moonalice, Volume 2!!
Moonalice plays a set on Jam In The Van
Glide Magazine interviews Pete Sears!
Acoustic Guitar Magazine: Barry, Roger and T's play Nick and Woo Woo
PopMatters: Bottlerock Napa review … featuring Moonalice
Moonalice Will Not Play Indoors Until Further Notice
Bottlerock Napa 2022: Photos by Bob Minkin
What To Watch (Archive)
Jul 22, 2023

/ Saturday Stream

(Howling Moon Studio)

Jul 8, 2023

/ Saturday Stream

(Howling Moon Studio)

Jul 21, 2023

/ Summer Concerts on the Green

(Novato)

Free Admission | 6:00-8:00pm Held at the Novato Civic Green, 901 Sherman Avenue Guests are encour...

Aug 18, 2023

/ Oakland A's Jerry Garcia Night @ Oakland Coliseum

(Oakland)

Oakland rap According to Moonalice legend, tonight is Jerry Garcia night at Oakland Coliseum. Jer...

Aug 27, 2023

/ Terrapin Crossroads Presents: Sunday Daydream Vol. 2 @ Stafford Lake Park

(Novato)

According to Moonalice legend, we have gathered here at Stafford Lake for Sunshine Daydream 2. It is a b...

Sep 2, 2023

/ Felton Music Hall

(Felton)

According to Moonalice legend, we are really happy we are not at Burning Man. Apparently, a huge storm de...

Aug 26, 2023

/ Saturday Stream

(Howling Moon Studio)

Aug 31, 2023

/ Rebroadcast of Hardly Strictly Bluegrass 22 with new Audio & Video

(San Francisco)

This rebroadcast of the 2022 Hardly Strictly Bluegrass show with new and im...

Sep 1, 2023

/ The Chapel

(San Francisco)

According to Moonalice legend, we are totally psyched to be back at the Chapel. People showed us the secu...

Aug 19, 2023

/ Saturday Stream

(Howling Moon Studio)
Music
Video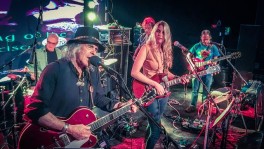 Live in San Francisco
Legend
Media
Comments
Who Was There?
According to Moonalice legend, today the highest of high holy days in the Moonalice tribe. It is a day when the tribe gathers in San Francisco... when we share the love, both emotional and herbal. It is a day filled with surprises. For example, I forgot my shirt and had to borrow one! Also, this is the first time I have ever shared a legend after the opening act and before our show. The set of 19 posters that our artists assembled for each of you is filled with surprises, as are the silk screen posters created by Gary Houston and Alexandra Fischer that are for sale. Alex's poster features Rainy Day Moonalice the 35th, a master farmer in the tribe. Rainy Day the 35th is the person, who crossbred coconuts with fine sativas, significantly easing the challenge of importing Maui Wowie from Hawaii. But she also told me a story that blew my mind. Bob Dylan wrote a song about her and one of her siblings, Rainy Day #12. Everyone knows that when Rainy Day #12 and 35 get together, everybody must get stoned, but have you ever thought about what happens when you multiply those two numbers? Take all the time you need.
Today we are holding a raffle and silent auction on behalf of one of our artists, Dave Hunter, who is fighting brain cancer. Please give generously! We are also sending healing thoughts to our friend David Nelson.
We are playing tonight's show to honor the memory of Pizza John Smaron, one of the earliest and most loyal members of the Tribe.
Thank you to our team: Dan English, Tim Stiegler, Derek Walls, Patrick Spohrer, Arthur Rosato, Jenna Lebowitz, Mike Weinstein, Gail Barnes, Jon Luini, Peter McQuaid, Tim McQuaid, Cyndy Poon, Joe Tang, Chris Shaw, Alex Fischer and all the artists ...
Notes:
Katie Skene played guitar and sang (whole show). Jason Crosby played keys on High Five, Summertime Blues and Keep on Growin'.
POSTER BY: MIKE DOLGUSHKIN