Upcoming Concerts
HopMonk Tavern

Sebastopol, CA
Dec 2
HopMonk Tavern
-
Sebastopol, CA
Moonalice News
Let's Rock The World One Tree At A Time!

Commemorating the 1969 Harlem Cultural Festival!!!

Moonalice Minute: Lester & Dylan Chambers (Episode 1)

Poster Artist Feature: Dennis Larkins Interview

Acoustic Guitar reviews Full Moonalice, Volume 2!!

Moonalice plays a set on Jam In The Van

Glide Magazine interviews Pete Sears!

Acoustic Guitar Magazine: Barry, Roger and T's play Nick and Woo Woo

PopMatters: Bottlerock Napa review … featuring Moonalice

Moonalice Will Not Play Indoors Until Further Notice
Let's Rock The World One Tree At A Time!
Commemorating the 1969 Harlem Cultural Festival!!!
Moonalice Minute: Lester & Dylan Chambers (Episode 1)
Poster Artist Feature: Dennis Larkins Interview
Acoustic Guitar reviews Full Moonalice, Volume 2!!
Moonalice plays a set on Jam In The Van
Glide Magazine interviews Pete Sears!
Acoustic Guitar Magazine: Barry, Roger and T's play Nick and Woo Woo
PopMatters: Bottlerock Napa review … featuring Moonalice
Moonalice Will Not Play Indoors Until Further Notice
What To Watch (Archive)
Aug 27, 2023

/ Terrapin Crossroads Presents: Sunday Daydream Vol. 2 @ Stafford Lake Park

(Novato)

According to Moonalice legend, we have gathered here at Stafford Lake for Sunshine Daydream 2. It is a b...

Aug 31, 2023

/ Rebroadcast of Hardly Strictly Bluegrass 22 with new Audio & Video

(San Francisco)

This rebroadcast of the 2022 Hardly Strictly Bluegrass show with new and im...

Aug 26, 2023

/ Saturday Stream

(Howling Moon Studio)

Nov 30, 2023

/ The Guild Theatre

(Menlo Park)

Dec 2, 2023

/ HopMonk Tavern

(Sebastopol)

Sep 2, 2023

/ Felton Music Hall

(Felton)

According to Moonalice legend, we are really happy we are not at Burning Man. Apparently, a huge storm de...

Dec 1, 2023

/ Odd Fellows Lodge

(Auburn)

Aug 19, 2023

/ Saturday Stream

(Howling Moon Studio)

Sep 1, 2023

/ The Chapel

(San Francisco)

According to Moonalice legend, we are totally psyched to be back at the Chapel. People showed us the secu...

Aug 18, 2023

/ Oakland A's Jerry Garcia Night @ Oakland Coliseum

(Oakland)

Oakland rap According to Moonalice legend, tonight is Jerry Garcia night at Oakland Coliseum. Jer...
Music
Video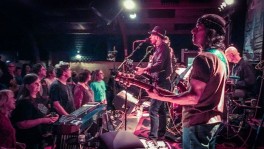 Live in Felton
Legend
Media
Comments
Who Was There?
According to Moonalice legend, this is our first northern California show of 2017. David Singer's poster reminds us that we need to play here at Don Quixote's more often. The last time we were here, our fan Sancho Panza Moonalice laid his eyes upon the lovely Billie Jean Moonalice (no relation), who was fresh in town. Sancho had no idea her stage line ran from hell. She had raven hair, a rumpled dress, a necklace made of gold and all the French perfume you'd care to smell. She took him up into her room and whispered in his ear. By the time he was done doing anything he pleased, he had a damn good case of the Don Quixote Blues. Yeah.
Let this be a lesson to you. There is nothing a man don't stand to lose when the devil wants to take it all away. Cherish well your thoughts and keep a tight grip on your weed.
This show dedicated to David Nelson and Dave Hunter.
POSTER BY: DAVID SINGER