Upcoming Concerts
Felton Music Hall

Felton, CA

Ardmore Music Hall

Ardmore, PA

Brooklyn Bowl

Brooklyn, NY

Sweetwater Music Hall

Mill Valley, CA

Mystic Theatre

Petaluma, CA

The Odd Fellows Hall

Auburn, CA

Good Old Days Celebration

Pacific Grove, CA

Skull & Roses

Ventura, CA

Bottlerock Music Festival (May 22-24)

Napa, CA
Jan 26
Felton Music Hall
-
Felton, CA
Feb 20
Ardmore Music Hall
-
Ardmore, PA
Feb 21
Warehouse
-
Fairfield, CT
Feb 22
Brooklyn Bowl
-
Brooklyn, NY
Mar 19
Sweetwater Music Hall
-
Mill Valley, CA
Mar 20
Mystic Theatre
-
Petaluma, CA
Mar 21
The Odd Fellows Hall
-
Auburn, CA
Apr 4
Good Old Days Celebration
-
Pacific Grove, CA
Apr 5
Skull & Roses
-
Ventura, CA
May 24
Bottlerock Music Festival (May 22-24)
-
Napa, CA
Moonalice News
Introducing ... Full Moonalice!

Thank you for an amazing year!

Sisters & Brothers is the new Moonalice!

Check out the first full show by the Moonalice Sisters & Brothers band!

Moonalice Sisters & Brothers rock DROM in NYC!

Live for Live Music writes about Moonalice Sisters & Brothers Tour!

420 Gathering of the Tribe -- Video Archive!!!

Jerry Day in San Francisco: check out the video archive!

Check this epic show from the Hopmonk in Sebastopol
Introducing ... Full Moonalice!
Thank you for an amazing year!
Sisters & Brothers is the new Moonalice!
Check out the first full show by the Moonalice Sisters & Brothers band!
Moonalice Sisters & Brothers rock DROM in NYC!
Live for Live Music writes about Moonalice Sisters & Brothers Tour!
420 Gathering of the Tribe -- Video Archive!!!
Jerry Day in San Francisco: check out the video archive!
Check this epic show from the Hopmonk in Sebastopol
What To Watch (Archive)
Jan 26, 2020

/ Felton Music Hall

(Felton)

Dec 14, 2019

/ Gypsy Sally's

(Washington)

Notes: Jason played Iko-Iko and Roger sang New New Minglewood Blues with Stella Blues Band. Anniversary...

Jan 25, 2020

/ Terrapin Crossroads

(San Rafael)

Jan 4, 2020

/ Terrapin Crossroads Grate Room

(San Rafael)

Debut of Full Moonalice Time Has Come (THC) Revue. SOLD OUT! Notes: Hallelujah dedicated to Liz Du...

Jan 24, 2020

/ Point San Pablo Harbor

(Richmond)

Dec 17, 2019

/ Still Partners

(Sea Cliff)

Dec 20, 2019

/ BRYAC

(Bridgeport)

Dec 19, 2019

/ The Rising Sun Barn

(Telford)

Note there has been a venue change to The Rising Sun Barn.

Dec 15, 2019

/ 118 North

(Wayne)

Dec 21, 2019

/ Private Event

(Mount Kisco)
Music
Video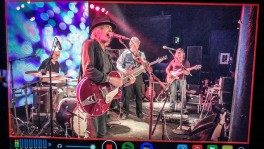 Live in San Francisco
Legend
Media (1)
Comments
Who Was There?
According to Moonalice legend, the Tribe gathers every year around this time to elevate its profile. By tradition, we gather here at Slim's — this is the eighth consecutive year — and we are joined by the amazing Ace of Cups and the equally amazing Lester and Dylan Chambers.
There is much to celebrate this year. Let's start with the big stuff. We have all made through a year that has to have been one of the weirdest of our lives.
We have a free set of 23 posters tonight. 23. By Wes Wilson, Stanley Mouse, Chris Shaw, Alexandra Fischer, Lauren Yurkovich, Carolyn Ferris, David Singer, Lee Conklin, John Seabury, Dennis Larkin, Dennis Loren, George and Pat Sargent, Gregg Gordon, Prairie Prince, Jason Wilson,
Chris Peterson, John Mavrousis, Darrin Brenner, Jennae Bennett, Mike Dolgushkin, Bill Ham and Emie, Roy G. Biv, and newcomer Chris Gallen.
There are also two amazing screen prints that you can buy. One by Gary Houston and one by Emek, his first for Moonalice.
According to Moonalice legend, wombats are marsupials. They have pouches for their babies, but as you can see in this screen print by Emek it's hard to keep the little ones under control. When they smell weed, they make a beeline for it. Even the chubby ones. But the reason why the little guy is so fired up is that he knows something that will blow you mind: next year, every day in April will be 4/20!
POSTER BY: PRAIRIE PRINCE