Upcoming Concerts
Nov 10
Golden Gate Park Bandshell
-
San Francisco, CA
Nov 30
The Guild Theatre
-
Menlo Park, CA
Dec 1
Odd Fellows Lodge
-
Auburn, CA
Dec 2
HopMonk Tavern
-
Sebastopol, CA
Moonalice News
Let's Rock The World One Tree At A Time!

Commemorating the 1969 Harlem Cultural Festival!!!

Moonalice Minute: Lester & Dylan Chambers (Episode 1)

Acoustic Guitar reviews Full Moonalice, Volume 2!!

Moonalice plays a set on Jam In The Van

Glide Magazine interviews Pete Sears!

Acoustic Guitar Magazine: Barry, Roger and T's play Nick and Woo Woo

PopMatters: Bottlerock Napa review … featuring Moonalice

Moonalice Will Not Play Indoors Until Further Notice

Bottlerock Napa 2022: Photos by Bob Minkin
Let's Rock The World One Tree At A Time!
Commemorating the 1969 Harlem Cultural Festival!!!
Moonalice Minute: Lester & Dylan Chambers (Episode 1)
Acoustic Guitar reviews Full Moonalice, Volume 2!!
Moonalice plays a set on Jam In The Van
Glide Magazine interviews Pete Sears!
Acoustic Guitar Magazine: Barry, Roger and T's play Nick and Woo Woo
PopMatters: Bottlerock Napa review … featuring Moonalice
Moonalice Will Not Play Indoors Until Further Notice
Bottlerock Napa 2022: Photos by Bob Minkin
What To Watch (Archive)
Aug 26, 2023

/ Saturday Stream

(Howling Moon Studio)

Sep 1, 2023

/ The Chapel

(San Francisco)

According to Moonalice legend, we are totally psyched to be back at the Chapel. People showed us the secu...

Aug 18, 2023

/ Oakland A's Jerry Garcia Night @ Oakland Coliseum

(Oakland)

Oakland rap According to Moonalice legend, tonight is Jerry Garcia night at Oakland Coliseum. Jer...

Aug 27, 2023

/ Terrapin Crossroads Presents: Sunday Daydream Vol. 2 @ Stafford Lake Park

(Novato)

According to Moonalice legend, we have gathered here at Stafford Lake for Sunshine Daydream 2. It is a b...

Aug 31, 2023

/ Rebroadcast of Hardly Strictly Bluegrass 22 with new Audio & Video

(San Francisco)

This rebroadcast of the 2022 Hardly Strictly Bluegrass show with new and im...

Sep 2, 2023

/ Felton Music Hall

(Felton)

According to Moonalice legend, we are really happy we are not at Burning Man. Apparently, a huge storm de...

Jul 22, 2023

/ Saturday Stream

(Howling Moon Studio)

Jul 8, 2023

/ Saturday Stream

(Howling Moon Studio)

Aug 19, 2023

/ Saturday Stream

(Howling Moon Studio)

Jul 21, 2023

/ Summer Concerts on the Green

(Novato)

Free Admission | 6:00-8:00pm Held at the Novato Civic Green, 901 Sherman Avenue Guests are encour...
Music
Video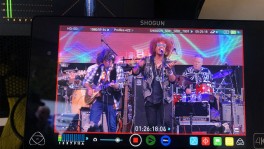 Live in San Francisco
Legend
Media
Comments
Who Was There?
NOTE: As a special treat, Surrealistic Summer Solstice Jam III, celebrating the music of 1969 in front of the Conservatory of Flowers in Golden Gate Park, is being celebrated on www.GoldenGatePark150.com. This flower-powered virtual night under the stars brings together legendary artists, iconic songs, and bright new talents of the Bay Area music scene.
Dawn Holliday Productions presents Surrealistic Summer Solstice Jam #3! Musical director - Dan "Lebo" Lebowitz. Featuring Steve Adams, David Aguilar, Peter Albin, Mary Gannon Alfiler, Greg Anton, Michael Bello, Asher Belsky, Johnny Bones, Holly Bowling, Lester & Dylan Chambers, Tim Caine, Bonita Kay Capps, Bo Carper, Dallis Craft, Greg Errico, Tom Finch, Paula Frazer, Reid Genauer, Dave Getz, Lesley Grant, Darby Gould, Norman Greenbaum, Freddie Hughes, Wally Ingram, Alex Jordan, Mark Karan, Denise Kaufman, David & Linda LaFlamme, Ezra Lipp, Reed Mathis, Norman Mayall, Ziek McCarter, Country Joe McDonald, Roger McNamee, Mary Simpson Mercy, John Molo, Ben & Alex Morrison, Mike Olmos, Elliot Peck, Jeff Pehrson, Chuck Prophet, Pete Sears, Michael Shrieve, Barry Sless, RonKat Spearman, Scott Thunes, Chloe, Erika, & Rachel Tietjen, Diane Vitalich, and Lech Wierzynski.
Special thanks to SF Recreation and Parks, Jenna Lebowitz, Theresa Hayle, Dan English, and the Moonalice crew.
POSTER BY: ALEXANDRA FISCHER