Upcoming Concerts
Jan 25
Terrapin Crossroads
-
San Rafael, CA
Jan 26
Felton Music Hall
-
Felton, CA
Apr 5
Skull & Roses
-
Ventura, CA
May 24
Bottlerock Music Festival (May 22-24)
-
Napa, CA
Moonalice News
Introducing ... Full Moonalice!

Thank you for an amazing year!

Sisters & Brothers is the new Moonalice!

Check out the first full show by the Moonalice Sisters & Brothers band!

Moonalice Sisters & Brothers rock DROM in NYC!

Live for Live Music writes about Moonalice Sisters & Brothers Tour!

420 Gathering of the Tribe -- Video Archive!!!

Jerry Day in San Francisco: check out the video archive!

Check this epic show from the Hopmonk in Sebastopol
Introducing ... Full Moonalice!
Thank you for an amazing year!
Sisters & Brothers is the new Moonalice!
Check out the first full show by the Moonalice Sisters & Brothers band!
Moonalice Sisters & Brothers rock DROM in NYC!
Live for Live Music writes about Moonalice Sisters & Brothers Tour!
420 Gathering of the Tribe -- Video Archive!!!
Jerry Day in San Francisco: check out the video archive!
Check this epic show from the Hopmonk in Sebastopol
What To Watch (Archive)
Dec 17, 2019

/ Still Partners

(Sea Cliff)

Dec 20, 2019

/ BRYAC

(Bridgeport)

Jan 4, 2020

/ Terrapin Crossroads Grate Room

(San Rafael)

Debut of Full Moonalice Time Has Come (THC) Revue. SOLD OUT! Notes: Hallelujah dedicated to Liz Du...

Dec 19, 2019

/ The Rising Sun Barn

(Telford)

Note there has been a venue change to The Rising Sun Barn.

Dec 13, 2019

/ Hill Country

(New York)

Notes: Jason played with Dave Diamond Band Roger sang Goin' Down the Road Feelin' Bad

Dec 15, 2019

/ 118 North

(Wayne)

Dec 14, 2019

/ Gypsy Sally's

(Washington)

Notes: Jason played Iko-Iko and Roger sang New New Minglewood Blues with Stella Blues Band. Anniversary...

Dec 11, 2019

/ Wonder Bar

(Asbury Park)

Notes: Jason played with Solar Circus

Dec 10, 2019

/ Garcia's at the Cap

(Port Chester)

Notes: Erica Jeski's first show with Doobie Decibel System Elliott Peck sang Sugaree

Dec 21, 2019

/ Private Event

(Mount Kisco)
Music
Video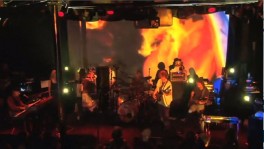 Live in San Francisco
Legend
Media (54)
Comments (5)
Who Was There?
According to Moonalice legend, we have a dozen posters tonight . . . all legendary . . . by Stanley Mouse, Carolyn Ferris, Wendy Wright, Gary Houston, David Singer, John Seabury, John Mavroudis, Dennis Loren, Dennis Larkins, Lee Conklin and Darrin Brenner. We also want to thank the other poster artists who are with us tonight: Wes Wilson, Chuck Sperry, Lauren Yurkovich, Dave Hunter, Alexandra Fischer, Marguerite Kelley (widow of Alton Kelley), and our incredible art director, Chris Shaw.
Time will not permit me to share the legends from all the posters, but with a three set show, I can go further than normal.
According to Moonalice legend, this poster by Carolyn Ferris, depicts a very talented bloke from Bromley, England – the man formerly known as Sir Sinjin Moonalice – testing the full pharmacopia of the Moonalice tribe. Given the quality and quantity of Moonalice natural remedies, this was a job requiring tremendous self-sacrifice. Pete's commitment to the betterment of the tribe serves as a model for us all. Happy 4/20!!!
According to Moonalice legend, this poster by Stanley Mouse depicts the day – early in the life of this band – when we stopped for burritos in a shop in Willits, CA on our way to a gig in Laytonville. One of our former bandmates and I added Cholula hot sauce to our burritos from a communal bottle that was on the condiment rack behind the shop. Long story short, somebody dosed us. This picture doesn't look like anyone I saw that day . . . so the image must be of me. I hope I didn't strangle the cat.
According to Moonalice legend, this poster by Dennis Larkins depicts the day that Pokey Moonalice, the tribal basset hound, first came to San Francisco. Pokey didn't have a car or opposable thumbs, so he jumped in the back seat of a convertible somewhere near Portland and hitched a ride with two white people who had no idea what they were in for. Sadly, Pokey didn't keep a diary, so we have no idea either. Oh well. That's why they call it 4/20!!!
As of midnight April 19: 1,989,018 downloads of "It's 4:20 Somewhere."
As of midnight April 20: 2,014,025
3rd Set: Liquid lights by Brotherhood of Lights
OFFICIAL PHOTO GALLERIES
FAN PHOTOS
Login
or
Register
to add your photos.
POSTER BY: CAROLYN FERRIS