Upcoming Concerts
Ardmore Music Hall

Ardmore, PA

Brooklyn Bowl

Brooklyn, NY

Sweetwater Music Hall

Mill Valley, CA

Mystic Theatre

Petaluma, CA

The Odd Fellows Hall

Auburn, CA

Good Old Days Celebration

Pacific Grove, CA

Skull & Roses

Ventura, CA

Bottlerock Music Festival (May 22-24)

Napa, CA

The Hog Farm Hangout

Laytonville, CA
Feb 20
Ardmore Music Hall
-
Ardmore, PA
Feb 21
Warehouse
-
Fairfield, CT
Feb 22
Brooklyn Bowl
-
Brooklyn, NY
Mar 19
Sweetwater Music Hall
-
Mill Valley, CA
Mar 20
Mystic Theatre
-
Petaluma, CA
Mar 21
The Odd Fellows Hall
-
Auburn, CA
Apr 4
Good Old Days Celebration
-
Pacific Grove, CA
Apr 5
Skull & Roses
-
Ventura, CA
May 24
Bottlerock Music Festival (May 22-24)
-
Napa, CA
Jun 13
The Hog Farm Hangout
-
Laytonville, CA
Moonalice News
Introducing ... Full Moonalice!

Thank you for an amazing year!

Sisters & Brothers is the new Moonalice!

Check out the first full show by the Moonalice Sisters & Brothers band!

Moonalice Sisters & Brothers rock DROM in NYC!

Live for Live Music writes about Moonalice Sisters & Brothers Tour!

420 Gathering of the Tribe -- Video Archive!!!

Jerry Day in San Francisco: check out the video archive!

Check this epic show from the Hopmonk in Sebastopol
Introducing ... Full Moonalice!
Thank you for an amazing year!
Sisters & Brothers is the new Moonalice!
Check out the first full show by the Moonalice Sisters & Brothers band!
Moonalice Sisters & Brothers rock DROM in NYC!
Live for Live Music writes about Moonalice Sisters & Brothers Tour!
420 Gathering of the Tribe -- Video Archive!!!
Jerry Day in San Francisco: check out the video archive!
Check this epic show from the Hopmonk in Sebastopol
What To Watch (Archive)
Dec 15, 2019

/ 118 North

(Wayne)

Dec 21, 2019

/ Private Event

(Mount Kisco)

Jan 4, 2020

/ Terrapin Crossroads Grate Room

(San Rafael)

Debut of Full Moonalice Time Has Come (THC) Revue. SOLD OUT! Notes: Hallelujah dedicated to Liz Du...

Dec 14, 2019

/ Gypsy Sally's

(Washington)

Notes: Jason played Iko-Iko and Roger sang New New Minglewood Blues with Stella Blues Band. Anniversary...

Jan 25, 2020

/ Terrapin Crossroads

(San Rafael)

Dec 17, 2019

/ Still Partners

(Sea Cliff)

Jan 26, 2020

/ Felton Music Hall

(Felton)

Jan 24, 2020

/ Point San Pablo Harbor

(Richmond)

Dec 20, 2019

/ BRYAC

(Bridgeport)

Dec 19, 2019

/ The Rising Sun Barn

(Telford)

Note there has been a venue change to The Rising Sun Barn.
Music
Video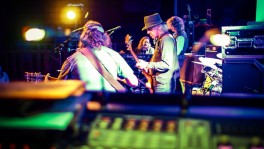 Live in Boulder
Legend
Media
Comments (1)
Who Was There?
According to Moonalice legend, Boulder was once the western edge of the American prairie. Being both Western and edgy put Boulder at the leading in the years before the white man came. In those days, cannabis grew wild around here ... the prairie was a sea of weed. Indicas. Sativas. Gold. Purple. The buds were so big and tasty that weed formed the foundation of an entire ecosystem. Like now, but with no cities ... or buildings. As you can see in tonight's poster by Alexandra Fischer, the bison that roamed these parts took on the hue of their favorite strain. Now that weed is legal, rainbow bison will thrive again!!!
Notes:
Jason Crosby on fiddle and keys
Live stream included Brothers Keeper
POSTER BY: ALEXANDRA FISCHER