Upcoming Concerts
HopMonk Tavern

Sebastopol, CA
Dec 2
HopMonk Tavern
-
Sebastopol, CA
Moonalice News
Let's Rock The World One Tree At A Time!

Commemorating the 1969 Harlem Cultural Festival!!!

Moonalice Minute: Lester & Dylan Chambers (Episode 1)

Poster Artist Feature: Dennis Larkins Interview

Acoustic Guitar reviews Full Moonalice, Volume 2!!

Moonalice plays a set on Jam In The Van

Glide Magazine interviews Pete Sears!

Acoustic Guitar Magazine: Barry, Roger and T's play Nick and Woo Woo

PopMatters: Bottlerock Napa review … featuring Moonalice

Moonalice Will Not Play Indoors Until Further Notice
Let's Rock The World One Tree At A Time!
Commemorating the 1969 Harlem Cultural Festival!!!
Moonalice Minute: Lester & Dylan Chambers (Episode 1)
Poster Artist Feature: Dennis Larkins Interview
Acoustic Guitar reviews Full Moonalice, Volume 2!!
Moonalice plays a set on Jam In The Van
Glide Magazine interviews Pete Sears!
Acoustic Guitar Magazine: Barry, Roger and T's play Nick and Woo Woo
PopMatters: Bottlerock Napa review … featuring Moonalice
Moonalice Will Not Play Indoors Until Further Notice
What To Watch (Archive)
Sep 2, 2023

/ Felton Music Hall

(Felton)

According to Moonalice legend, we are really happy we are not at Burning Man. Apparently, a huge storm de...

Nov 30, 2023

/ The Guild Theatre

(Menlo Park)

Sep 1, 2023

/ The Chapel

(San Francisco)

According to Moonalice legend, we are totally psyched to be back at the Chapel. People showed us the secu...

Aug 27, 2023

/ Terrapin Crossroads Presents: Sunday Daydream Vol. 2 @ Stafford Lake Park

(Novato)

According to Moonalice legend, we have gathered here at Stafford Lake for Sunshine Daydream 2. It is a b...

Aug 18, 2023

/ Oakland A's Jerry Garcia Night @ Oakland Coliseum

(Oakland)

Oakland rap According to Moonalice legend, tonight is Jerry Garcia night at Oakland Coliseum. Jer...

Dec 1, 2023

/ Odd Fellows Lodge

(Auburn)

Jul 22, 2023

/ Saturday Stream

(Howling Moon Studio)

Aug 31, 2023

/ Rebroadcast of Hardly Strictly Bluegrass 22 with new Audio & Video

(San Francisco)

This rebroadcast of the 2022 Hardly Strictly Bluegrass show with new and im...

Aug 19, 2023

/ Saturday Stream

(Howling Moon Studio)

Aug 26, 2023

/ Saturday Stream

(Howling Moon Studio)
Music
Video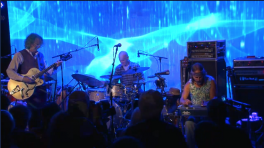 Live in Mill Valley
Legend
Media (59)
Comments (2)
Who Was There?
Tonight's poster is by Dennis Loren.
According to Moonalice legend, some local band is about to celebrate its 50th anniversary. As life long Deadheads, we think the Fare the Well shows are wonderful. There have been issues, but none that could possibly diminish our enthusiasm. We disagree with Adolf Hitler; it's okay with us that Trey is going to play lead guitar. Everyone loves Stu Allen -- that goes without saying -- but we are excited to hear Trey. We applaud Levi's Stadium and the National Football League for getting into the spirit of the event. To ensure a great experience, the NFL has provided a couple hundred pages of rules and regulations that Deadheads are going to enjoy as much as a 30-minute version of Wang Dang Doodle. Plus, nothing evokes the spirit of Jerry quite like $74 parking. For those in need of closure, how about this: parking at Levi's will cost more than any of the concerts that Jerry played in.
Happy birthday to Jerilyn Lee Brandelius.
Note: sold out
OFFICIAL PHOTO GALLERIES
FAN PHOTOS
Login
or
Register
to add your photos.
POSTER BY: DENNIS LOREN