Upcoming Concerts
Nov 10
Golden Gate Park Bandshell
-
San Francisco, CA
Nov 30
The Guild Theatre
-
Menlo Park, CA
Dec 1
Odd Fellows Lodge
-
Auburn, CA
Dec 2
HopMonk Tavern
-
Sebastopol, CA
Moonalice News
Let's Rock The World One Tree At A Time!

Commemorating the 1969 Harlem Cultural Festival!!!

Moonalice Minute: Lester & Dylan Chambers (Episode 1)

Acoustic Guitar reviews Full Moonalice, Volume 2!!

Moonalice plays a set on Jam In The Van

Glide Magazine interviews Pete Sears!

Acoustic Guitar Magazine: Barry, Roger and T's play Nick and Woo Woo

PopMatters: Bottlerock Napa review … featuring Moonalice

Moonalice Will Not Play Indoors Until Further Notice

Bottlerock Napa 2022: Photos by Bob Minkin
Let's Rock The World One Tree At A Time!
Commemorating the 1969 Harlem Cultural Festival!!!
Moonalice Minute: Lester & Dylan Chambers (Episode 1)
Acoustic Guitar reviews Full Moonalice, Volume 2!!
Moonalice plays a set on Jam In The Van
Glide Magazine interviews Pete Sears!
Acoustic Guitar Magazine: Barry, Roger and T's play Nick and Woo Woo
PopMatters: Bottlerock Napa review … featuring Moonalice
Moonalice Will Not Play Indoors Until Further Notice
Bottlerock Napa 2022: Photos by Bob Minkin
What To Watch (Archive)
Aug 27, 2023

/ Terrapin Crossroads Presents: Sunday Daydream Vol. 2 @ Stafford Lake Park

(Novato)

According to Moonalice legend, we have gathered here at Stafford Lake for Sunshine Daydream 2. It is a b...

Jul 22, 2023

/ Saturday Stream

(Howling Moon Studio)

Sep 2, 2023

/ Felton Music Hall

(Felton)

According to Moonalice legend, we are really happy we are not at Burning Man. Apparently, a huge storm de...

Jul 8, 2023

/ Saturday Stream

(Howling Moon Studio)

Aug 31, 2023

/ Rebroadcast of Hardly Strictly Bluegrass 22 with new Audio & Video

(San Francisco)

This rebroadcast of the 2022 Hardly Strictly Bluegrass show with new and im...

Aug 26, 2023

/ Saturday Stream

(Howling Moon Studio)

Aug 19, 2023

/ Saturday Stream

(Howling Moon Studio)

Aug 18, 2023

/ Oakland A's Jerry Garcia Night @ Oakland Coliseum

(Oakland)

Oakland rap According to Moonalice legend, tonight is Jerry Garcia night at Oakland Coliseum. Jer...

Jul 21, 2023

/ Summer Concerts on the Green

(Novato)

Free Admission | 6:00-8:00pm Held at the Novato Civic Green, 901 Sherman Avenue Guests are encour...

Sep 1, 2023

/ The Chapel

(San Francisco)

According to Moonalice legend, we are totally psyched to be back at the Chapel. People showed us the secu...
Music
Video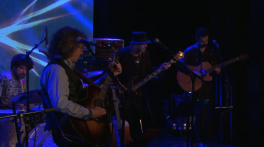 Live in Mill Valley
Legend
Media (36)
Comments
Who Was There?
According to Moonalice legend, the past two days have seen the first signs of intelligent life on the Supreme Court in several years. We played here at Sweetwater both days. Could it be a coincidence? We think not! Yesterday, the Nine Wise Souls decided not to take health insurance away from six million Americans. They also ruled in favor of fair housing for all. Today, they ruled that any couple in America can get married. Those decisions will help many people in this room, as well as many of our friends and millions of deserving people we don't even know. We bring this up because tomorrow the surviving members of the Grateful Dead will play the first of five Fare Thee Well concerts, celebrating a band and a life style built on a foundation of tolerance. Tolerance is what makes civilization possible … and we hope these Supreme Court decisions are the beginning of a new era. As tonight's brilliant poster by our art director Chris Shaw illustrates, its now okay to marry a fly to a skull. We know it should have happened long ago, but at last the fly and skull can be happy.
Notes: Jason Crosby's Friends included Lebo, Jay Lane, Cochrane McMillan, Shana Morrison, Reed Mathis, Reid Genauer, Dave Diamond, John Leccese, Pete Sears, and Roger McNamee
Lori Rowan sang and played guitar on Day Tripper > Satisfaction
First part of Not Fade Away included a medley of Grateful Dead riffs, including Dark Star, Scarlet Begonias, China Cat Sunflower and several others
Sold out show.
OFFICIAL PHOTO GALLERIES
FAN PHOTOS
Login
or
Register
to add your photos.
POSTER BY: CHRIS SHAW