Upcoming Concerts
HopMonk Tavern

Sebastopol, CA
Dec 2
HopMonk Tavern
-
Sebastopol, CA
Moonalice News
Let's Rock The World One Tree At A Time!

Commemorating the 1969 Harlem Cultural Festival!!!

Moonalice Minute: Lester & Dylan Chambers (Episode 1)

Poster Artist Feature: Dennis Larkins Interview

Acoustic Guitar reviews Full Moonalice, Volume 2!!

Moonalice plays a set on Jam In The Van

Glide Magazine interviews Pete Sears!

Acoustic Guitar Magazine: Barry, Roger and T's play Nick and Woo Woo

PopMatters: Bottlerock Napa review … featuring Moonalice

Moonalice Will Not Play Indoors Until Further Notice
Let's Rock The World One Tree At A Time!
Commemorating the 1969 Harlem Cultural Festival!!!
Moonalice Minute: Lester & Dylan Chambers (Episode 1)
Poster Artist Feature: Dennis Larkins Interview
Acoustic Guitar reviews Full Moonalice, Volume 2!!
Moonalice plays a set on Jam In The Van
Glide Magazine interviews Pete Sears!
Acoustic Guitar Magazine: Barry, Roger and T's play Nick and Woo Woo
PopMatters: Bottlerock Napa review … featuring Moonalice
Moonalice Will Not Play Indoors Until Further Notice
What To Watch (Archive)
Dec 2, 2023

/ HopMonk Tavern

(Sebastopol)

Sep 1, 2023

/ The Chapel

(San Francisco)

According to Moonalice legend, we are totally psyched to be back at the Chapel. People showed us the secu...

Sep 2, 2023

/ Felton Music Hall

(Felton)

According to Moonalice legend, we are really happy we are not at Burning Man. Apparently, a huge storm de...

Aug 18, 2023

/ Oakland A's Jerry Garcia Night @ Oakland Coliseum

(Oakland)

Oakland rap According to Moonalice legend, tonight is Jerry Garcia night at Oakland Coliseum. Jer...

Aug 19, 2023

/ Saturday Stream

(Howling Moon Studio)

Dec 1, 2023

/ Odd Fellows Lodge

(Auburn)

Aug 27, 2023

/ Terrapin Crossroads Presents: Sunday Daydream Vol. 2 @ Stafford Lake Park

(Novato)

According to Moonalice legend, we have gathered here at Stafford Lake for Sunshine Daydream 2. It is a b...

Nov 30, 2023

/ The Guild Theatre

(Menlo Park)

Aug 26, 2023

/ Saturday Stream

(Howling Moon Studio)

Aug 31, 2023

/ Rebroadcast of Hardly Strictly Bluegrass 22 with new Audio & Video

(San Francisco)

This rebroadcast of the 2022 Hardly Strictly Bluegrass show with new and im...
Music
Video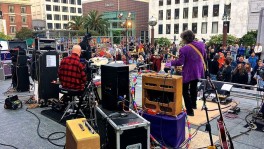 Live in San Francisco
May 4, 2016
Union Square Live IN SAN FRANCISCO, CA
Legend
Media
Comments (1)
Who Was There?
According to Moonalice legend, today is Yoda's birthday. The Star Wars movies provide no information about Yoda's origin, but once again the Moonalice legend comes to the rescue. It turns out that Yoda may have been born right here in Union Square on the fourth of May of a year that pre-dates the founding of San Francisco. Yoda's family was in the Yerba Buena business, growing a strain of indica so powerful that it messed up the syntax of anyone who smoked it, accounting for the object-subject-verb syntax for which justifiably famous Yoda is. It's an auspicious day, and we encourage you to honor Yoda when you acknowledge the date. All you have to do is say the words, May the Fourth be with you!
POSTER BY: WINSTON SMITH