Upcoming Concerts
Saturday Stream

Howling Moon Studio, CA

Summer Concerts on the Green

Novato, CA

Southeast Alaska Fair

Haines, AK

Southeast Alaska Fair

Haines, AK

Oakland A's Jerry Garcia Night @ Oakland Coliseum

Oakland, CA
Jun 10
Saturday Stream
-
Howling Moon Studio, CA
Jul 21
Summer Concerts on the Green
-
Novato, CA
Jul 28
Southeast Alaska Fair
-
Haines, AK
Jul 29
Southeast Alaska Fair
-
Haines, AK
Aug 4
Salmonfest
-
Ninilchik, AK
Aug 5
Salmonfest
-
Ninilchik, AK
Aug 6
Salmonfest
-
Ninilchik, AK
Aug 18
Oakland A's Jerry Garcia Night @ Oakland Coliseum
-
Oakland, CA
Moonalice News
Let's Rock The World One Tree At A Time!

Commemorating the 1969 Harlem Cultural Festival!!!

Moonalice Minute: Lester & Dylan Chambers (Episode 1)

Acoustic Guitar reviews Full Moonalice, Volume 2!!

Moonalice plays a set on Jam In The Van

Glide Magazine interviews Pete Sears!

Acoustic Guitar Magazine: Barry, Roger and T's play Nick and Woo Woo

PopMatters: Bottlerock Napa review … featuring Moonalice

Moonalice Will Not Play Indoors Until Further Notice

Bottlerock Napa 2022: Photos by Bob Minkin
Let's Rock The World One Tree At A Time!
Commemorating the 1969 Harlem Cultural Festival!!!
Moonalice Minute: Lester & Dylan Chambers (Episode 1)
Acoustic Guitar reviews Full Moonalice, Volume 2!!
Moonalice plays a set on Jam In The Van
Glide Magazine interviews Pete Sears!
Acoustic Guitar Magazine: Barry, Roger and T's play Nick and Woo Woo
PopMatters: Bottlerock Napa review … featuring Moonalice
Moonalice Will Not Play Indoors Until Further Notice
Bottlerock Napa 2022: Photos by Bob Minkin
What To Watch (Archive)
May 6, 2023

/ Saturday Stream

(Howling Moon Studio)

Apr 20, 2023

/ 420 Gathering of the Tribe @ The Chapel!

(San Francisco)

According to Moonalice legend, today is the highest holy day in the tribal calendar. This is a particular...

Jun 3, 2023

/ Sweetwater Music Hall

(Mill Valley)

According to Moonalice legend, this is Pride Month around the world. Just so you know know, every month i...

May 27, 2023

/ Concert for KPFZ @ Cache Creek Winery

(Clearlake Oaks)

Apr 23, 2023

/ Skull & Roses Festival V

(Ventura)

According to Moonalice legend, we gather here in Ventura to enjoy the music of the Grateful Dead and the ...

Apr 15, 2023

/ Saturday Stream

(Howling Moon Studio)

May 26, 2023

/ BottleRock Festival

(Napa Valley)

According to Moonalice legend, Bottlerock is an oasis … a refuge in challenging times. It is a reminde...

May 24, 2023

/ Black Tie & Tie Dye Happening @ GAMH

(San Francisco)

According to Moonalice legend, our tribe has a long relationship with HealthRIGHT 360. It started long a...

Apr 8, 2023

/ Saturday Stream

(Howling Moon Studio)

May 13, 2023

/ Saturday Stream

(Howling Moon Studio)
Music
Video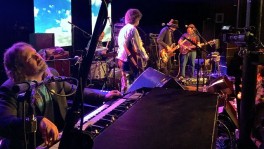 Live in San Francisco
Legend
Media (60)
Comments
Who Was There?
According to Moonalice legend, today is the 20th of April … the day after Bicycle Day … two days after Patriots Day … better known to us as 4/20. This year 4/20 is the day that the United States finally decided to replace the horrific Andrew Jackson on the $20 bill with the incredible and wonderful Harriet Tubman. Every year 4/20 is a day to celebrate the world's most popular weed, cannabis. We are gathered here at Slim's to share the High Holy Day of 4/20 with the members of our tribe. I am holding in my hands a set of 21 posters, by Chris Shaw, Winston Smith, Lauren Yurkovich, Wes Wilson, Stanley Mouse, Ron Donovan, Prairie Prince, Pat & George Sargent, John Seabury, Jennae Bennett, Dave Hunter, Chris Peterson, Lee Conklin, John Mavroudis, Jason Wilson, Gregg Gordon, Dennis Loren, Dennis Larkins, David Singer, Darrin Brenner, and Carolyn Ferris. Each of you will receive a full set at the end of the show. We also have two amazing screen prints, one each by Alexandra Fischer and Gary Houston, available for purchase at the merch table.
Thank you to our amazing crew:
Dan English
Tim Stiegler
Derek Walls
Arthur Rosato
Patrick Spohrer
Our drivers:
Joe Tang
Turk Black
Rory Lenny
Diarmuid Harrington
Our managers: Jenna Lebowitz and Big Steve Parish
Our booking agent: Mike Weinstein
Our marketing team: Gail Barnes for social networking, Karin Conn for publicity and Jon Luini for our website
Our online merch team of Tim McQuaid and Cyndy Poon
Our photographers: Bob Minkin, Rupert Coles, Jamie Soja, Ebb Eskew, Susan Weiand, and Jay Blakesberg
Our incredible poster artists - now 35 in number, led by art directors Chris Shaw and Alexandra Fischer. The Haight Street Art Center team, led by Peter McQuaid, Maeve Forster, Nick Cernak, Emma Roper and Mikel Malkovich.
Thank you to Claire Randazzo for helping to put on this event and to Dawn Holliday and the amazing crew here at Slim's.
Mostly we want to thank you, our fans, for making these bands possible...
Notes:
Dan Lebowitz played guitar on all three songs in the encore.
Blink of an Eye dedicated to Tracy Sheridan.
OFFICIAL PHOTO GALLERIES
FAN PHOTOS
Login
or
Register
to add your photos.
POSTER BY: ALEXANDRA FISCHER (SILKSCREEN)