Moonalice News
Let's Rock The World One Tree At A Time!

Commemorating the 1969 Harlem Cultural Festival!!!

Moonalice Minute: Lester & Dylan Chambers (Episode 1)

Poster Artist Feature: Dennis Larkins Interview

Acoustic Guitar reviews Full Moonalice, Volume 2!!

Moonalice plays a set on Jam In The Van

Glide Magazine interviews Pete Sears!

Acoustic Guitar Magazine: Barry, Roger and T's play Nick and Woo Woo

PopMatters: Bottlerock Napa review … featuring Moonalice

Moonalice Will Not Play Indoors Until Further Notice
Let's Rock The World One Tree At A Time!
Commemorating the 1969 Harlem Cultural Festival!!!
Moonalice Minute: Lester & Dylan Chambers (Episode 1)
Poster Artist Feature: Dennis Larkins Interview
Acoustic Guitar reviews Full Moonalice, Volume 2!!
Moonalice plays a set on Jam In The Van
Glide Magazine interviews Pete Sears!
Acoustic Guitar Magazine: Barry, Roger and T's play Nick and Woo Woo
PopMatters: Bottlerock Napa review … featuring Moonalice
Moonalice Will Not Play Indoors Until Further Notice
What To Watch (Archive)
Dec 1, 2023

/ Odd Fellows Lodge

(Auburn)

According to Moonalice Legend, dinosaurs once roamed the foothills of the Sierras. Recent fossil discover...

Aug 19, 2023

/ Saturday Stream

(Howling Moon Studio)

Sep 1, 2023

/ The Chapel

(San Francisco)

According to Moonalice legend, we are totally psyched to be back at the Chapel. People showed us the secu...

Aug 31, 2023

/ Rebroadcast of Hardly Strictly Bluegrass 22 with new Audio & Video

(San Francisco)

This rebroadcast of the 2022 Hardly Strictly Bluegrass show with new and im...

Aug 26, 2023

/ Saturday Stream

(Howling Moon Studio)

Aug 18, 2023

/ Oakland A's Jerry Garcia Night @ Oakland Coliseum

(Oakland)

Oakland rap According to Moonalice legend, tonight is Jerry Garcia night at Oakland Coliseum. Jer...

Nov 30, 2023

/ The Guild Theatre

(Menlo Park)

According to Moonalice legend, the Peninsula between San Francisco and San Jose has many beautiful places...

Sep 2, 2023

/ Felton Music Hall

(Felton)

According to Moonalice legend, we are really happy we are not at Burning Man. Apparently, a huge storm de...

Dec 2, 2023

/ HopMonk Tavern

(Sebastopol)

According to Moonalice legend, every member of the tribe has a spirit animal. Some are Siamese cats, oth...

Aug 27, 2023

/ Terrapin Crossroads Presents: Sunday Daydream Vol. 2 @ Stafford Lake Park

(Novato)

According to Moonalice legend, we have gathered here at Stafford Lake for Sunshine Daydream 2. It is a b...
Music
Video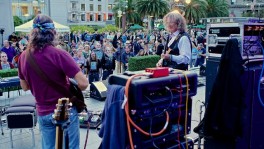 Live in San Francisco
Legend
Media
Comments
Who Was There?
According to Moonalice legend, there is a wee bit of tension between Volkswagen and the owners of clean diesel vehicles made by Volkswagen. It seems that Volkswagen installed a bit of software that made the engine run really clean - but very slowly - when regulators drove one, but turned it into a high performance pollution factory when driven by a civilian. Everything about this story is awful. First, 11 million cars are affected. Second, the fix will basically give the cars the performance characteristics of a baby stroller. And finally, everyone has another big reason not to trust large companies. The Moonalice tribe would like to offer a modest proposal: we'd like Volkswagen to give all 11 million owners a pound of weed from this year's harvest ... that way no one will mind a car that only goes 40 miles per hour. And as depicted in today's poster by our new artist Christopher Peterson, VW should also give everyone a fancy new hood ornament that lets everyone know ... "be nice to the driver of this car, he or she has a pound of weed!"
Notes:
Jason Crosby played fiddle, keys, bass
Alex Jordan sang harmony on the "US Blues" coda to "Might As Well".
Poster exhibit with 800 posters
POSTER BY: CHRISTOPHER PETERSON