Moonalice News
Let's Rock The World One Tree At A Time!

Commemorating the 1969 Harlem Cultural Festival!!!

Moonalice Minute: Lester & Dylan Chambers (Episode 1)

Poster Artist Feature: Dennis Larkins Interview

Acoustic Guitar reviews Full Moonalice, Volume 2!!

Moonalice plays a set on Jam In The Van

Glide Magazine interviews Pete Sears!

Acoustic Guitar Magazine: Barry, Roger and T's play Nick and Woo Woo

PopMatters: Bottlerock Napa review … featuring Moonalice

Moonalice Will Not Play Indoors Until Further Notice
Let's Rock The World One Tree At A Time!
Commemorating the 1969 Harlem Cultural Festival!!!
Moonalice Minute: Lester & Dylan Chambers (Episode 1)
Poster Artist Feature: Dennis Larkins Interview
Acoustic Guitar reviews Full Moonalice, Volume 2!!
Moonalice plays a set on Jam In The Van
Glide Magazine interviews Pete Sears!
Acoustic Guitar Magazine: Barry, Roger and T's play Nick and Woo Woo
PopMatters: Bottlerock Napa review … featuring Moonalice
Moonalice Will Not Play Indoors Until Further Notice
What To Watch (Archive)
Aug 18, 2023

/ Oakland A's Jerry Garcia Night @ Oakland Coliseum

(Oakland)

Oakland rap According to Moonalice legend, tonight is Jerry Garcia night at Oakland Coliseum. Jer...

Aug 31, 2023

/ Rebroadcast of Hardly Strictly Bluegrass 22 with new Audio & Video

(San Francisco)

This rebroadcast of the 2022 Hardly Strictly Bluegrass show with new and im...

Dec 1, 2023

/ Odd Fellows Lodge

(Auburn)

According to Moonalice Legend, dinosaurs once roamed the foothills of the Sierras. Recent fossil discover...

Aug 19, 2023

/ Saturday Stream

(Howling Moon Studio)

Dec 2, 2023

/ HopMonk Tavern

(Sebastopol)

According to Moonalice legend, every member of the tribe has a spirit animal. Some are Siamese cats, oth...

Sep 2, 2023

/ Felton Music Hall

(Felton)

According to Moonalice legend, we are really happy we are not at Burning Man. Apparently, a huge storm de...

Aug 26, 2023

/ Saturday Stream

(Howling Moon Studio)

Nov 30, 2023

/ The Guild Theatre

(Menlo Park)

According to Moonalice legend, the Peninsula between San Francisco and San Jose has many beautiful places...

Sep 1, 2023

/ The Chapel

(San Francisco)

According to Moonalice legend, we are totally psyched to be back at the Chapel. People showed us the secu...

Aug 27, 2023

/ Terrapin Crossroads Presents: Sunday Daydream Vol. 2 @ Stafford Lake Park

(Novato)

According to Moonalice legend, we have gathered here at Stafford Lake for Sunshine Daydream 2. It is a b...
Music
Video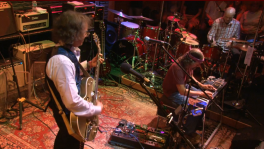 Live in Woodstock
Legend
Media (30)
Comments (3)
Who Was There?
According to Moonalice legend, the town of Woodstock has the most generous spirit of any place we play. Woodstock has a long history of making the world a better place by sharing its bounty. The town of Woodstock was originally a lot bigger than it is now, but it nurtured and then spun off five little towns, including Wyndham. In the 20th century, you shared your art and music with the world. In this century, Woodstock is still at it ... the spirit of Levon Helm inspires us every day. Gary Houston's poster is a tribute to the man who brought us together today.
Larry Campbell sat in on fiddle on White Lightning. John sat in on drums on Meet da Boys on da Battlefront. Moonalice sat in on final four songs: John on drums, Barry on electric guitar, Pete on accordion, Roger on vocal.
Midnight Ramble Band: Larry Campbell (guitar and fiddle), Teresa Williams (vocals and guitars), Amy Helm (vocals and mandolin), Byron Isaacs (bass), Shawn Pelton (drums), Brian Mitchell (keys), Jim Weider (guitar), Erik Lawrence (baritone sax), Jay Collins (tenor sax), Steven Bernstein (trumpet).
This show dedicated to Norma Parish. RIP.
OFFICIAL PHOTO GALLERIES
FAN PHOTOS
Login
or
Register
to add your photos.
POSTER BY GARY HOUSTON