Upcoming Concerts
Point San Pablo Harbor

Richmond, CA

Terrapin Crossroads

San Rafael, CA

Felton Music Hall

Felton, CA

Brooklyn Bowl

Brooklyn, NY

Sweetwater Music Hall

Mill Valley, CA

Mystic Theatre

Petaluma, CA

Skull & Roses

Ventura, CA

Bottlerock Music Festival (May 22-24)

Napa, CA
Jan 24
Point San Pablo Harbor
-
Richmond, CA
Jan 25
Terrapin Crossroads
-
San Rafael, CA
Jan 26
Felton Music Hall
-
Felton, CA
Feb 22
Brooklyn Bowl
-
Brooklyn, NY
Mar 19
Sweetwater Music Hall
-
Mill Valley, CA
Mar 20
Mystic Theatre
-
Petaluma, CA
Apr 5
Skull & Roses
-
Ventura, CA
May 24
Bottlerock Music Festival (May 22-24)
-
Napa, CA
Moonalice News
Introducing ... Full Moonalice!

Thank you for an amazing year!

Sisters & Brothers is the new Moonalice!

Check out the first full show by the Moonalice Sisters & Brothers band!

Moonalice Sisters & Brothers rock DROM in NYC!

Live for Live Music writes about Moonalice Sisters & Brothers Tour!

420 Gathering of the Tribe -- Video Archive!!!

Jerry Day in San Francisco: check out the video archive!

Check this epic show from the Hopmonk in Sebastopol
Introducing ... Full Moonalice!
Thank you for an amazing year!
Sisters & Brothers is the new Moonalice!
Check out the first full show by the Moonalice Sisters & Brothers band!
Moonalice Sisters & Brothers rock DROM in NYC!
Live for Live Music writes about Moonalice Sisters & Brothers Tour!
420 Gathering of the Tribe -- Video Archive!!!
Jerry Day in San Francisco: check out the video archive!
Check this epic show from the Hopmonk in Sebastopol
What To Watch (Archive)
Dec 19, 2019

/ The Rising Sun Barn

(Telford)

Note there has been a venue change to The Rising Sun Barn.

Dec 10, 2019

/ Garcia's at the Cap

(Port Chester)

Notes: Erica Jeski's first show with Doobie Decibel System Elliott Peck sang Sugaree

Dec 15, 2019

/ 118 North

(Wayne)

Dec 14, 2019

/ Gypsy Sally's

(Washington)

Notes: Jason played Iko-Iko and Roger sang New New Minglewood Blues with Stella Blues Band. Anniversary...

Dec 20, 2019

/ BRYAC

(Bridgeport)

Dec 11, 2019

/ Wonder Bar

(Asbury Park)

Notes: Jason played with Solar Circus

Dec 17, 2019

/ Still Partners

(Sea Cliff)

Jan 4, 2020

/ Terrapin Crossroads Grate Room

(San Rafael)

Debut of Full Moonalice Time Has Come (THC) Revue. SOLD OUT! Notes: Hallelujah dedicated to Liz Du...

Dec 13, 2019

/ Hill Country

(New York)

Notes: Jason played with Dave Diamond Band Roger sang Goin' Down the Road Feelin' Bad

Dec 21, 2019

/ Private Event

(Mount Kisco)
Music
Video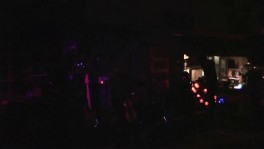 Live in Virginia Beach
Legend
Media (3)
Comments (1)
Who Was There?
According to Moonalice legend, when Christopher Newport arrived here in 1607, he was apparently a very liberal minded man. I say this because he sailed for 144 days on a ship with 105 men and boys. They arrived and established the first permanent settlement of white people. All men. The local Moonalice chiefs took one look and realized that Christopher Newport was not likely to be interested in the Moonalice matriarchy. It was all cool. But there was one major consequence. The Viriginia commonwealth focused its agriculture on tobacco, rather than hemp.
According to Moonalice legend, Viriginia Beach is famous for the first geodesic dome built in the United States. The Alan B. Shepard Civic Center is named after one of the twelve men who walked on the surface of our tribe's home planet. Apparently someone didn't appreciate the Moonalice connection, so they razed the dome in 1994.
According to Moonalice legend, today is the 42nd anniversary of the filming of Bigfoot by Patterson and Gimlin. This is the most famous Bigfoot video and we strongly recommend it to you. We also recommend the Flying Spaghetti Monster, whose noodly appendages keep us all from flying into space.