Upcoming Concerts
Point San Pablo Harbor

Richmond, CA

Terrapin Crossroads

San Rafael, CA

Felton Music Hall

Felton, CA

Brooklyn Bowl

Brooklyn, NY

Sweetwater Music Hall

Mill Valley, CA

Mystic Theatre

Petaluma, CA

Skull & Roses

Ventura, CA

Bottlerock Music Festival (May 22-24)

Napa, CA
Jan 24
Point San Pablo Harbor
-
Richmond, CA
Jan 25
Terrapin Crossroads
-
San Rafael, CA
Jan 26
Felton Music Hall
-
Felton, CA
Feb 22
Brooklyn Bowl
-
Brooklyn, NY
Mar 19
Sweetwater Music Hall
-
Mill Valley, CA
Mar 20
Mystic Theatre
-
Petaluma, CA
Apr 5
Skull & Roses
-
Ventura, CA
May 24
Bottlerock Music Festival (May 22-24)
-
Napa, CA
Moonalice News
Introducing ... Full Moonalice!

Thank you for an amazing year!

Sisters & Brothers is the new Moonalice!

Check out the first full show by the Moonalice Sisters & Brothers band!

Moonalice Sisters & Brothers rock DROM in NYC!

Live for Live Music writes about Moonalice Sisters & Brothers Tour!

420 Gathering of the Tribe -- Video Archive!!!

Jerry Day in San Francisco: check out the video archive!

Check this epic show from the Hopmonk in Sebastopol
Introducing ... Full Moonalice!
Thank you for an amazing year!
Sisters & Brothers is the new Moonalice!
Check out the first full show by the Moonalice Sisters & Brothers band!
Moonalice Sisters & Brothers rock DROM in NYC!
Live for Live Music writes about Moonalice Sisters & Brothers Tour!
420 Gathering of the Tribe -- Video Archive!!!
Jerry Day in San Francisco: check out the video archive!
Check this epic show from the Hopmonk in Sebastopol
What To Watch (Archive)
Dec 17, 2019

/ Still Partners

(Sea Cliff)

Dec 20, 2019

/ BRYAC

(Bridgeport)

Dec 19, 2019

/ The Rising Sun Barn

(Telford)

Note there has been a venue change to The Rising Sun Barn.

Dec 15, 2019

/ 118 North

(Wayne)

Dec 14, 2019

/ Gypsy Sally's

(Washington)

Notes: Jason played Iko-Iko and Roger sang New New Minglewood Blues with Stella Blues Band. Anniversary...

Dec 13, 2019

/ Hill Country

(New York)

Notes: Jason played with Dave Diamond Band Roger sang Goin' Down the Road Feelin' Bad

Dec 11, 2019

/ Wonder Bar

(Asbury Park)

Notes: Jason played with Solar Circus

Dec 10, 2019

/ Garcia's at the Cap

(Port Chester)

Notes: Erica Jeski's first show with Doobie Decibel System Elliott Peck sang Sugaree

Dec 21, 2019

/ Private Event

(Mount Kisco)

Jan 4, 2020

/ Terrapin Crossroads Grate Room

(San Rafael)

Debut of Full Moonalice Time Has Come (THC) Revue. SOLD OUT! Notes: Hallelujah dedicated to Liz Du...
Music
Video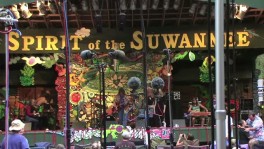 Live in Live Oak
Legend
Media
Comments
Who Was There?
According to Wikipedia, no one really knows precisely when Live Oak, Florida was founded. If there was ever a record, it has been lost. Artifacts suggest the town was founded some time between 1850 and 1875 by a bunch of railroad workers who enjoyed resting under the oaks and decided to put down roots. The artifacts included unused shovels and hammers, as well as a roach clip. According to Moonalice legend, these artifacts tell an amazing story. The railroad across Florida took many years to build and hemp from the local Moonalice tribe was turned into rope and fabric for the railroad, as well as entertainment products for the workers. Given the latter, it's no surprise that the tools were unused and the records disappeared.
Today's poster features the great matriarch Magnolia Moonalice. According to Moonalice legend, Magnolia lived right here in Live Oak. In the tradition of the great Moonalice matriarchs, Magnolia was both clever and wise. Clever? She could roll doobies with one hand while wrestling an alligator with the other. Wise? She understood the importance of making the hemp crop last all year.
According to Moonalice legend, October 23 is Mole Day. You might assume that Mole Day is just a hangover following yesterday's Highest of High Holidays, Wombat Day. But you would be wrong. A Mole turns out to be one of the seven base units of International Standard measuring system. It's not a number that rolls off the tongue - 6.02×1023 - but scientists like it enough that they celebrate it today. Since we weren't together yesterday, I recommend that we pretend it's still Wombat Day!